On Tour with the Lions - Part six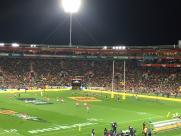 By Gym Haka & Poynton Shark
July 6 2017
Well its another epic....and a win against the mighty All Blacks. Poynton Shark gives his verdict on the second test...who cares I hear you shout, we won! Gym Haka tells of the last mid week game and his encounter with a plague ridden Quins supporter, a mancunian in a flat cap and his former secretary. Its another epic but well worth the read. Enjoy!
Putting the boot in at Wellington.
By Gym Haka
It's the Sunday after Eden Park round 2 and a day of reflection and leisure. It's preseason Jets v Sharks with an unhappy ending. The matinee performance of West Side Story is excellent and worth the the rather pricey ticket. The Civic theatre is a grand relic of Victoriana with a stage and ceiling reminiscent of a set from Aladdin. This production was in the West End and it shows. Afterwards it's on to a suburb for a pizza with my former secretary and her family. She says I've lost weight which is a result but then I remember how many years it's been since I saw her. It's soon time for sad goodbyes and photos and it crosses my mind that I may not see her again.
It's Monday and it's off to Wellington. Desperately trying to avoid a Harlequins couple as she has been in bed for 3 days with a virus and looks awful. Other people have gone down with it and I'm keen not to. She manages to sit behind me on the coach to the airport and then next to me at the Gate. No sign of her on the plane but on arrival at the new hotel, she dives in the lift with me as the doors close. 6 floors later and I have still not inhaled. Can't she wear a mask like all the Chinese tourists here?
Wellington is beautiful. Set around several bays, it's houses all seem to have sea views as they are dotted around the steep hills. Some of the city is built on reclaimed land which emerged from the sea after a relatively recent earthquake. I have still only felt one minor one in a month and feel a bit cheated. The hotel is less than a year old and keen to impress. In the room is a free cool bag with a 6 pack of beer, bottle of Sauvignon Blanc, several chocolate bars, crisps and onion dip and a loaf of bread with a Camembert. There is a jar of Manuka honey which is worth a bob or two. It's probably genuine too whereas the majority sold in the world has never seen New Zealand. Less useful are a large bottle of tomato ketchup and some Marmite. Late lunch on the seafront leaves me feeling ripped off tourist style, a whitebait omelette within 2 slices of plastic white sliced loaf. Further along the key as I'm chatting to someone, an old man in a flat cap wanders up. He has a broad Mancunian accent and tells me the tale of his life since immigration 48 years earlier. I tell him that Longsight probably hasn't changed much and he seems relieved. I make use of the $NZ85 free voucher for dinner in the hotel which covers the wine bill too.
Tuesday allows exploring before the Hurricanes game and I travel up the cable car to be greeted by panoramic views of Wellington. Why is it that whenever I try the fancy panoramic view setting on my iPhone someone walks across my masterpiece? I take the walk back downhill through the botanic gardens. The sun is out and although no garden is at it's best in mid winter, this is still stunning. There seem to be botanical gardens in all the major cities but this is the best so far. Wellington is full of steep hills which has also been the case in Auckland and Dunedin. The inclines are reminiscent of San Francisco and Wellington also has trams. They are smaller than the Manchester Metrolink and run on the streets using tyres not tracks. One passes with its destination as Eastbourne which seems quite a tricky journey.
The Westpac stadium is a 15 minute walk from the hotel and there are bagpipes playing to the red brigade as they empty the bars. Long queue at the stadium is due to a daft design. There is essentially only one entrance to the walkway around the "Cake Tin" it's a crush inside and smoke from their well patronised BBQ irritates the eyes. Reasonable seats on the 22 and for the first time - horror of horrors - there is no Haka. Feel cheated but it's at least preparing me for the Hakaless season ahead. Just wonder if Sale would consider the possibility. Bryn the beard, Strauss, Webber and Halani might just scare the Southern Softies.
The midweekers are up against last years champs, the Hurricanes and some again put their hands up especially Lawes and Henderson. The latter plays a blinder but a moment of madness and Courtney's substitution reveals Gatland's plans for Saturday. The yellow also converts a win into a draw when comfortably ahead. The locals wave their free flags, sponge hands and try adverts and it's off back to the hotel. It's always amazed me the difference in feeling after conceding a lead to draw compared to fighting back to draw and tonight is no exception. Still it's off to wine country tomorrow. I know- your heart bleeds.
Let's put it down to the weather
Poynton Shark
The Lions were in Wellington, the birthplace of Mako Vunipola, reputedly the world's second windiest city. For this game it might just have been the rainiest. Lions had to win to keep the series alive. It might not have been the best rugby anyone has ever seen, but it certainly wasn't boring.
The game starts with a bout of kick tennis neither side making it to advantage. The first few minutes sees a couple of things that the first test had precious little of. The first was the Lions winning a collision, Alun Wyn Jones putting in the big hit, then Wyn Jones again scraps on the floor and slows down New Zealand ball. Maybe he heard some of the criticism from last week, he certainly has the look of a man who is 'up for it'. The first penalty of the game sees Sexton find touch in the All Black's 22. The Lions have started well again, another collision won as Tadhg Furlong barrels into Jerome Kaino. Lions building some pressure until Maro Itoje, the man everyone wanted in the team, puts down a pass under no pressure. Surely not going to waste opportunities again this week. It doesn't seem to phase the Lions, maintaining their good start. The first 10 minutes being pretty much all Lions. But then some signs of intent form the All Blacks, first a Beauden Barrett cross field kick to the dangerous Waisake Naholo, but Elliot Daly does just enough. Then the gameplan we were expecting as Kaino charges down the 10-12 channel and skittles Owen Farrell. The Lions defence is scrambling and gives away a penalty. A good distance out, but pretty much straight in front, Barrett was imperious last week. The first shock as the kick strikes the left hand post and goes wide. Lions continue to be physical in the forwards, New Zealand come into the game more, but the Lions not allowing them to recycle at the same pace as last week. 15 minutes gone and no score. Anthony Watson tries to run the ball back from just outside his 22, tackled by Same Kane, I swear his knee hits the ground for just as long as Mako's, but it is Watson who is penalised for holding on. Barrett's kick to touch puts New Zealand in the Lions' 22 (I think for the first time). New Zealand setup the drive from the Lineout, but Itoje finds a way through the middle and gets a mitt on the ball, the maul goes to ground but the ball doesn't come out, scrum Lions. Wyn Jones can't help himself telling Sam Whitelock how delighted he is. His delight is short lived as AB's get a shunt on in the scrum and Mako folds. This time Barrett makes no mistake, first points 3-0. AB's clear from the kick off and Liam Williams fails to collect, knocking on. At the resultant scrum Garces somehow manages to miss a blatant knock on as Aaron Smith tries to pick up the ball from Kieran Read's feet. He feeds Naholo who is stopped at the gain line and New Zealand caught off side as Smith puts up a box kick. Penalty Lions between halfway and New Zealand 10 metre line close to 15m in from touch. Farrell confidently declares his intent to have a go and doesn't disappoint 3-3.
There shouldn't really be any need to report on the next bit, you would have to have been hiding in deep, deep isolation to not know what happened next, I include it here for the sake of completeness.
Itoje collects the kick off on the Lions' 22. Lions set up a maul and an impressive drive, shoving the Ab's 15m up field. Connor Murray sends up a box kick. Collected by Israel Dagg, he is tackled by Watson. Smith feeds Sonny Bill Williams on the blind side who punts upfield, Taulupe Faletau collects around the Lions 10m line, Williams makes the tackle. Faletau attempts to offload but fails to find Murray, Watson picks up the loose ball and sets off infield, Naholo gets hold of him and Williams comes in to complete the 'tackle'. I admit I didn't notice anything wrong first time around, but Murray and Faletau both clearly not happy with Williams' tackle, play continues, Lions rucking, Murray still voicing his displeasure to Garces, who is in conversation with TV official George Ayoub. Murray feeds Wyn Jones who goes to ground to set up another ruck, as Murray is retrieving the ball Garces blows and indicates the big screen. Mr Ayoub must have seen something; soon we've all seen it, Williams charging in not using his arms driving his shoulder into Watson's head. NZ commentary team can't quite believe it, surely there can be only be one outcome. Out of character for Williams, but he has time to get his arms into the tackle but chooses not to clearly a deliberate act to use his shoulder. It can't be easy for a ref to red card an All Black in New Zealand, no All Black has received red since 1967, but as Garces explains to Kieran Read, he has no choice, Williams is sent off. Only the third All Black ever to be sent off, following Cyril Brownlee (1924 v England) and Colin Meades (1967 v Scotland). I know, I can't believe Meades was only sent off once either. Now the worrying stat, on both of those previous occasions a red card was shown, the All Blacks went on to win the match. If any team can maintain their standards with 14 men it has to be this one, but they are clearly not used to playing under these circumstances, the Lions must take advantage, surely. The All Blacks quickly adjust making probably the right decision in this weather they bring on Ngani Laumape into the center and take of Kaino. The first points after the red go to New Zealand after Jack Nowell, on as Watson has his HIA, goes into a ruck from in front of the back feet. Barrett takes the 3 points 6-3. From the kick off Liam Williams competes with Dagg for the high ball, neither claim it, Williams knocks on but Garces misses it. Itoje secures the loose ball. The Lions drive to the 22 where New Zealand are penalised for not rolling away from a tackle, an easy leveler for Owen Farrell 6-6.
I find it difficult to explain what happened for the next 40 minutes, so I largely won't. Suffice to say that had it continued in the same vein then match fixing officials would surely be asking serious questions of the Lions. They seemed to contrive to hand the game to New Zealand, mistake after mistake, dumb penalty after dumb penalty. The red card seemed to have shocked the Lions much more than it did the all blacks, they were playing dreadfully, in the lead up to half time Barrett and Farrell swapped penalties making the half time score 9-9.
The penalty count at half time was 6 by Lions 5 by New Zealand, in the first 18 minutes of the second half the Lions give away 5 more, luckily Barret's laser was misaligned and he only scored with 3 of them. 18-9. Mako Vunipola has seen yellow for a foolish charge on a prone Barrett. TMO seemed to be directing Garces towards a red card.
Perversely, the instant Lions went down to 14 (albeit temporarily) they remembered why they were here, from a lineout on NZ's 10m line Lions quick hands including a nice little loop around from Sexton and a deft offload from Daly under pressure give Watson a bit of space in the right hand tram lines, he makes good ground before Barrett and Dagg bring him down. Lions recycle and quickly move the ball to the opposite wing where Faletau is lurking he drives straight through Dagg's tackle and evades the covering Brodie Retalick to score in the corner. Farrell's conversion goes well wide, but we're back in it 18-14.
Now the replacements, Coutney Lawes and Kyle Sinckler on, Wyn Jones and Furlong off for the Lions. Ardie Savea replaces Sam Cane on the All Blacks flank. All Blacks attacking, Smith kicks over the top to just inside the Lions 22, Daly collects and send a huge punt up field, unfortunately doesn't get the bounce he was looking for and goes dead, back to scrum in a strong position for the All Blacks. The first scrum in the almost 9 minutes that Vunipola has been in the sin bin. Sean O'Brien has to make way for Jack McGrath. New Zealand make good use of the position, first Laumape drives at the 10/12 channel and makes good ground. Then Aaron Cruden (missed him coming on) sends a cute grubber kick to the corner, but it just makes touch in goal in front of a diving Read. Lions offside in an earlier phase. Barrett knocks this one over 21-14. While Barrett is preparing TJ Peranara replaces Aaron Smith. Lions kick off long New Zealand clearance only just outside their 22. Lions win the line out and Davies barges over the gain line, Lions recycle go little wider Sexton pops up a short pass to the charging Jamie George, cutting a line like a centre he pierces the defence before being stopped 10 metres out, Lions recycle quickly and Murray spots a gap around the fringes and goes through it to score. Farrell lands the wide conversion to level the scores 21-21. 10 minutes to go. Both sides trade chances to exert pressure with no clear cut opportunities emerging. 6 minutes to go and Lienert-Brown knocks-on on half way. From the scrum Owen Farrell steps and spins around a couple of tackles and Lawes has a little charge for a few hard earned yards. Lions recycle again Murray passes out towards Sinckler, the pass is a little awry and Sinckler needs to jump to collect it, as he does so the tackle comes in from an already committed Faumuina, he's very unlucky but has clearly made contact with a player in the air, Garces has no option but to award the penalty. Sinckler has the red mist, seemingly enraged by the challenge he is saved from possibly doing something very stupid by Murray grabbing his collar with both hands. The kick is about 40 metres out but only slightly to the left of the posts, Owen Farrell has always seemed to thrive under pressure and sends this one straight down the middle. 21-24. New Zealand reclaim the kick off, Savea drives to the 22 with Lions hanging off him, surely we're not going to hand it back to them. All Blacks press hard but Lions defence remains solid. Ioane drops a pass out wide and Davies picks up the loose ball and hacks it downfield. Barrett collects and heads back towards Lions territory. All Black runners keep coming, Lions defenders keep meeting them. 80 seconds to go, Cruden sends a cross field kick to the left, but Laumape can't quite get there before it bounces into touch. Lions line-out just inside their 22, 50 seconds remain New Zealand disrupt the line out, but George manages to tip it back to Murray who punts up field, a good clearance too, goes into touch deep in AB's 22. Quickly thrown in to Barrett, but Lions have made it upfield in numbers, Barrett is confronted by a line of defenders, he attempts to chip over them, straight into the arms of O'Brien he offloads to Davies who makes it back into the New Zealand 22. Just got to hold onto the ball for 30 seconds. STICK IT UP YOUR JUMPER FFS. A couple of drives in to contact , Lions recycle, hooter sounds, Murray boots it out. They did it……just.
The Lions played well eventually, defensive hits were huge and handling good too for that last 20 minutes, let's put the middle 40 down to shock at the card. They took their chances better this week, but you can hardly say the composure was improved after what happened in the middle of the game, discipline disintegrated and mistakes just kept coming. I suppose the result is all that matters in test matches, and the Lions now have the chance for that rare series win in New Zealand, just the small matter of a 24 year undefeated run to end in Auckland.
pqs: qs: