View from the south stand: Sale 20 Toulouse 20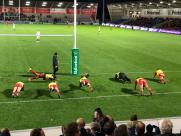 By Cap'n Major Bloodnok
October 18 2017
And so we hit the pause button on the Aviva Premiership, move across to the second string European competition (whatever it's officially called — I don't know) and gingerly press 'play'. Toulouse were first up for Sale and probably most people's favourites on the night.
The considered opinion of the sages, luminaries and other thinking persons at The Brook regarding the probable outcome of this game was "beggared if I know". Would Toulouse take this competition seriously? Given that a Toulousain deuxiéme equip would still be a significant force, was that even an issue?
Traffic was heavy but moving on the motorway and we arrived with plenty of time to kick-off. Many obviously didn't, though, as we could still see long queues on the bridge at 8 o'clock. Getting in and out of the AJ Bell is a doddle compared to the problems around Old Trafford on a match day, but these issues still cause resentment, even where the club is powerless to do anything.
---
So, there I was, just before kick-off, with no idea how things might go.
After 10 minutes, I was thinking that we may well get something out of this
After 15 minutes, I was thinking that we were about to push the self-destruct button.
After 35 minutes, I was convinced that we had pushed the self-destruct button.
After 40 minutes, I would have taken the draw, if offered.
After 50 minutes, things were looking up.
After 70 minutes, I thought we had a good chance; just hold on…
After 80 minutes, I was disappointed with the draw.
---
Early play was all Sale territory and possession but with nothing to show for it, when Kunatani took advantage of an injury to Cam Neild at a ruck to put Toulouse 7-0 up. For the next twenty minutes, Toulouse were mostly on top with their right wing Mjekevu being a particular pain. I remember a feeling of impending dread every time he got the ball and seemed about to knife his way through the Sale defence yet again.
On 35 minutes, Mjekevu quantum tunnelled his way through the Sale defence and fed Bezy to give them a 14-3 lead coming up to half time.
It looked as if we were in for a long second half but, on the stroke of half-time, Faf put up a delicate box kick that Denny chased down for a try under the posts and a 10-14 half-time score.
The second half was notable mainly for a much-improved defensive effort from Sale, to the extent that Toulouse only managed two penalties for the entire forty minutes. When Bryn's beard charged down a Bezy box kick and Faf kicked a tricky conversion, we started to think that, just maybe, a minor upset was on the cards. A Toulouse penalty, another Sale penalty and a final penalty for Toulouse completed the scoring and left the two teams inseparable: two tries, two conversions and two penalties each.
---
Disappointed with the draw? Yes, because I felt we showed enough potential to have deserved the win. That we didn't win came down, I think, to that perennial bugbear of Sale teams: basic errors. Add in a degree of lack of thinking on their feet and you've got a team that is firing on three cylinders most of the time. Why did it need the half time break for the defensive setup to change? Someone out there in the first half should have seen the threats that Toulouse posed and called for the tactical change early on. Maybe we'd have snuffed out the second try and things would have gone very differently.
We finally got to see the De Klerk/O'Connor double act— except… We didn't, really. For most of the match, O'Connor was not in the 'traditional' out half position. I'd like to see the stats of who De Klerk passed to: when it wasn't a forward, it mostly seemed to go to Jennings or James. JOC frequently seemed to take up a position between and behind the centres — a kind of 7/8ths back, if you like. Was this some cunning plan of Deacon's, or was JOC protecting his still-not-fully-healed ankle? He did admit at the Meet the New Players night that he ought to rest it for another four weeks, but that he just wanted to get out and play. Perhaps he's staying out of the immediate danger zone for the moment and will move up when he's a bit more confident about it. Which raises the question of whether a coach should give in to a player's desire to play or insist that they wait out the time to full recovery. Would having JOC in a proper position have led to more creative play from the Sale backs, or was a general lack of quality ball from the forwards more decisive?
Talking of the backs, Charnley is, I think, steadily improving. He still sometimes tackles too high, League-style, but he put in some good hits (and a couple of bad misses). He also shows a lot of strength and determination going forward ball in hand. Charnley needs game time more than anything right now, so I think he has to play in Lyon and in the Anglo-Welsh. I'm tempted to say, too, that he should play in the AP. Not at the expense of Byron, but go back to a 5-3 bench split and give both of them time. Denny just has to be there, of course.
At the risk of sounding like someone with a man-crush, I have to mention Faf De Klerk again. The guy is a pocket dynamo and I think he is a contender for most significant signing since a certain J. Robinson first stepped out for Sale 17 years ago. I would have loved to see a De Klerk/Cipriani half back pairing…
---
And so, off to Lyon (I'm going, whee! First Euro away trip for years.) I think I'd stick with the same team — certainly in the backs. If Jono's not injured, I'd maybe move him back to the flank and start Pearce at 8. Cam can come off the bench later on to add some extra mobility if needed. Sale may only have a small squad, but I think it needs to be seen as a squad, not as a first 15/23 plus backups. If that means someone in form has a rest while someone else gets game time, then so be it. If a player is injured, we need to know that someone else can step in and do the job and not be hobbled by a lack of game time.
If you're going to Lyon, see you there...
pqs: qs: