View from the south stand: Sale 3 Saracens 13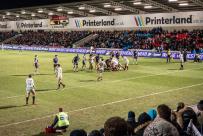 By Cap'n Major Bloodnok
February 21 2018
We're at the sparse end of the season, where we get about one game a month if we're lucky. Saracens were February's visitors: a tough match by anyone's standards. Sarries had their England contingent missing, which should have evened things up a bit, but Sale had problems of their own, with no specialist fly half.
So, a return to Friday night rugby courtesy of our televisual overlords at BT. It was dry and crisp, getting chillier by the minute, so we were expecting some fast, running rugby from both teams. On paper this was a fixture to be eagerly anticipated, even if we didn't really expect much in terms of league position to come from it.
It was more than a bit disappointing, then, that, not only did Sale lose, but the apparent telly curse that seems to haunt the AJ Bell struck once again to give us a somewhat forgettable game.
On the bright side, despite the second (?) highest crowd of the season, trafficseemed to flow freely with no obvious delays or queues (at least from the perspective of the Brook Bus at around 6:30-7:00). Something's obviously working — would that it had been working five years ago; people might not be as reluctant to come to games as they currently seem to be.
---
The game started brightly for Sale, with an Addison break in the first few minutes that led to Solomona threatening to end his try scoring drought. Having survived that early scare, Sarries took the game into the Sale half and got their reward in the 12th minute when Liam Williams cut back through a gap in the defence to score to the right of the posts. Spencer converted and that was it for any significant scoring — just a penalty each before half time and one penalty for Saracens in the second half.
For seventy minutes, neither side really threatened the try line, with all of the action taking place between the five metre lines and most of it between the twenty-twos.
To their credit, Sale had the lion's share of possession and made three or four good line breaks during the match. The sight of Josh Strauss, unburdened by the extra drag from The Former Beard That Passeth All Understanding, charging upfield brought a lift to many a Sale supporter's heart. Unfortunately, the Saracens cover defence is just too good, and all the good work was eventually snuffed out.
---
Then there was The Incident. Thirty minutes in, Sale have the ball in attack when a Sarries player (Berger?) makes a clumsy and — in the current climate — highly dubious tackle: from behind, high around the neck, pulling sharply backwards. Webber takes umbrage and pins the Sarry to the ground (or was he pulled down? I thought there was a suspicion of that at the time but haven't been able to watch again). Williams then runs in from about 10 yards away, pushes someone in the back and joins in the melee.
After reviewing, the ref bins Webber and Williams. Now I have a couple of problems with this: the TMO said that Webber's action didn't deserve a card, but the ref said that he wanted one from each team off 'to calm things down'. But nothing needed 'calming'. Up to that point, there had been no aggro at all. This was a single incident, sparked by some clumsy — possibly/maybe/arguably dangerous — play. It's not as if the game had been particularly bad-tempered up to that point — had it been, I'd have been in complete agreement with the ref, but it had been a clean game up to then.
Also, it's my understanding that running in from distance to join in an 'incident' is viewed as a very serious offence by referees and by diktat from above. Whatever he actually did when he got there, Williams needed to go to the bin just for the act of running from distance to join in. Then, if Webber had to go, then so should Berger (?) for the initial tackle. Either way — and I'm trying not to be biased here — I felt that Saracens should have suffered the heavier penalty overall, whether that was losing just Williams or losing two players to one.
---
Other than that, what do we take from this game?
We still fail at the basics too often: dropped balls, turnovers, failure to back up the ball carrier, wayward passes, and on and on. We'll never be a top four team until we can consistently and regularly string fifteen, twenty — more — phases together. Until then, we'll be a team that flatters to deceive; a team that promises much and delivers little – a continual disappointment.
pqs: qs: