View from the south stand: Sale 12 Newcastle 28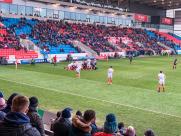 By Major Bloodnok
February 5 2019
Questions—A consequence of axial tilt—Doing it right—More questions—A mismatch—A welcome return—A sad departure?
---
[The scene: a fog-shrouded gorge. A narrow and very unsafe-looking rope bridge disappears into the murk. An ancient figure sits in front of the bridge and challenges all who would cross.]
"Halt! What… is your name?"
"Some call me the Major."
"What… is your favourite colour?"
"Blue, obviously."
"What… is the purpose of the Premiership Rugby Cup?"
"Eh? What? Well… erm… I don't kno— aaaaarrrrrrrggggghhh."
---
It was cold. Never underestimate the capacity of concrete to suck whatever heat your feet may possess out through the soles of your shoes, a thermal insole and two layers of socks. I suspect the presence of underfloor cooling pipes pumping liquid nitrogen through the stand.
I need to get in a quick aside here: the act in the tent this week was actually quite good. No attempts at songs inappropriate for his voice and instrument. Also, the PA being turned down a bit is a great improvement: oddly, it means you can hear what's being sung or said more clearly.
To return to the agéd bridge keeper's question above.
Is the PRC a development competetion? If so, why is that not written into the rules? Why no specification of a maximum number of first-team players or minimum of youth or somesuch?
Is the PRC to minimise the impact of internationals on the Premiership? If so, why have several games been played on non-international weekends?
Is the PRC meant to be a prestigious trophy? If so, why— Sorry, prestigious trophy? <snigger>
So we had an essentially full-strength Newcastle team lined up against a more-or-less scratch Sale team. OK, if not scratch, then certainly substantially short of first choice players.
Given that, the scoreline of four tries to two should not be surprising.
That the half-time score was 7–7 and stayed there until the 60th minute has to be somewhat encouraging for a substantially youthful and inexperienced team.
The return of van Cannonball was a welcome sight, topped off by his try: the result of a good break from from Wilkinson and Reed. That he went off early in the second half was, we hope, down to simple preventative measures and not to anything more serious.
BenTom going off after 10 minutes for an HIA and not returning was a bit more worrying, and we hope there's nothing serious there. Since we'll be without TomBen for the next few weeks, we don't want to be without at least one Curry against some of the teams we'll face in that time. It did give Josh a 70 minute run-out at 8, though. He's definitely coming back to his best and making some good, strong carries. The try in particular showed something of the old Beaumont that saw him close to an England place.
Reed, I felt, had his least effective game so far and took the Top of the Drops prize quite handily. No matter, he's young and these things will happen. Paolo's loss of pace was shown up a bit as well. He's stronger in the tackle, but I miss those little silky glides past the despairing grasp of the defender. Luke isn't a 15. Brilliant centre, but not a fullback.
There's not a lot to say about this game. Three of Newcastle's tries were aided and abetted by abysmal tackling. It didn't help that the ref was pinging us off the park (I think it was about 15–20 minutes in before a decision went Sale's way). That's not a moan, just an observation. Maybe Sale were in the wrong every time and Newcastle were playing pure rugby uncontaminated by illegal acts. It's possible…
If this game told us anything, it's that we are very reliant on the core first-team squad. Lose too many of them and the cohesion goes, passes are missed, promising moves are kicked away too early. We need quality backup in the halves and at full back, and I don't think we can wait for the up-and-comings to attain their full potential; we need people in place whilst the likes of Wilkinson and co are powering up.
It would be a sad thing if this is to be Jonny Leota's last game. Not a great one, and he didn't get to do too much, although we did see a few glimpses of the old Mr. T to distract from the rapidly freezing toes. Let's hope we get a chance to give him a proper send off, if this is to be his last season with the club. I'm sure there are thousands of fans who would love to show their appreciation for one of the great Sale players.
Meanwhile, if any any of you do have answer to the keeper's question, please send it to:
Premiership Rugby, 7th Floor, Regal House, 70 London Road, Twickenham, Middlesex TW1 3QS
pqs: qs: