THE LATE LATE SHOW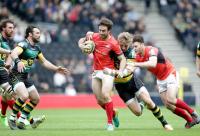 By Behind the Bench
April 16 2017
Who'd given up? Possibly one of the best late shows ever as Saracens seized a late chance for a dramatic victory to keep hopes of a home semi-final. But then, this side can win anywhere suggesting that keeping some of the "powder dry" ahead of next week was ultimately the right decision. A motivated Northampton side played with intensity in defence and craft in attack until they lost their way much as in Coventry last week.
Northampton made two changes to the side which narrowly lost at Wasps a week ago with Ken Pisi and Luther Burrell entering the starting XV for George North and Nafi Tiitavake. So that meant Ahsee Tuala was at full back with Pisi and Ben Foden on the wings outside a partnership of Burrell and Harry Mallinder in the centres whilst Stephen Myler was at fly half and Nic Groom at scrum half. An unchanged pack featured a front row of Alex Waller, Dylan Hartley and Kieran Brookes whilst Courtney Lawes and David Ribbans formed the second row and the back row comprised of Jamie Gibson, Tom Wood and Louis Picamoles. For Saracens, no less than nine changes from the side which beat Harlequins at Wembley. Alex Goode remained at full back, but Nathan Earle came in at right wing as Marcelo Bosch started at centre and Duncan Taylor moved from 13 to 12. Sean Maitland kept the left wing berth but Alex Lozowski started at fly half alongside the retained Ben Spencer. Forwards-wise, Titi Lamositele and captain Jamie George were given starts today alongside the remaining Vincent Koch, whilst Nick Isiekwe was at lock as George Kruis came back from injury, as did Schalk Burger, who accompanied Joel Conlon and Jackson Wray in the back row.
Saracens made a bright start, switching play from right to left and helped by a half break by George, only for Bosch to knock on, though Northampton were being penned back in the earlier stages. However, it was the Saints who took a fifth minute lead as a free-kick saw a quick break by Burrell, and though this was halted, Pisi did well to retain possession from a high kick and spread the ball to the supporting Mallinder, whose kicking game impressed throughout the game, to advance and go over just to the right of the posts. The away defence was repeatedly being called on at this stage, scrambling away a kick through by Mallinder before combining effectively with Pisi and Foden, whilst the hosts had successive penalties which they kicked for the corner from, but failed to break through from either. As the waves of home attack continued, Taylor was yellow carded and Myler able to extent the lead to 10-0. Saracens had their first effective attack when smart handling and offloading on the 20 minute mark fashioned a chance for Earle on the right, but he was hauled into touch. Sarries were on the board within two minutes, though, as Lozowski stepped up for a penalty from 30 metres with Northampton guilty of laying down in the tackle.
However, in the main, the Saints were defending well, especially against the rolling maul, winning four of Sarries' seven, as Saracens looked limited in attack at this stage, and the home side went close to another score when Burrell and Foden linked up from a lineout but they were held up over the line only for an earlier infringement gave Myler an opportunity to make it 13-3. Another kick forward from Mallinder almost caused problems for Spencer on the half hour, but the visitors forced a penalty which took them into Northampton's half and soon afterwards the home side were penalised again so Lozowski could trim the lead to 13-6. The Saints had, in truth, had the better of the half, impressing in defence, kicking and counter attacking, but, vitally, Saracens had defended very well under close range pressure, in particular as a rolling maul was blunted in the closing minutes of the half, and Mallinder, on kicking duty after Myler required lengthy treatment, struck the left hand post and the visitors pounced on the loose ball as they remained very much in touch at half time with the score at 13-6, and the home side losing both Picamoles and Myler by the break.
They didn't have the best start to the second half, though, as they knocked on from the kick-off, and Saints worked the ball through the hands and forced the penalty as Saracens failed to roll away. The home side kicked for the corner, and this time, the rolling maul brought a try for Hartley, improved by Myler for a 20-6 lead, and a mountain to climb for the visitors, or at least it seemed. Sarries set about trimming that lead almost straight away as Saints didn't roll away and Lozowski collected another three points from 40 metres. That said, Northampton continued to impress with flowing attacking play, though let down by knock-ons, whilst at this stage it seemed that the only lifeline for Sarries was forcing penalties from scrums, which would ultimately be crucial in the outcome. However, a smart take of a high ball by Earle caught the home side offside and gave Lozowski another penalty kick closer in this time, and he obliged for 20-12 with 50 minutes played.
The home side extended their lead after a period of pressure on 57 minutes, as powerful drives combined with accurate passing to culminate in Tuala providing the pass for Pisi to squeeze in at the right hand corner, though the conversion was missed, Saints were 13 points ahead at 25-12. At this stage, the game appeared to be drifting away from Saracens, the rolling maul successfully quelled by Saints, a mounting penalty count and the support muted. However, there was a crucial lineout steal on the hour as Northampton harboured hopes of a bonus point (and not just a losing one). What was the turning point then? One rueful home supporter had it as the replacement of Hartley on 66 minutes. Perhaps. There was twelve minutes left when Saracens had another penalty to set up a rolling maul, only for Northampton to turn the ball over. However, they were penned in their own 22 and then pinged for holding on. From the resultant pressure, replacement Ashton was able to go in at the right, but Lozowski suffered his only miss of the day and it was 25-17.
A sense of the inevitable might have put it too strongly, although the strong finishes in recent Premiership games in contrast to the home side certainly made a win a realistic prospect for Saracens. For all that, it still turned on a crucial, if accurate, refereeing decision. Vunipola made a customary break through the middle and a ball lofted to the right was flicked on by Foden before a Saracens defender made contact with him; it was referred to the TMO for possible interference, but the knock on had come first. So back for a scrum, and vitally, one which Sarries forced a penalty from, allowing Lozowski to make it 25-20. The coup de grace ironically originated from a Saracens lineout which was stolen by Wood, only for possession to be quickly turned over with two minutes to go, and the ball was worked swiftly through the hands of Brits, Wray and Vunipola against a narrow home defence, setting up Bosch to advance and go over, and a simple conversion for Lozowski to win the match.
The debate will perhaps be whether Saints lost it or Saracens won it. However, the late score was down to an almost instinctive awareness and faultless execution. There will need to be plenty of that in the home city of the Late Late Show next week....
Line ups
Northampton Saints:
15 Ahsee Tuala - 14 Ken Pisi - 13 Luther Burrell - 12 Harry Mallinder - 11 Ben Foden - 10 Stephen Myler (22 Rory Hutchinson 41) - 9 Nic Groom (21 Lee Dickson 66) - 1 Alex Waller (17 Ethan Waller 68) - 2 Dylan Hartley (16 Mike Heywood 66) - 3 Kieran Brookes (18 Paul Hill 54) - 4 Courtney Lawes - 5 David Ribbans - 6 Jamie Gibson - 7 Tom Wood (c) - 8 Louis Picamoles (20 Teimana Harrison 25 / 19 Api Ratuniyawara 62 )
Replacement not used
23 Juan Pablo Estelles
Saracens:
15 Alex Goode - 14 Nathan Earle - 13 Marcelo Bosch - 12 Duncan Taylor (22 Nick Tompkins 41) - 11 Sean Maitland (23 Chris Ashton 51) - 10 Alex Lozowski - 9 Ben Spencer (21 Henry Taylor 66) - 1 Titi Lamositele (17 Hayden Thompson-Stringer 69) - 2 Jamie George (c) (16 Schalk Brits 51) - 3 Vincent Koch (18 Petrus du Plessis 51) - 4 Nick Isiekwe (19 Michael Rhodes 56) - 5 George Kruis - 6 Joel Conlon (20 Billy Vunipola 54) - 7 Schalk Burger - 8 Jackson Wray
SCORERS
Northampton (25): Tries: Mallinder, Hartley, Pisi; Conv: Myler, Mallinder; Pens: Myler (2)
Saracens (27) : Tries: Ashton, Bosch; Conv: Lozowski; Pen: Lozowski (5)
Referee: Matt Carley (RFU)
pqs: qs: