An Armchair Ride to the Ricoh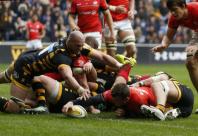 By Innings
May 9 2017
I haven't previously written a write-up of a game watched half from an armchair and half hiding behind it, but let's see what I can make of the must-win game at the Ricoh yesterday. For Wasps this was a must-win game. Wasps in a semi-final at their fortress will fancy taking on anyone who crosses their path to Twickenham, but Wasps at Sandy Lane or Allianz Park would be an altogether more doubtful proposition. For Sarries this was a nice-to-win game. They know they can win anywhere, home or away, and that knowledge is based on experience.
What to expect of the teams on the day? Wasps were bound to select their strongest available team in order to give their best shot at a home semi-final. They would perhaps have preferred not to have lost at Quins last week, which raised the ante here and removed the option of rotation before the semis. More importantly, that game had been more than a disappointment; it had shown that Wasps are not yet reliably comfortable when the big-money chips go down. Sarries were more aware that this was only the third biggest game of what they hope will be the remaining four. That meant rotation, a concept that means something in reality at Sarries, rather than being an aspiration elsewhere. Few other clubs have the option to rest four named British & Irish Lions as well as their defensive leader and one of the most predatory wingers in the game but still put out a competitive side.
Wasps began by demonstrating that the old Adams Park mentality has not totally dissipated. They were unprepared for the arrival of the crowd of over 30,000, a wonderful backdrop for any club at their new home, so the stadium managers had no choice but to delay the kick-off in order to get everyone inside safely. They will probably learn that ambition to fill the stadium for every home fixture has to be matched by planning for that to happen efficiently and promptly. The game was always going to revolve round two pointers: · Danny Cipriani and Gopperth seem to form one of the ideal modern 10/12 partnerships. Cipriani has – and intermittently displays - the skills to unlock Fort Knox with a hairpin but operates best with a proven playmaker on his outside shoulder, whilst Gopperth operates best with the extra time that he gets at 12, knowing how best to unleash the remarkable talents of what has to be the best back four in the Premiership.· Bradley Barritt would have been the ideal defensive rock and leader to contain this potency, but was not on show today.
I had few doubts about the Sarries pack. It lacked the Lions talents of the Vunipolae and Maro Itoje, but I felt confident that even without these important cogs there was enough big-game experience to see us through that part of the contest. The absence of Owen Farrell and Chris Ashton were more concerning. It's not that I doubt Alex Lozowski or Sean Maitland, but Ashton is ideally suited to the sort of free-playing style that Wasps prefer, and Farrell is simply the best big game player in town. Wasps had the honours and a well-placed kick into the 22, close to the touchline saw a typical Sarries take, clearance kick and follow. Kurtley Beale, not for the last time, managed the clearing play, and Nathan Hughes set off on a run. Perhaps he has forgotten Lowzoski's time at Wasps, when the latter was already becoming known for his defence, for he cannot have expected to be bundled unceremoniously backwards and onto his backside to deliver a net yardage loss in his first contact. However, less than a minute later, a driving run by Jake Cooper-Woolley made good ground and Beale was on hand to cut through a ragged Sarries defence. However, this first passage of play, fifteen phases and the ball in Wasps' hands for all bar the moment of Spencer's initial clearance, produced no more than a Simpson knock-on. The ensuing scrum led to a technical infringement and Sarries, as so often, ended the opening exchanges with a clearing free kick. Wasps must have felt, pulling the Sarries defence every which way, that a try should have ended the opening passages.
For the next few minutes we saw some excellent Sarries and Wasps handling, but usually off tactical kicking that had depth but lacked purpose. On such clearance gave Beale his third run from full-back, and confirmed what we knew already, that he has been one of Wasps' best signings, despite his early season absence and his departure after this solitary year in the northern hemisphere. Chris Wyles's header of a stray pass by Wasps' Joe Simpson produced territory, but was totally unforeseeable, and gave Cipriani half an afternoon in which to consider his options. He selected a deep kick in behind Ellery, but so overcooked it that the ball ran harmlessly into touch in goal, and gave Sarries a scrum on the Wasps ten metre line. Play took a momentary back seat on eight minutes, as the crowd stood to applaud the image of Ed Jackson on the big screens. Ed was a popular Wasps player, now with Newport Gwent Dragons, who recently broke his back diving into the shallow end of a swimming pool. A clever strip saw Wasps take the ball from Tompkins, to snuff out a threatening moment after the scrum, and seconds later Sarries were back inside their 22, taking a line-out after straight, aggressive running by le Roux and Tom Young only end with a foot in touch rather than a threatened try. Fifteen minutes saw a clumsy pick-up of a bumbling ball in mid-field, with the ensuing scrum giving one of those front row penalties that nobody understands. Gopperth was on the mark and so the first score was for Wasps.
Lozowski's restart was as good as they get, perfect for height and placed into that tiny pocket made by the corner where the 22 and side-line meet. The best possible Wasps take and support still ended up in touch. The throw-in was good, the distribution good, and then Spencer's thinking was outstanding as he took advantage of poor close-in defence by Wasps to shrug his way through to touch down under the posts. It seemed clear from the replay that Wasps were set for a quick pass to the wide channels and that nobody took responsibility for what then became the easier option. The restart was delayed by an early replacement. Tommy Taylor had twisted an ankle and was replaced by Ashley Johnson, a change of personnel that was certainly not going to weaken the front row. When Cipriani restarted proceedings we saw exactly why Wasps are clear leaders in the try table. Some excellent close-in work, twice by Cipriani, a deft little kick, swift hands and Thomas Young at the end of the move for a straightforward step in for the response. Gopperth failed to add the two, so we ended the first quarter at 8-7. That reflected the truth that whilst Wasps had unlocked the Sarries front gate four times, they had only got in through the front door once, whereas Sarries had only once had to push the front door, and then go in at leisure, with nobody home.
Ten minutes of some good play by both sides saw opportunities, defensive cover and overall plenty of belief that either side could score. In the end it was a Wasps offence, James Haskell, apparently unaware of the side-entry law, judging by his protest to Wayne Barnes. Marcello Bosch had a kick of 54 metres for the points, and as always it was well within range. It was right on target as well, giving Sarries the slenderest of leads, 8-10. After the re-start and Sarries clearance, Beale was again the prime mover in switching from defence take to attacking running. Christian Wade ran, chipped and looked very threatening until Maitland most obviously blocked his line, turning, dropping his shoulder and clattering Wade. Barnes will seldom have an easier decision to dish out a yellow card. Gopperth added points for 11-10 as the break approached. One might have thought that if Sarries could go in for oranges just a point adrift they would still be in great position to nag at Wasps' self-belief, but a perfect grubber through by Simpson gave le Roux and himself a straight chase for the touch-down, with only Spencer in the way. Spencer was first back but the saving action led to a 5 metre scrum, a couple of carries in-field and then a switch left to le Roux. He fixed the defence and then a perfect pass found Young free to stroll in again. With no extras by Gopperth, Wasps went in deservedly ahead 16-10.
Wasps began powerfully after changing ends, and should have scored when, with Koch down and only 13 on the field, Wasps gave Wade a clear run at the line, about 20 metres out and with no Sarries player within ten metres of the touchline. He was probably rehearsing his celebration when Michael Rhodes proved again what a season he has given Sarries. Appearing out of nowhere, he seemed to fly horizontally for a couple of metres on his way to taking Wade square in the side ribs, bundling him firmly into touch. Petrus du Plessis had to replace Koch, a worry given that Juan Figallo is already out for the remaining games. No doubt, Sarries coaches would prefer to be able to choose two from three avaialable frontline props, rather than two from two. Both sides then took very quick throw-ins, one by Wasps ignoring the risk that the throw over Schalk Burger's head could have ended in what would have been a threatening free run at the try line. So we got to 50 minutes.
Wasps are in the box seat but Sarries are by no means out of it. Maitland is back on the field but Wasps are beginning to release their back division to telling effect. One attack goes awry, and although Spencer is pressed to relieve the pressure, Haskell, immediately followed by Simpson, twice, help out by giving away pointless penalties at the breakdown. Brits and Titi Lamositele give way to Jamie George and Richard Barrington. Gopperth has a pop at a penalty from 44 metres, dead in front, bit drifts the ball wide. His statistics are also drifting a bit today. Nathan Earle comes on. I cannot say that Mike Ellery has had a great impact on this game, although, as can happen, his best contributions have all been in the last few minutes, with a sweep-up to stop a dangerous Wasps surge from their own kick ahead and a couple of telling attacking runs with the ball. Dan Robson replaces Simpson. Like Sarries, Wasps can boast two really good nines among their ranks, and we can expect little change in the quality of ball arriving in Cipriani's or Gopperth's hands. However, Robson's first handling of the ball leads to a charge down by Jim Hamilton, whose quick follow-up would have offered a chance of a try in open play if Beale had not been quick enough to prevent the chance.
On TV we are hearing news as the other games move towards their closes. Having kicked off at 3 p.m., as we should have done, we can see a little more clearly what we face next. Exeter have at last put clear water between themselves and a spirited Gloucester home effort, securing a certain home semi-final. Leicester seem to have settled the fourth place in the play-offs, so we are now just watching to see how the first-third tussle will be decided. Two Sarries replacements, Nick Isiekwe for Hamilton. Those in the know are quietly hopeful that we have found the next big name for second row watchers. That would match his stature, he's claimed to be 6' 7" and seventeen and a half stones. That's a bit light for some, but as he's only a few pounds lighter than George Kruis we can forgive him, especially as he only celebrated his nineteenth birthday a fortnight ago. Alex Goode for Nick Tompkins. This latter change requires a back-division shuffle.
With 22 minutes to go, it feels to me that Wasps back division have the measure of this game. With a kicking game that is now operating almost flawlessly, and handling that is as good as any seen in the premiership this season, Wasps are going about their business with growing momentum. I am no longer hoping for a win, but hoping that the team will not be going home after a sound thrashing. Exactly the combination of both skills sets up a try for Wade after extended pinball as the ball bounces off two or even three Sarries legs. This gives Wade the all-time record for tries scored in the regular season. 23-10. Naturally we cannot expect Sarries to lie down and fold up, and nor do they. Twenty-two phases of frantic Wasps defence , in that tiny strip between the try-line the five metre marks sees Spencer unceremoniously bundled over the line. No conversion, which is poor by Lozowski, because we would have been back within range of a single score. Simpson could, and should have latched onto a sublime infield grubber from le Roux, racing up the left wing, but fluffed the pick-up. Myall comes on for Symons, Henry Taylor for Maitland. I don't understand this one. I know we need Maitland for next week, but to replace a wing with a scrum-half seems to me to be a statement that the coaches have written off this game. Being a wing in this game needs pace and experience. Sure enough, with the Sarries defence pulled all over, Wasps put Daly into space for the fourth try that will put them 15 points clear. I simply cannot see Sarries scoring enough to swing this in the last eight minutes.
This match had one last twist to offer. Both sides are rafting in the substitutions, and I think that for six or seven minutes we are thinking about games to come. However, nobody told the Wasps players, and just as Austin Healey tells us that Thomas Young is MotM for his two-try efforts and all-round action, a penalty brings a line-out for Wasps about twenty metres out. A drive simply splinters the visiting pack and Young emerges from the melée with a straightforward canter in got his third and Wasps' fifth try. The game came more or less to its end with perhaps the most improbable image ever seen in professional sport: Wasps DoR, and father of the three-try MotM, not trying very hard to suppress his emotional tears. The man who was paying for Wasps' training kit and medical gear out of his own pocket for love of the club five years ago has taken them to their second play-off game in three seasons.
I was not totally convinced by Thomas Young as MotM. Surely three tries is deserving, after all scoring tries should be the ultimate aim of all teams. However, for sheer all round skill, commitment and contribution, you would walk a long way to find a better day's work than that of Kurtley Beale. Wasps will find that they have to fill a very big pair of boots this summer. For Sarries, Michael Rhodes was outstanding, as he always is. He has the heart, skills and brain to be a talisman for any side, but it is his rugby intelligence that shone through for me today. We are fortunate to have him, with Burger and Billy alongside, but we are also lucky to have Jackson Wray, under-rated by England but by nobody else, to form an exceptional back row squad.
So it's off to Sandy Park, to lock up a team that has a record 8 consecutive try bonus points and a grievance to work off about their treatment by Sarries last year at Twickenham. If we want to celebrate our double-double champions they have to beat whoever they have to face, wherever they are. Can they do it? That's for another week. This week now is about the big one, the attempt by Clermont, the team I'd follow if I lived in France, to dethrone Sarries, the team I'd follow wherever I lived.
Teams
Wasps: Beale, Wade, Daly, Gopperth, Le Roux, Cipriani, Simpson, Mullen, Taylor, Cooper-Woolley Launchbury (c), Symons, Haskell, Young, Hughes.A Johnson, McIntyre, Swainston, Myall, Thompson, Robson, Leiua, Bassett.
Sarries: Wyles, Ellery, Bosch, Tompkins, Maitland, Lozowski, Spenser, Lamisitele, Brits (c), Koch Hamilton, Kruis, Rhodes, Wray, BurgerGeorge, Barrington, du Plessis, Isiekwe, Brown, Taylor, Goode, Earle
Officials: Wayne Barnes, Roger Baileff, Nigel Carrick, Dean Richards (in the van)
pqs: qs: