BATHered and Bruised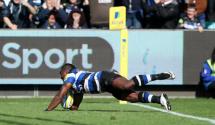 By OldMarovian
September 10 2017
From exultation to despair in 12 seconds. The time it took for Rokoduguni to pluck Vunipolas lofted pass from the air and race to the opposite end of the Rec and score a try.
Under blue skies and patches of sunshine Priestland kicked off and with the weather temporarily set fair maybe Saracens in their fetching grey Away strips might be the clouds to spoil this West Country party.

The first half saw a continuation of the impressive game control and suffocating defence Bath had displayed against Leicester Tigers on the opening weekend whilst Saracens looked to attempt to repeat their off-loading game the ball was going to the floor, forwards or into touch rather than to hand.

With both teams defences operating with Gandalfian efficiency (you shall not pass!) it was Priestland who opened the scoring by taking an opportunity to kick a drop goal when several phases of Bath attack had been repelled. Priestlands pragmatic and intelligent kicking was a feature of the first half as he regularly identified and exploited the width of the field to find his wingers, in particular, the BFG Banahan, as he soared above Earle.

Outnumbered on the wing Earle was unable to isolate Joseph as he got a pass away to Banahan who committed the defender then passed to a rampaging Louw who handed off Michael Rhodes and stepped through Alex Goodes tackle to score. Whilst the conversion was missed by Priestland from out wide Bath were building the score in a very Saracens like manner.

In contrast, Saracens are snatching at chances with Lozowski pushing a penalty wide and losing control of the ball just before the line after a sharp chip over the Bath defence was met by an excellent covering tackle from Anthony Watson. When Obano is judged to have blocked Taylors run Saracens kick for the corner rather than goal and when the ensuing lineout drive is halted Lozowski goes himself and is turned over by Louw. A converted penalty for pulling down the maul and a contentious one for against Schalk Brits for offside bring the score to 14-0 at half time.

The second half started with Vunipola (on for Barrington) making a couple of monstrous clear-outs at the ruck. Saracens are awarded a penalty and Lozowski converts. Play goes back and forth with both teams knocking on and passing loosely.

In commentary it's mentioned that Saracens are going more direct rather than offloading. Owen Farrell enters the fray and the blue-touch paper is lit. We are then treated to a glorious 30 seconds of offloads and scintillating link play as Maro soars at the lineout, lands, spins and passes to Day who wraps himself around Priestland to get a pass away behind his back to Brits who even as he is tackled early by Faletau is looking for support which he finds as he hits the ground and pops the pass to Wigglesworth who throws a miss pass to Farrell who tips on the most delicate of passes to Barritt as he is enveloped in a tackle by Clarke . Barritt collects the head high pass, distributes it to Taylor who passes to Goode who decides to step back in field and collides with Taylor. Accidental offside is given but Saracens have shown the type of rugby they are capable of playing.

Converted penalties for both teams follow and Farrell again identifies space behind the Bath rush defence and after pulling Watson out of position he sends a lovely chip over for Goode to gather. Unfortunately, a Saracens player is offside and the play is called back for a Bath penalty.
A tackle off the ball allows Saracens to kick to the corner where Brits throws to Maro at the tail and the maul powers towards the line only halted by Faletau and Garvey collapsing. A penalty try is awarded and Faletau is sent to the naughty step.

Another impressive Saracens attack starts with Brits returning the ball from deep and after multiple phases Brits is involved again committing two defenders, passing to Wray who is tackled by Clarke just as he gets his own pass away. Goode can't collect but kicks through and is effectively run off the ball by Watson as Bath secure and clear the ball.

Whilst the defence is ferocious and both Goode and Farrell are rocked by tackles by Banahan and Burns respectively Saracens are making more regular progress and the Bath line is beginning to fracture. Spencer comes on and tempo raises once again leading to a phase of 24plus passes before Watson disrupts Willliams just enough to ensure his pass falls behind Barritt rather than finding him and Taylor for the two man overlap.

From the lineout the maul set, then stuttered. Spencer passed to Wyles hitting the line from deep and after contact recycled to provide a crisp pass to Maro who in turn found Mako as he crashed over a tackler, carrying two more in his wake. More quick ball from Spencer found Barritt who passed to Goode who left Louw grasping as shadows then committed Rokoduguni to the tackle and offloaded to Wyles. An inside pass to Spencer (providing the quality of tracking you normally associate with a platinum UPS account) and with Saracens second try they lead the game for the first time.

Looking in the ascendancy and with a man advantage when Watson was forced to leave the field with an injury Saracens are rocked when from the scrum restart Rokuduguni runs a tight line off the scrum and steps inside both Spencer and Wyles defence leaving Barritt flailing at his heels as he runs the try in from 30M out. The Burns conversion gives Bath a three point lead.

The restart kick is followed by a knock-on and scrums as possession switches back and forth. Saracens eventually have a lineout from which they lay another assault on the Bath lines. Almost the whole team is involved in passing and offloading with the gainline being fractured several times not broken. It's both great attacking discipline and defensive discipline but when Saracens work the overlap they fail to use it as a miss pass goes to Vunipola who tries to put the pass out for Williams and the score but finds only Rokoduguni.

Despite the loss it was a fantastic game to watch and there were plenty of signs of the way that Saracens attacking rugby is looking to evolve. Bath deserved their win and I can't wait for the return fixture at Allianz Park.
BATH
Watson, Rokoduguni, Joseph (Tapau), Clark, Banahan, Priestland (Burns), Cook (Foutali'i), Obana (Auterac), Dunn (Walker), Perenise (Andrews), Charteris (Phillips), Stooke, Garvey (Grant), Louw, Faletau
SARACENS
Goode, Earle (Williams), Taylor, Barritt, Wyles, Lozowski (Farrell), Wigglesworth (Spencer), Barrington (M Vunipola), Brits (Tolofua), Koch (Figallo), Day (Isiekwe), Itoje,
Rhodes, Burger, Wray
SCORERS
Bath
Tries: Louw, Rokoduguni (2); Convs: Burns (2); Pens: Priestland (2); Drop Goals: Priestland (2)
Saracens
Tries: Pen, Spencer; Pens: Lozowski, Farrell(2)
pqs: qs: