FALCONS BROUGHT TO EARTH IN PHILLY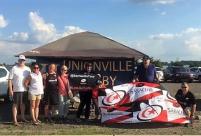 By King Zak
September 17 2017
It was an early morning start for us; out of our Broadway apartment (posh eh?) at 6am, a short subway journey to NY Penn Station, quick breakfast of bagel and coffee before catching the train to Philadelphia. We arrived to glorious sunshine and, after a short 'tourist' bit (Liberty Bell), we headed to Sonny's 'Famous' Steakhouse for an early lunch - we weren't disappointed!!
A 30 minute train journey to the stadium and a meeting with new rugby friends. As one of them (Ed) mentioned, meeting new rugby people is meeting friends you don't yet know! It was great chatting Saracens and all things rugby with these new friends - and eating their food & drinking their beer!!
It was about 4:30pm when we suddenly remembered we had a game to go to! The stadium is a 'soccer' ground, two main stands down the side with open seating either end. The game got underway in blistering heat as both teams 'sparred' with each other - go through a few phases, kick-chase and try to force the error. As most people know, it's something that Saracens are quite adept at - unfortunately they weren't so good at holding on to the ball. I suspect that the heat/humidity contributed to some of these basic errors.
Eventually, they managed to hold on to the ball long enough to create a simple two-on-one, with Goode supplying the pass to US Eagle Chris Wyles to score in the left corner - it was a popular score! Farrell made the challenging kick look simple to complete the 7 point score. However, it was not the end of the handling errors and it was inevitable that Falcons would seize on such mistakes. Jamie George spilled a pass from Farrell, Newcastle reacted quickest and Goneva completed the score 70 metres downfield - it was disturbingly reminiscent of Bath's final try the previous week. Takulua added the conversion and Falcons were level. It may have been somewhat against the run of play but it reflected the error strewn nature of the game.
Two Farrell penalties just before halftime gave the 'visitors' a lead of 7-13, but it was not a half of great quality. Saracens had the lion's share of possession and territory but were unable to get a really solid platform to attack from due to a stuttering lineout - I think it was four lost in the first half; not what we expect from the usually impeccable Jamie George. There were some positive contributions from the returning Billy Vunipola and the impressive Liam Williams but far too many errors.
Halftime saw Jackson Wray replace the injured Schalk Burger and Saracens looked to increase the tempo. The introduction of Wigglesworth in place of Spencer contributed significantly to this. The speed of ball allowed Farrell to dictate play far more than in the first half, putting Falcons under considerable defensive pressure - with or without the ball. The penalties came, Farrell didn't miss and Sarries built a 15 point lead. The game was finally won with a penalty try, awarded after Goneva was adjudged to have deliberately knocked the ball on in preventing Maitland from scoring. It cost Falcons 7 points and Goneva 10 minutes in the sin bin. The game stuttered to its conclusion; Saracens running out comfortable winners 7-29. I don't recall Falcons getting into Saracens 22 in the second half, such was the suffocating defence. At the forefront of which, as so often, was the irrepressible Itoje. How he keeps on performing to such a high level is truly astonishing. The second half was marginally better than the first and I'm sure Newcastle will be frustrated that they were never really able to get into the game.
For Saracens, there was the positive of Billy getting through a full 80 minutes, although there appeared to be lot more to him than last season! Maro was, well, Maro; deservedly awarded man of the match. Farrell was far more influential in the second half; Williams was exceptional under the high ball, in both attack and defence; Goode was his reliable self at the back, clearing up one very dangerous situation in the first half particularly well when trapped on his own goal line. The negatives though; too many handling errors, again; the line out stuttered the whole game, Jamie lost four (I think) and Tolofua was penalised twice for the 'throwing yips', when he failed to actually let go of the ball - not a new problem for the France hooker!
It's not a game that will live long in the memory, but the new friendships will. A huge thank you to Sue, Ed, Nancy, Brian, and Angelina, plus the young members of Unionville RFC for making it such a wonderful day - and the lift back to the station as the heavens opened after the game! Best wishes to all of you!! It was also nice to see a few 'old' faces who had made the long trip from England - rugby really is a very special game!
The attendance was 6,217 apparently - it looked less in a stadium which holds 18,000. It should be remembered that promoting the game was the responsibility of AEG, of which renowned former US Eagle Dan Lyle is director of rugby. All of the supporters I encountered were passionate about rugby and so grateful to get the chance to watch top-level rugby. I really hope that, in some way, this four year agreement can help to build and grow rugby in the US.
I gained the impression that rugby is growing in interest as a sport but there is not a great deal of awareness about Premiership/European rugby. That said, whilst wearing the 'Double European winners' t-shirt in New York, a local commented, "you won that in Edinburgh, right?" This is a four year 'awareness' programme between Premiership rugby and USA rugby and clearly there is a lot of work to be done. Speaking to some of the local club coaches, they said how valuable the coaching clinics provided by both tesaraceams during the preceding couple of weeks had been; both they and the players had learned so much. Over 20 players and coaches were awarded scholarships to go to the UK and spend a week with Premiership rugby clubs, learning and developing further - best of luck to all of them.
One thing I can guarantee, it won't be as hot when Saracens take on Sale next weekend!!!
NEWCASTLE FALCONS
Hammersley, Goneva, Harris, Matavesi (J Socino), Sinoti, Hodgson (Agulla), Takulua (Stuart), Vickers (Mavinga), Lawson (S Socino), Welsh (Davison), Green, Robinson (Witty), Wilson, Welch, Latu (Hogg)
SARACENS
Goode, Williams, Bosch (Tompkins), Barritt, Wyles (Maitland), Farrell, Spencer (Wigglesworth), M Vunipola (Thompson-Stringer), George (Tolofua), Figallo (Longbottom), Itoje, Isiekwe (Day), Rhodes, Burger (Wray), B Vunipola
SCORERS
Newcastle (7): Try: Goneva, Conv:Takulua
Saracens (29): Tries: Wyles, Penalty; Conv: Farrell; Pens: Farrell 5
Attendance: 6,217
Referee: J P Doyle RFU
pqs: qs: