RETURN OF THE MAKO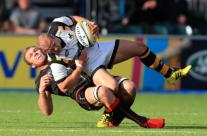 By OldMarovian
October 4 2017
On Sunday Allianz Park will welcome the black and gold swarm of Wasps for the teams' first meeting of the season. Last season it was honours even with both teams winning at home and Saracens and Wasps losing out narrowly to their opposition in semi-final and finals respectively. This season has seen changed fortunes for Wasps with a host of injuries leaving them without key players and fighting it out in a very competitive mid-table whilst Saracens sit in the top four.
In Dai Youngs playing days you often saw a "Live fast, Dai Young" banner at Welsh Internationals and he has built a team at least partially in that mould with an all-out attack first approach but a vulnerability around other aspects of their game. A series of injuries not least to Danny Cipriani at flyhalf have cause Dai some selection headaches and whilst Joe Launchbury continues to put in shifts Atlas would be proud of a number of other Wasps stalwarts seem off the pace. It also feels like the new ruck Laws have hindered Wasps. Where they were so deadly off first phase and broken play they are now finding set defence as the opposition no longer commit numbers to the breakdown. With their last three games all being losses they will want to put down a marker at Allianz Park and I would expect to see a reaction from some of their senior players who have been quiet so far. With James Haskell looking to get back up the cliff for an International call-up he could do worse than put in a decent shift in the foothills of the Premiership.

Saracens sit third in the table behind Northampton and Newcastle which few would have called at the start of the season, fewer still after the Twickenham game. Objectively we have, like-for-like with last season's games, won four from five rather than three from five and in all cases with an increased points difference and yet aside from the first forty minutes at Twickenham the side seems to have stuttered somewhat through these performances. Discipline and handling, in particular, have robbed us of the continuity that we thrive on to build pressure but our set piece has remained strong so we should have a good platform to play from.

It will be fascinating to see the team McCall selects and how the team plays. Last weekend Exeter had great success by keeping the ball in hand and keeping Wasps defending. Might it be one of those games where we deviate slightly from the kicking game and adopt an approach that has recently worked against that opposition? With ERCC games coming up might we see a little less rotation over the next couple of fixtures? Certainly Northampton will be wanting to make a point at Franklins Gardens and it feels like now would be an excellent time to run out our "first" XV in anticipation of that fixture next week and iron out those handling and communication kinks. I think we may see the return of the Mako, Wigglesworth and Farrell starting together and a rest for Maro who looks close to taking James Brown's title as the "hardest working man in Ruck & Roll" in addition to seeing Liam Williams back on the wing. Might we see something like:

Mako, George, Figallo, Day, Kruis, Conlon, Clark, Wray, Wigglesworth, Farrell, Maitland, Barritt, Taylor, Williams, Goode.

Thompson-Stringer, Spurling, Kock, Isiekwe, Earl, Spencer, Lozowski, Bosch.

As Sundays referee, Mr Tempest, might say; "what's past is prologue" onto the game!
pqs: qs: