Hmmm Scrum!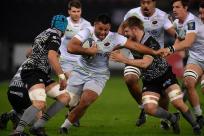 By Darraghgirl
January 14 2018
Everyone knows the story of William Webb Ellis, a pupil at Rugby School who allegedly in 1823 "with a fine disregard for the rules of football as played in his time, first took the ball in his arms and ran with it". Interesting because in fact in 1823 there were no rules as such! The first set of written Rules did not appear until 1845. Up until that time, such rules as there were, were agreed by the 2 teams before the game took place.
Quite where the scrum came from I am not sure. It appears that in those early days, when Rugby football and Association football started to diverge, the scrum came to prominence. In fact play revolved around scrummaging and kicking to set up scrums. Forwards - who could apparently number fifty plus in school matches - stood upright in the scrum and pushed, kicking either the ball or their opponents' shins. This tradition was carried on by the adult clubs that created the Rugby Football Union in 1871. A scrum was the main way of propelling the ball forward. On the rare occasions that the ball emerged to one of the backs, a tackle was immediately followed by a scrum. In those early days, the aim of the original rugby scrum was not to heel the ball back, but to push the ball forward through the opposing pack.
Over the centuries there have been many changes to the Laws which affect the way the scrum operates and reduce its influence over the game so in a way, the match at the Liberty Stadium between Saracens and Ospreys, played on a chilly night in the rain, was going back to rugby's roots. This was a game decided (or rather not decided) by the scrum.
Saracens used to be a club whose game was based on a solid scrum. Frequently criticised for playing "up the jumper" rugby, Sarries would often grind out a win in just these conditions. So maybe modern emphasis on running rugby, entertainment and scoring tries has led to Saracens Rugby forgetting its roots. One thinks back to props of old: Cobus Visagie, Kevin Yates, Carlos Nieto, Fabio Ongaro, Rhys Gill, Matt Stevens, Richard Skuse, Christian Califano, Census Johnson (so big he had his own postcode) and maybe the last of the breed Petrus Du Plessis. These guys were first and foremost props. Anything else they did was a bonus. Today we have Mako Vunipola and Vincent Koch, 2 superb rugby players who can run with the ball, carry, pass and score tries. But can they prop? Mako is a wonderful rugby player, but few would argue that he is a first class scrummager. Similarly Koch has brought something else to Sarries since he joined the club this summer, but again scrummaging alone is not his strongest point.
But I diverse – let's return to the game in hand. Northampton threw a very large cat among the pigeons by beating Clermont at Franklins Gardens which left all possibilities open and even topping the group was back in the mix. Saracens suffered a blow when Jackson Wray pulled out in the warm-up with a hamstring twinge. Callum Clark took his place in the staring XV alongside Billy and Michael Rhodes. Good early pressure from Saracens led to an early penalty and a 0-3 lead. Saracens continued to press but an opportunity from a 5m lineout went begging when the maul didn't get set and Ospreys were awarded a scrum. Early warning signs when Ospreys got a scrum penalty and cleared. A second penalty kick on 19 minutes gave Sarries a 0-6 lead. At this stage Ospreys hadn't set foot in the Sarries 22 but that changed with a superb kick from Rhys Webb which led to a Sarries lineout on their own 5m line. Sarries failed to clear and a lovely kick ahead from Beck should have seen McCusker score but he knocked the ball on and compounded the error by playing the ball on the floor and giving Sarries a penalty to clear. Sarries then messed up their own opportunity when Bosch's pass to Williams was decidedly forward. It was good to see Williams back but this was a game when his defensive skills were far more evident than his bandy legs.
Another Ospreys scrum on half way. This time the ball was fed deep into the 2nd row (don't the forwards have to hook the ball anymore?) This led to good pressure from Ospreys and eventually a penalty of their own which Biggar converted to cut the lead to 3-6.
Sarries again got themselves deep into Ospreys 22 but the Welshmen defended their line and eventually Farrell had to be content with kicking another 3 points for 3-9. As half time approached, Billy was noticeable out on the wing and holding his wrist. He struggled on until half time when once again Sarries gave away a penalty and Biggar maintained his 100% record in the competition to reduce the deficit to 6-9.
Worryingly the second half restarted without Billy (subsequent update from the club has revealed a fractured forearm) and Mike Rhodes (hamstring) so with the match not even half over, none of the first choice back 3 were on the field. Kruis & Burger replaced them. Ospreys were faster out of the starting blocks and another scrum penalty, this time against Koch levelled the scores. 3 minutes later Farrell restored the slender lead and then from the restart, Sarries set up a good drive and Farrell plonked the ball deep into Ospreys 22. Ospreys again defended well and forced a turn over but failed to clear allowing Maitland to run the ball back to the danger area. Sarries managed to disrupt the lineout and although Ospreys had the ball they were definitely on the back foot when Mr Lacey blew for an injury stoppage to Davies. The injury proved not to be severe but the game restarted with an Ospreys scrum and the inevitable penalty. Danger over. Ospreys worked their way up to the danger zone and yet another scrum produced yet another penalty, this one went to the corner. Sarries defended well and eventually the ball was cleared.
Time for the cavalry – what was left of them. Wyles replaced Maitland, who had another quiet game, and Sarries just about survived another scrum on their own ball. Figallo replaced Koch and the following scrum looked more solid for Sarries. Even better, Sarries got one against the head as Ospreys packed down. Maybe the tide was turning? Just as the Men in Black seemed to be gathering a bit of momentum, Wyles found himself in a no-win position. Going to challenge Davies in the air he pulled out and turned his back, finding himself blind-sided by Hassler. He had nowhere to go but Mr Lacey and his TMO decided Wyles was "not in a realistic position to get the ball" and he went to put his feet up for 10 minutes. A tad harsh maybe but in modern rugby almost inevitable.
Step up Alex Goode. For the next 10 minutes Goodey played wing and fullback. He was calm, skilful and as Ospreys pounded him with high balls, absolutely rock solid. I've said it before but what more does this guy have to do to attract Eddie's attention? Having survived 70 minutes, Skelton was out on his feet. I thought he had a decent game carrying well and not giving much away. Interesting scenario as Christopher Tolofua replaced him with Jamie George moving to the back row but retaining the line-out throws. With the departure of Skelton went the brief revival of the scrum and Ospreys once again were awarded a penalty which Biggar slotted to level the scores again at 12-12. Loz replaced Bosch and Sarries won a penalty of their own which Faz kicked to restore the slender lead to 12-15 with 5 minutes left. Wyles rejoined the fray. Could Sarries hang on? What about throwing on Spencer for a bit of twinkle-toed magic at the end?
Scrum Ospreys. 2 resets. Mako is struggling but for some reason Barrington remains on the bench along with Spencer. Finally Mr Lacey loses patience and inevitably the penalty goes to Ospreys (although I think it was Figallo who earned his wrath). Biggar kept his calm and his perfect record to level the scores. There was just time for a restart. Sarries pressed hard and Ospreys kept their cool. There was a suspicion of a high tackle by Ospreys – we waited but the voice of the TMO said he was happy. Sarries need to be patient. The penalty might yet come but eventually a speculative pass was thrown, by Faz of all people, the ball was turned over and Webb decided enough was enough and ended a pretty dire game.
So Saracens are still alive in Europe but only just – they have barely fingertips now on the trophy. It will take a big win over Northampton and other results to go their way for any further progress to be made in the competition. But back to the scrum. This was the source of Sarries' troubles. In truth Mr Lacey's refereeing of the scrum was dubious but I am not denying that Ospreys appeared to have the upper hand. So what has happened to our scrum? This is not the first game this season where the big boys have struggled. Have we prioritised skill around the pitch over scrummaging ability? Why wasn't Barrington brought on at the end to replace a visibly tiring Mako? When will Titi be back? He looks like a more traditional tighthead and maybe someone to anchor the scrum. Undoubtedly the loss of Billy, Rhodes and Wray before half time had a big impact and the departure of Skelton, being replaced by a hooker, couldn't have helped. But if Sarries are to regain the heights of the past few years, the scrum needs urgent attention as McCall well knows.
"…ultimately it came down to the penalty count at scrum-time, that was the fundamental problem. I think that in a scrappy, tight, stop-start game like that the penalty count at set-piece time and in particular at the scrum ultimately determines the outcome of the game and the way it's played so it's pretty frustrating."
Interestingly the 2 points by which Ospreys lead Sarries are the 2 points Saracens so generously allowed them when they visited Barnet in October. A win over a rejuvenated Northampton next Saturday is not a given but it is a must if this European Adventure is to have a hope of continuing.
Congratulations to the large number of supporters who made the journey down to Swansea – you even got a mention by Stephen Jones in the Times and a tweet from Ospreys Sociables "Just a word on the Sarries supporters they came in large numbers and made themselves heard. Without doubt the best away support this season". Let's make sure you give the boys huge support on Saturday. I think they're gonna need it! You'll have to give a shout for me too – I'll be somewhere over the Atlantic on my way to Costa Rica!
SARACENS
Goode, Williams, Bosch (Lozowski), Barritt, Maitland (Wyles), Farrell, Wigglesworth, M Vunipola, George, Koch (Figallo), Itoje, Skelton (Tolofua), Rhodes (Kruis), Clarke, B Vunipola (Burger)
Not used:- Barrington, Spencer
OSPREYS
S Davies, Hassler, Beck, Watkin, Evans, Biggar, Webb, Smith, Baldwin (Otten), Arhip (Fia), B Davies (Beard), Jones, Wyn Jones, Cracknell, Tipuric, McCusker (Jones)
Not used:- Thomas, Habberfield, Fonotia, Howells
OSPREYS (15): Pens – Biggar (5)
SARACENS (15): Pens – Farrell (5)
Attendance: 9,158
Referee: John Lacey (IRFU)
pqs: qs: