THE ONE WE HAVE TO WIN (WITH A BONUS POINT) #2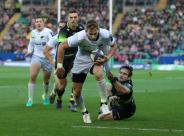 By Darraghgirl
January 17 2018
So the reigning Double European Champions are sitting in the last chance saloon. And someone else is choosing the drinks! I think it probable, rather than possible, that this weekend, Saracens will fail to qualify for the quarter finals of the European Cup for the first time since 2011. Their fate is no longer in their own hands.
The first pieces in the jigsaw will already have been placed by the time Sarries kick off against Northampton on Saturday afternoon. The runner up in Pool 3 will be known (Leinster having already qualified as group winners). It will be between Montpelier (home to Leinster) and Exeter (away to Glasgow). You would expect an Exeter win (which would take them to at least 18 –more likely 19 with a try bonus as Glasgow have only pride to play for – but then look at Saints last week).
So how does it look in Pool 2 (our group)? Clermont need to scrape together 15 fit players and not lose to Ospreys for Sarries to be able to finish second. An Ospreys victory and we are out. (If Sarries and Opreys both finish on 18 then Sarries have the better head to head, similarly if Clermont and Sarries both finish on 18, Clermont have the better head to head). Clermont can't finish worse than second but will want to go for a home semi and won't want to take the risk of 18 points not being sufficient. Realistically a single bonus point would probably be enough for them – but not for Sarries. Hopefully the Stade Marcel Michelin will work its magic!
Nothing less than a 5 pointer will do for Sarries against a resurgent Northampton Saints who, as we all remember last week, threw the whole group wide open by beating Clermont at home. You might think that having thumped Saints by over 50 points on the 2 previous meetings between the teams this year, that was a given however Saints, under Alan Gaffney, seem to have found a new enthusiasm for the game and although they cannot themselves qualify, we all know how much they like to put one over Sarries. Especially at Allianz.
If (and it's a big if) Pool 2 goes our way, a lot of things still need to fall in place for Sarries to qualify. The next group to take the stage is Pool 5. Possibly the biggest game of the round will be between Scarlets at home to Toulon. The winner of this will top the group, the loser will be marooned anywhere between 17 and 21 points in second place (4 try draw!). And Bath aren't out of it, away at Benetton. 5 points (again not the given it once was) would see Bath on 18 points with a shot at 2nd place in the group too. Therefore we have to assume the runner up in Pool 5 will have at least 18 points so it could come down to points difference.
Sunday sees Pool 4 take the field first. Another very tight group with Munster leading the way on 16 points at home to Castres (who realistically have no chance of going through but are the form side in the Top 14. However French teams away being French teams away, I don't expect them to unduly trouble the mighty Munster). Meanwhile a beleaguered Leicester Tigers take on Racing 92 at Welford Road. One would expect Racing to win that and move on to 19 or 20 points in second place.
The final Pool to play out is Pool 1. Again the 2 English teams are almost certainly out of it but could possibly do Sarries a favour. Group leaders Ulster travel to the Ricoh to take on Wasps. Meanwhile Quins travel to 2nd placed La Rochelle. If this one goes to form you would expect Ulster and La Rochelle to win (thus the 2nd placed team in the group would be on a minimum of 20 points) but after Quins' performance last week you never know and Wasps might just pull it off against the Ulstermen. A losing bonus point in that case would leave Ulster on 18 as well.
So you can see the permutations are endless, and sport being sport, things don't always go to plan! Let us not forget 2015 when Sarries lost narrowly at Clermont in the final round and we thought we were out only to discover a huge wobble by Toulouse had allowed us to squeak into the quarter-finals in 8th place (and who will ever forget Bosch's fantastic winning kick in Paris that year).
So all Sarries can do is concentrate on beating Saints and getting the 4 try bonus point. The rest is in the lap of the Gods! I have no doubt McCall will put out his strongest available team although the selection of forwards at the very least will be interesting! I assume he will start Mako and Jamie George possibly along with Figallo to shore up the scrum a bit. Given the problems in the back row, I assume Maro will move to 6 leaving 2 out of Kruis, Isiekwe and Skelton at lock. It wouldn't surprise me to see Skelton start. The back row will, I suspect, be down to who is fit! Presumably Burger and Maro and hopefully either Wray or Rhodes (or both). If they are still on the sick list I assume it will be Callum Clark (ex sinner) but I would have concerns about that combination.
The backs are a bit easier. Goode picks himself on current form (go on Eddie, you know you want to pick him really) along with Williams and probably Maitland (although he is a bit off the pace at the moment). Presumably Barritt and Bosch again in the centres (assuming Duncan isn't fit) and Farrell and Wiggy at half back (although again Spencer deserves consideration – why didn't he come on last week!!!) Sarries values have to come to the fore on Saturday. Honesty. Work rate. Discipline. Humility. All will be needed in spades – and a lot of luck!
As for Saints? They have had a horrible season but last week finally saw a light at the end of their tunnel. Alan Gaffney did what new coaches usually do and produced a win. Can he do it again? Who knows! Saints have only their pride to play for but pride is a big deal against their old enemies from down the M1. I would expect them to play a strongish team (given there are 2 weeks of the Anglo-welsh to follow so non-international senior players get to put their feet up). George North is rumoured to be back in training but I don't see Saints risking him in a game like this and anyway they may decide not to change a winning team. Piers Francis is still not fit and there must be doubts about Ahsee Tuala (who didn't return from an HIA). Mathieu Raynal from France takes the whistle
So this may be the end of our European journey for this season. We always knew defending the title would be harder than winning it – and defending it for a second time even harder still. Everyone is out to get you. Everyone wants the kudos of beating the reigning champions. But there are of course positives. We can concentrate on regaining the Premiership crown. Our players will get a precious couple of weeks extra rest in April. And we won't have to pay exorbitant prices to get to Bilbao (of all places) for the Final in May.
Heyho! I'm off to Costa Rica. By the time I get back in 3 weeks all this will be history.
pqs: qs: