HAPPY BIRTHDAY TO YOU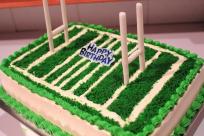 By Darraghgirl
February 10 2018
It seems we were invited to a party, a birthday party. I assume, having been in Costa Rica for 3 weeks, I missed out on the invitation but it didn't seem to matter. The more the merrier. It was Allianz Park's 5th Birthday and all were welcome. We were offered cake (with slightly dubious blue icing) and cider to help us celebrate. Unfortunately the weather wasn't playing ball and Allianz Park was draped in grey clouds and heavy drizzle. Still it didn't dampen our spirits (well not too much).
The team sheet revealed a few unexpected gifts with Liam Williams, Chris Tolofua, Jackson Wray and Sione Vailanu all supposedly out for a while but present and correct. Newcastle took the pitch in one of the worst away kits I have seen – green and grey – although fitting for a rather damp afternoon.
My notes got rather soggy so you'll have to forgive a somewhat sketchy match description! Early on Vincent Koch limped off which was bad news for Chippy as he was going to have to play 78 minutes. Hopefully it isn't serious! Saracens started positively, putting a lot of pressure on the Falcons who, to their credit, defended well and after 10 minutes around the Falcons 22 all they had was 3 points from Spencer (I was pleased to see him kicking again) to show for their efforts. From the restart Saracens offended and with an excellent kick from Hodgson, Newcastle were level.
Hammersley departed for an HIA never to return so Alex Tait took his place at fullback. A high tackle gave Spencer another easy 3 points and at the end of the first quarter Sarries led 6-3. They again put heavy pressure on the Falcons but only Skelton and Barrington seemed able to break the gain line. Play crept closer and closer to the try line. Patience was required and finally the forwards trundled over under the post with Barrington getting the score. Again an easy kick for Spencer and it was 13-3.
An excellent break from Alex Goode carried the ball deep into Falcons' territory. Loz seemed to try a speculative cross kick towards Williams on the right wing. It didn't seem the best option and from our seat in the East stand it looked like it was a bit too far but referee Cristophe Ridley consulted the TMO and after some deliberation decided that Sinoti Sinoti had tackled Williams without the ball and prevented a try. He went under the posts, Sarries led 20-3 and Sinoti went to put his feet up until after half time.
With 2 minutes left on the first half clock, Newcastle finally got a foot in Sarries' 22 forcing Sarries into a 5m lineout. It was messy but the danger was cleared and 30 soggy players along with 3 soggy officials departed for the warmth of the changing rooms.
For once, the half time break was possibly the most entertaining part of the afternoon. First of all Saracens were awarded the Freedom of the Borough of Barnet which Nigel Wray accepted on behalf of the Club. I'm not sure if it means they can graze sheep on the banks of the A1 or absolves them from paying Council Tax but they join such alumni as Margaret Thatcher and the Chief Rabbi Ephraim Mirvis in receiving the honour. Another nice and unexpected Birthday gift. This was followed by a rendition of "Happy Birthday" by the London Musical Choir who then launched in to "O when the Saints" and seemed rather surprised to be greeted by booing from all round the ground. Does nobody in Sarries' PR department tell these visiting choirs what not to sing? Not content with doing it once, they did it again! Finally we had a nice little interview with Brits and Rhodes about 5 years at Allianz (although I don't Rhodes played at Watford) beautifully photobombed by Sarrie the Camel!
The second half was decidedly unmemorable until the last 5 minutes. Both teams seemed reluctant to leave the warmth of the dressing room. Newcastle looked the more likely team to score but Sarries' defence held firm. The changes were made with Thompson-Stringer, Spurling, Vailanu, Earl, Whiteley, Malins and Earle replacing Barrington, Tolofua, Skelton, Burger, Spencer, Lozowski and Williams (who looked to have a bit of a limp). Spurling struggled at the line out and the departure of Skelton & Barrington definitely affected the carrying power.
With 5 minutes left, and quite a few of the crowd taking refuge in the bar, Malins kicked forward a loose ball from replacement scrum half Takulua. He chased the kick and dived on it from around 10m out, gliding gracefully over the line on the wet "grass" with a style that would have won him the Skeleton gold medal at Pyeongchang. Malins couldn't convert but with the score 25-3 it hardly mattered. What was now apparent was that Sarries had 3 tries and 4 minutes left to get the bonus point. Falcons hung on to the ball for 2 of those minutes before Sarries won a penalty. Malins found an excellent 5m touch. For once Spurling found his man and the maul was set – and pulled down. Back into the corner, again Spurling found his man, again the maul looked set and again it went down. Possibly an argument for a Penalty Try? But apparently not. The clock was now dead. Most of us felt it was pushing their luck to go for a 3rd line out. In the days of Glen Jackson the ball would have gone straight across to Wyles, lonely out on the left wing. I don't blame Malins, he doesn't have that level of guile yet, but it was entirely predictable that the 3rd lineout would be lost, Newcastle would kick the ball out and everyone would go back into the dry.
The attendance was said to be 8,194. If that was the case, most of them must have been in the queue for the toilet! Even more surprising was the unexpected Birthday Present from Sandy Park where Exeter had lost 5-6 to Worcester. So all in all, not a bad afternoon!
Saracens
Goode, Williams (Earle), Bosch, Barritt, Wyles, Lozowski (Malins), Spencer (Whiteley), Barrington (Thompson-Stringer), Tolofua (Spurling), Koch (Figallo), Skelton (Vailanu), Isiekwe, Clark, Burger (Earl),Wray
Newcastle Falcons
Hammersley (Tait), Goneva, Penny (Mermoz), J Socino, Sinoti, Hodgson, Young (Takulua), Vickers (Lockwood), Cooper (S Socino), Wilson, Green (Olmstead), Witty, Burrows (Chick), Latu, Hogg
SARACENS (25)
Tries: Barrington, Penalty, Malins; Conv: Spencer; Pen: Spencer (2)
NEWCASTLE FALCONS (3)
Pen: Hodgson
Attendance: 8,194
Referee: Cristophe Ridley (RFU)
pqs: qs: