NO STING IN THE TAIL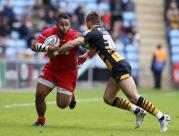 By Purfleet Sarrie
April 28 2019
So here we are again. At the Ricoh Arena. Coventry. Second week in a row. At least there were trains today. This time again pretty much our A team… ok, maybe our B+ team……. Can we continue the level of intensity that we had last week…… we shall see.
Wasps start strongly but unfortunately Simpson throws a pass on 5 mins that is intercepted by Spencer and no one is going to catch him. Converted try Sarries, 7 nil up, against the early run of play. The restart is gathered by Itoge and Wasps are lucky to have 15 men on the pitch after a deliberate knock on …. Although Wayne Barnes sees it differently and just a penalty. 10 Nil Sarries.
Sarries now start to exert control and Billy V gets close for a try but for it to be ruled short. Wasps try to get themselves back in the game and Watson has a quick break, cleared into touch. Sarries line out which they clear simply. That really sums up Sarries game plan. Saracens play simple rugby and do the basics very well most of the game. They are playing an intelligent kick game and Spencer is excelling at it and the simple game works wonders on 20 mins with a simple move up the middle which puts Liam Williams through for an easy dot down although not converted with the windy conditions, Sarries lead 15 Nil. I start to wonder how high the score today will be.
Wasps highlight thus far must be Marcus Watson, a thorn in the side for Sarries (can we sign him lol). A Simpson charge down of a spencer box kick gives Wasps a glimmer of hope and the score is 18 – 7 Sarries. However, we quickly strike back after a simple try puts Skelton through for our 3rd try successfully converted and following an infringement by Wasps and a penalty, Saracens go in at the break leading 28-7. The story of the held is simple…. Saracens are simply in control and my fear is that they will relax too much in the second half.
Second half starts and an early penalty for wasps from which resulting great kick they find touch deep in our half. Are my fears founded……. We defend well but give the penalty to Wasps. My thoughts here should be more on the rugby but I'm afraid…. Billy V should be given bigger, better fitting shorts. Sorry.
Summing up the Wasps attack this far, its weak and easily snuffed out by Sarries with their defence working smoothly. A quick intercept break by Brad Shields ends with a forward pass and unfortunately the second half seems to have deteriorated into a non game with the game seemingly over with the Saracens scores from the first half. We are happy to sit on the score line and easily contain Wasps offensive plays.
A wasps infringement in front of the posts is inevitably converted by Farrell for a score of 31 -7 and I'm saddened to hear shouts from Wasps fans of boring boring Sarries. Boring boring… yep….. into the European Champions cup final. In the Premiership play offs. Terribly boring boring Sarries. Not successful at all. Perhaps these fans should update their insults and shouts. But who cares, anyway, back to the game of rugby that briefly threatens to spark into life with a yellow card for Isiewke (that's got to be one of the quickest yellow cards for a replacement surely) and wasps gain a try with Nathan Hughes powering over into the corner and the conversion makes it 31-14 Saracens with 11 minutes to go.
Can Wasps come back, will there be a proverbial sting in their tail… No as Saracen's game management and experience close out the game and we get the four points with the final score of Wasps 14 to Saracens 31. A good day at the office and with momentum gathering at the right time of the seasons, who knows what rewards this team may reap by the end of the season. Lets wait and see as we have a minimum of four games remaining….. potentially 5. Come on Sarries !
WASPS
Le Roux, Watson, Daly, Lovobalavu (Gopperth), Bassett (de Jongh), Sopoaga, Simpson (Hampson), Zhvania (McIntyre), Johnson (Cruse), Brookes (Cooper-Woolley), Rowlands (Matthews), Myall, Shields, Carr (Morris) Hughes
SARACENS
Goode, Strettle (Lewington), Lozowski, Tompkins, Williams, Farrell (Morris), Spencer (Whiteley), Barrington (Thompson-Stringer), George (Gray), Lamositele (Koch), Skelton (Burger), Kruis, Itoje, Clark, Vunipola (Isiekwe)
SCORERS
Wasps (14)
Tries: Sopoaga, Hughes; Conv: Sopoaga (2)
Saracens (31)
Tries: Spencer, Williams, Skelton; Conv: Farrell (2); Pens: Farrell (4)
Attendance:- 15,502
Referee: Wayne Barnes RFU
pqs: qs: