SHALL WE CALL IT A DRAW?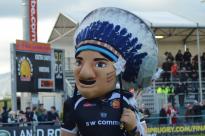 By Darraghgirl
May 2 2019
When the fixture list came out last summer, I remember thinking this Saturday's clash between Sarries & Exeter Chiefs would be a game to look forward to. For once it is not in the International window and both teams might just need to get something out of the game so it should have been a match to savour. Fast forward 9 months and I see I was wrong.
This is effectively a dead rubber. A win for either side makes no difference to either club. Their positions can't change, they have both secured home venues and the result cannot influence their potential semi-final opponents. There won't even be any bragging rights as I assume neither side will select anywhere near their first team! Exeter are well known to hate our plastic pitch lest any of their players break a toenail on the fake grass, while Sarries will want to wrap the first team in cotton wool so they arrive fit and healthy in Newcastle. Sarries have more to lose with that European Final to come next weekend while Exeter twiddle their thumbs until the semi-final comes around. Their main danger is boredom! So let's agree a 3-3 draw and everyone can go home!
Of course it is highly likely these 2 teams will meet again at HQ on 1st June and that game WILL count but until then we mark time. In regular games, Exeter have got the better of Sarries over the last couple of seasons. In 2017-18 Chiefs did the double over Sarries and they also won the earlier encounter at Sandy Park this season (all 3 games being during the International Window). Saracens last beat Exeter in the League in September 2016 (at Sandy Park) – the return leg in London being a 13-13 draw. But of course Sarries won the one that mattered – last year's final.
I don't see McCall risking anyone likely to be involved in Newcastle so I suspect we will see more of a Storm team with a sprinkling of fringe players who need a bit of game time. The possible exception would be David Strettle – he deserves a good send off and this is a more likely game than the semi-final. For the same reason I would expect Marcello Bosch to start on Saturday as well and possibly Vailanu? Hopefully Christian Judge will also get a farewell run out but probably from the bench. I expect Tolofua's suspect throwing won't be risked even in this one. I think Burger's farewell will wait a couple of weeks. Figallo may be risked as he needs a bit of game time. Whiteley took a bit of a knock on Monday and played the whole game so Wiggy may start if he's fit, again to get some game time. So we may see something like:
Gallagher, Strettle, Morris, Bosch, Lewington, Malins, Wigglesworth; Thompson-Stringer, Gray, Figallo, Day, Kpoku, Clarke, Earl, Vailanu
As for Exeter Chiefs – well to be honest I have no idea. Apparently Rob Baxter wasn't happy with his sides' performance against Quins last weekend and stated "At this stage of the season we've won the big prize and it's created this emotion vacuum". He was particularly unhappy with the performance of his pack who were apparently "bullied" for 70 minutes by their Quins counterparts. So will he put the same tight 5 out and hope they can improve, or will he shake things up a bit? Given he said "I've challenged them to snap out of it" maybe the former? Chiefs don't have a game next weekend so this is "last chance saloon" time for Baxter's forwards to show him what they are made of! We definitely won't see the likes of Jack Nowell on our pitch and Cordera is out for the season. Chiefs also have an A League semi-final on Monday evening so, strange as it may seem, may prioritise that fixture and "rest" some of their "Braves". So stab in the dark but maybe something like:-
Whitten, O'Flaherty, Slade, Devoto, Woodburn, Steenson, Maunder, Hepburn, Yeandle, Williams, Dennis, Hill, Capstick, Lonsdale, Kvesic
The referee is Ian Tempest – although after Barnes' display last weekend maybe he isn't so bad after all. We shall see! After the game I'm off to Heathrow for a couple of weeks in Botswana – give the lads a cheer for me!
pqs: qs: