New season, new name, new era...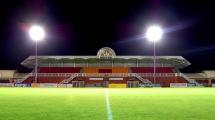 By Rogero
February 8 2018
The West Wales Raiders suffered defeats in their two pre season firndly matches losing 60-0 at North Wales Crusaders in their first ever match; this was followed by a more competitive performance with a 30-10 defeat at London Skolars. All eyes now turn to Stebonheath Park for the opening match in Championship One with the visit of Newcastle Thunder on Sunday February 18th - kick off at 3pm. This is followed by a visit from Doncaster on Sunday 4th March to Stebonheath Park, again with a 3pm kick off,
Details of the Challenge Cup draw and the resultant match for West Wales awaited.
pqs: qs: