Wasps V Exeter Chiefs - Match Analysis (Raggs Style)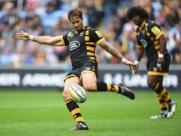 By Raggs
September 7 2016
Some interesting analysis through the eyes of Raggs
Here we go .......
Maul where Launch gets penalised at the start. Not only does Chudley stick his head into the maul, but he also has the ball. Launch is in a legal position, so why is he not allowed to grab the man with the ball, whether he's part of the maul or not.
Daly was well offside for the restart. Exeter were slightly offside for the first kickoff, but not to the same degree.
6m on the game clock, first kick from Cips, a pass could have been very easily intercepted.
7m turnover from knock on, but not quick, defence seemed fairly well numbered up, Robson kicks for space. Good decision, plenty of space and defence is up hard onto them. Leads to a chargedown in their 22, and a penalty to us. Think jump/throw timing was off, seemed well placed if Jones had been up at the right time.
Wish Wade would run it back more. Defence is up fast, but the line is up, and the pass he gives just gives Exeter another 10m to come forwards. Run it back, even if you have to cut to where your forwards are.
8.39m Cips kicks through. Running it may have been a better option, but I wonder if Gopperth didn't give the call as he was on the wing, Cips seems to change his mind based on something. Exeter marshal it well and we lose ground and possession with the kick tennis.
10.25m Slade is very classy, and we tend to come worse off with the kicking battles, but this time Cips takes it in our 22, and clears it to theirs, fantastic kick. Unfortunately the bounce isn't kind and chiefs can take it quick. As mentioned though, it went out outside the 22, so they have no right to kick it straight out (ref checks with someone and gets the wrong reply on that) law 19.1b. Still, a great kick gives us possession just inside their half.
11.45m, Cips overcooks a kick straight into touch, but our attack was going nowhere and the blitz was preventing other options. Good decision, bad execution. Healy shows how Daly may have been an option a phase or two before, I think Daly wasn't in place in time, needed to be a few more meters ahead to actually be available to cips. The rest in the line to the wing (Hughes after Taylor) weren't available, only Taylor was, which is what Cips does.
13.50m Daly slightly offside at restart, not as bad. Chiefs harshly done for knock on, ball went backwards.
15.10m Chiefs 1+2 get done for going early in scrum (think this is important later). We win a pen in the next one. Hughes breaks off against the turn of the scrum though, could have been called by Robson who goes that side. Good work by Chudley.
21.32m No idea how that wasn't called as a maul. 2+ men from both sides, on it's feet for a good amount of time.
22.36m Said it was important. 1 pushes early for Ex again, should be a penalty since it's the second offence, it's given as just another freekick. Huge difference between the two when we're just 5m from our tryline. Their lineout on the halfway line rather than ours. Btw who was it that thought Cips didn't get good distance on his kicks? I thought it was odd, and they're completely wrong.
24.30m we get a turnover and exeter are miles offside at the next ruck. Cips kicks through as called for by Daly. Unluck bounce of the legs, if it hadn't have bounced would have been very good for us.
26.24m Think that the potential high tackle on Robson should have been reviewed. Not sure on slowing it to 25% could be fine, could not be. However, the Cips incident I've revised my opinion. At first thought nothing in it, play on, but then I wondered why Cips grabbed his forehead, and watching with it slowed, seemed to look at his palm after. Devoto doesn't miss Cips on the way in with the kick, you can clearly see when a stud catches cips' forehead since the hair is moved out the way. This is what Cips grabs after grabbing Devoto's leg (which he grabs after Devotos foot hits him in the chin/neck). Penalty only perhaps (or if more strict these days, a yellow).
27.50m For a ref who was so keen to shout use it in a scrum later in the game, why didn't he call it here, seemed the perfect opportunity. Scrum had gone down, no one side to blame, but ball was clearly at the back (and got there before any foul play). Shouts use it on the reset despite us going forwards.
30.40m Guess I need to talk about the try. I think Robson does something he actually needs to do more of. He starts a little snipe. That sits the chiefs defence down. We don't really make much of it, but the gainline is much closer. Cips send a pass back the other way. It bounces (due to a knock on from white) and that helps send people off. Guy beats his first man, gets the offload away to Robson (think Miller was in close support too). Love Robson, great mazy running and an accurate pass to give Gops a real chance. Gops stands up the defence and goes to the corner.
32.57m Launch still seems to have trouble with his positioning for restarts. Glimpses of the future when Cips gives a pass out to Thompson, who passes out the back to Gops, onto Daly and to Wade for good yardage. Cips with a cheeky grubber through. Strikes me as a play that if it comes off, pays off. However, since he'd changed directions, and got the defence to stand still, I think passing it out where we had more men would have been smarter.
34.00m Bassett is making a lot of mistakes or poor decisions, trying too hard to impress I wonder, but they may be the sort of mistakes that improve if given gametime to calm down. Launch with a fantastic tackle on Dollman, not letting him go no the outside. Bassett then gives the kick not making touch from which Exeter score.
36.11m Daly offside again at the restart. Needs to watch himself. Loving his workrate though.
38.16m Space on the outside? Maybe not enough, Miller with the chip through but a bad bounce hurts a bit. Still good territory.
39.14m Gaskell forwards offload to Thompson. Very close. If Thompson hadn't been clear and free I don't think that would have been given.
-------------
40m Think someone has had a word with the ref, tells the Wasps boys to time their run and wait at the restart. No offside. Daly still gets there to nail the main as he lands, chiefs have adapted a little by giving him some support.
40.25m Think we need to reassess how we deal with kicks to us in play. We seem to like passing it back into the middle and run an attack there, presumbly to get a split field next phase. The problem is it gives the opposition another 3 seconds to get the defence up, and the pass tends to cost us another 4-5m as well. Hughes finds space but no support.
44m Lots of defence, we seem to hold off on the blitz a lot, lots of crabbing by the scrum half probably makes it difficult to blitz for fear of him slipping through.
47m We end up losing our lineout, and it's not the first time Thompson has failed to clean up sloppy ball, basically due to what looks like poor explosive pace. I know he can run fast, but I wonder if his acceleration is what's holding him back, both times he's looked more plodding than bursting to secure.
51.30m Perhaps in response to Chiefs getting smarter, we change the restart and almost disrupt them.
52.20m Are we playing slightly deeper? Looks like it. Would help get around the edges of the blitz. Next phase is slow ball, deep line again, but we get the forwards passing on, offload in the tackle by Symons, Swainston pops it on to Gopperth. Could Gops have sent it out wide then? I reckon so, but he straightens, we get quick ball out to wade with simple commit and pass. Robson runs a good support line, but he's been slowing down and not getting to teh breakdowns quickly (for me).
57.39m This is what Cips has been trying, gets the grubber through just right. Great run of play, and Robson readin well, getting to the ruck before the tackles made. Poor pass from Gopperth slows things down. Hughes with a few nice bits of linking play a phase or so later, then Jones loses it forwards.
59.39m Robson kicks away turnover ball with men outside him, but we were deep in our 22 and whilst we had numbers, weren't clear on the outside.
60.24m Lovely clearing kick from Daly.
61.42m Could Daly have shipped it on instead of grubbered? Perhaps, but Chesty and Johnson were 2 of the 3 outside him, so who knows how well it would have gone. Equally, that means they were two of the chasers onto the kick. Still, very well placed and ended up returning possession, OK decision? Great execution.
62.20m Good set piece play gets us deep into the 22, forcing chiefs to give the penalty. Few more good attacking phases don't come to anything, but pen to the corner leads to the drive for the tryline.
65.25m Chiefs restart, again Launch is in the wrong place, AJ takes it. Constant weakness for Launch, season after season.
66.50m If both sides go up early I don't think it should be an issue. But I can see why the call was made.
67.40m Again, comments on Cips ability to kick long look foolish, huge and good kick.
68.08m Now this is a kick I don't understand from Daly. Not chaseable, and not a bounce and out. We hadn't struggled for phases before hand.
68.27m Another kick, grubber through, but hits AJ and gives away possession. Could have been useful if not, depending on Woodburn. Exeter really beginning to look out of puff.
69.27m Ball bounces of Simpsons knee, however Wade never gets behind Simpson, therefore can never be considered onside. Correct call I believe.
71.43m Think Cips should have passed that down the line, not chipped it. Seems to realise it was wrong though.
73.30m Wade finally goes lower into a tackle after getting handed off a couple of times in previous attempts (not in this run of play). Dumps Short over the touchline.
74.12m Very well weighted kick from Simpson, contestable box kicks is one of my common gripes with Joe, so only right that I pick up on a fantastically placed and weighted kick.
74.35m Hmmm, think we got very lucky not to get pinged for joining in front of the carrier in many ways, so no longer so upset that we got done for truck and trailer shortly after (even if that was the wrong call in my mind).
76.45m Think we got very lucky to get that final pen there, should have been play on chiefs ball (probably).
78.26m Would love to know how there are two balls on the field? Love how we run the clock down at the end, especially that we worked as hard as possible to keep on our feet at the breakdown to prevent the silly pen (that refs love to call on teams running down the clock).
pqs: qs: