The long hot summer.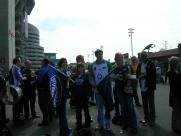 By WW
June 21 2017
The last rugby season is already just a distant memory. The weather is sweltering and the Lions are about to meet the All Blacks in the first of three tests. In LS6 it has gone very quiet.....
The Carnegie funding of the club, which has run for 10 years, is about to end. I believe that the club has not managed to secure anything like a replacement deal with anyone. Consequently we have had to downsize quite quickly in order to balance the books. Fixed overheads such as the wad we pay for ground rental and marketing services (rumoured to be in excess of £300k) has to be accounted for before the playing budget is worked out. Unless a rabbit is extracted from the Chairman's hat in the next six weeks then next season we will be a small club with big overheads.
On the playing side we have shed lots of players and, as things stand, we have only recruited a small number. The status of some of last season's squad is also in doubt as the club is not very forthcoming when it comes to keeping the public up to date with what is going on. To add to the confusion the official website lists a number of players in it's first team squad who have definitely left the club. The number of players who will definitely be turning out for us next season is between 26 and 28. Clearly this is not enough. It has been pointed out that we are short of props and will have 4 hookers if the press rumours are true. It is also rumoured that we will have an arrangement with Bath so that a number of their fringe players will be on dual registration with us. Hopefully that will include a few props. The press believe that it will include 21 year old stand-off Rory Jennings who would compete for the shirt with Callum Irvine who recently signed from Hull Ionians.
We have not yet heard about season ticket arrangements. It is possible that the reason for this is that we will not be able to play at Headingley due to the imminent redevelopment of the north and south stands. Again, due to the lack of information coming out of the club, this is purely speculation. Another possible explanation is that the revenue from ticket sales is so insignificant that it is a very low priority at the moment.
It is probable that the next news out of LS6 will be the name change. I expect the Carnegie suffix to disappear and hopefully be replaced by Tykes. Better news than that is unlikely but then anything is possible as the Leeds/Yorkshire Tykes/Carnegie rollercoaster sets off once again.
pqs: qs: