Life in the slow lane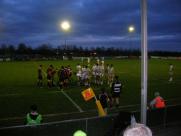 By WW
July 15 2017
Yorkshire Carnegie plays in the second tier of English rugby. A number of factors recently have led supporters to believe that this is the club's rightful place and that the fast lane (Premiership) will remain out of our reach for the foreseeable future.
For the last 5 years the club that got promoted from the championship went through the lottery that was the play-offs. This meant that all clubs had to adapt to the fact that you could win the league at a canter but still not get promoted. Bristol managed this feat on several occasions before finally winning the play-offs last year. Bris have had a torrid time in their first season back in the top flight. They got relegated at the first attempt but enter next season's championship knowing that first past the post is their target for getting back into the top flight. To be fair to the Bris fans they never liked the play-off system. The fact that they come down with a hefty parachute payment should ensure that the club returns to the premiership at the first attempt.
The second factor in the Carnegie conumdrum is the end of the sponsorship by the local university which, for the last 10 years, is believed to have been worth £1m each season. This money has helped plaster over the cracks in the club's business plan. Without it we lose the ability to finance a big squad. A smaller squad with lower wages beckons. Anyone wanting to move to a club that pays well will have to look elsewhere.
From September the rugby pitch will be in the middle of a building site whilst the N & S stands are redeveloped. I can see advantages in having all the fans in one stand but it will have a detremental effect on the atmosphere particularly when the game is being played at the western terrace end.
I am not sure what the J-Lo effect will be this season. Last time he led the side we played some great rugby. That was with a squad that he inherited. Will he do the same with our dimished resources? The jury is out on that one.
It can be argued that we have low expectations and hence the squad is likely to exceed them. That is true. If we play open, running rugby and do not get thrashed too often then most people will be happy with that. Will we get promotion? I doubt that. As things stand we will be lucky to be within 15 points of Bristol by Christmas. I think that the championship is now our home and we should get used to it.
pqs: qs: