Guess the attendance competition preview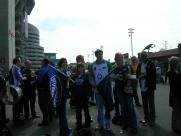 We the few
By Almostatyke
August 22 2017
It seems only yesterday that Prince Harry was handing-over the solid gold cup to Leemingtyke at the 2017 Guess the Attendance Competition awards night in Cannes, but already a new season is here. There have been quite a few changes; no play-offs, viewing from the Carnegie stand only at Headingley and a distinct feeling of money being too tight to mention at the club. Nevertheless the Guess the Attendance Competition continues the same as ever, although I suspect we may be typing lower numbers.
The rules are very simple, but I thought it worth just recapping them here to avoid misunderstandings:
· Only Headingley games are considered
· Guesses must be made no later than 20 minutes before kick-off time
· The guess nearest to the official attendance figure will receive three points, second closest two and third-closest one point. It doesn't matter if you are higher or lower
· If anyone gets the exact number (I don't recall this ever happening to date) then an Almo bonus of 2 points will be awarded, i.e. the winner will receive 5 points
· Please do not duplicate a previously posted number: if necessary priority will be given to the earlier poster
· If a decider is required at the end of the season, the closest in the last match will be the winner
A few tips:
· You can use the date of a famous landmark (e.g. your house construction date)for inspiration
· Famous dates from history can be amusing
· Do not get too concerned about any discrepancies between the official attendance given and the number of people you count in the actual crowd
· Save some energy for the end of the season (sadly a well-known poster ran out of steam last year despite amassing a healthy lead at Christmas)
· Remember it is only a bit of fun (even in the York area)
· Don't take too much notice of any advice from Almo as he is usually nowhere near the top of the table
As I will be in France for our first home match against Doncaster, and not sure of having a WiFi connection, my early speculative guess of the official attendance is 1001 – cleans a big carpet for less than half a crown. Please post your more considered guesses below.
pqs: qs: