Nottingham news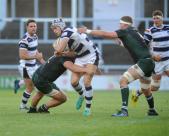 Try scorer
By ww
September 7 2017
The second round of the championship season starts at Lady Bay tomorrow evening when Yorkshire Carnegie plays Nottingham. The two clubs enjoyed differing results on the opening weekend when both sides were on the road.
Carnegie's lack of fit players and absence of pre-season matches took its toll at the Richmond Athletic Ground and the result was a comprehensive win for the Exiles. By way of contrast Nottingham travelled north to Clifton Lane and trounced Rotherhan convincingly.
Whilst it is far too early to extrapolate anything about how the season will pan out the fact remains that Nottingham has 5 points in the bag and we have none. I suggest that the Greens will be full of confidence when tomorrow's game kicks off. It is also possible that our first result will help their belief that they can win the match. Certainly fans around the championship have picked up on the facts that we are short of money and players.
J=Lo has made 2 enforced changes from last week. McColl and Sanderson are both injured. Louie Brown debuts on the wing from Leeds Beckett Uni and Jack Whetton comes into the engine room. Lee Imiolek makes a welcome return to the bench. Since the team was announced Staples has gotten injured and Wilson replaces him on the bench.
pqs: qs: