Take a break!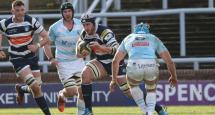 Versatile
By ww
October 11 2017
Yorkshire Carnegie travels to Jersey on Friday evening for a B&I cup game as we reach the first break in the championship season. This provides an opportunity for us to take stock of the season so far...
Two factors which we knew would be an issue for us this season have already proved to be so. Our defeat at London Scottish on the opening day of the season, when we looked very rusty ( a result of not having played any pre-season games) has been the Exiles only win this season and they are second bottom of the table above Rotherham. The imbalance of positions in our small squad has been quickly exposed with the suspension of Green and the injuries to both halfbacks early in the game at Richmond. Starting a game without 9/10 cover on the bench is not ideal.
Having said that we have had good wins against Donny, Nottingham and Pirates and were unlucky to only draw at Hartpury. The club is sixth in the league after six games and our next league game is at home to fifth placed Bedford at the end of the month. All things considered we are pretty much where I thought that we would be when the season started.
For the trip to Jersey J-Lo must blood some youngsters. Alex Davies has been playing with an injury. He should be rested in the cup games. We cannot afford to get any more key men injured. The cup is not important in this transitional season. Play only fit players and, if we do not have enough of them then borrow some.
With the ponderous state of the squad I do not expect a win on Friday night so I am going for a home win by 15 points.
pqs: qs: