Same again please.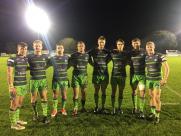 The future
By ww
October 18 2017
Yorkshire Carnegie went down to Jersey for the opening round of the B&I cup and were beaten by a score of 32-3. We may well be disappointed with the score but Jimmy Lowes made some bold decisions last Friday and they appear to have paid off......
Last week's team selection had us all scrambling for the academy page on the offy. J-Lo had had little choice other than select eight academy squad players for the trip to the Channel Islands. Despite the defeat we have, in effect, increased our squad by eight players. With all the injuries in the squad this was the perfect time to introduce the youngsters to first team rugby and J-Lo's gamble has done just that.
This week we entertain the Scottish Exiles at Ilkley. We lost at the RAG on the opening weekend of the season so there will be an element of "setting the record straight" when the Exiles turn out at Ilkley. The cup holds no interest for me so I would keep the same team that played in Jersey. The lads, having got a game in the first team under their belts, will only get better. Here is an opportunity for J-Lo to give our injured backs an additional weeks rest.I am confident that J-Lo will go with the kids again as the following week we entertain Bedford in the league and I think that he will want a win in that game more than in the cup this week.
That said I think that we will beat Scottish this weekend. It would be fitting if the kids, who are the future of the club, were instrumental in such a victory.
Unleash the puppies! (again)
pqs: qs: