PREMIERSHIP POSTPONED: WHAT NEXT?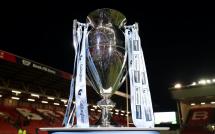 Prize postponed?
By P G Tips
March 18 2020
The Gallagher Premiership has been postponed for five weeks, which has to be the right decision. In the context of the nations health, welfare and economic prosperity, rugby is a mere sideshow. The action does though raise several questions. Does postponement for pandemic mean pandemonium or panic? Will it be only for five weeks? Is the survival of some clubs threatened? When competition begins will tournaments be completed and qualification for European competitions decided?
In the light of the rapidly changing government advice, controls and action it is clear that experts do not anticipate a state of 'normality" to return very soon. The rugby authorities therefore must be considering their contingency plans for tournaments at national and regional level, international tours, possibly even next year's British and Irish Lions foray to South Africa. So how will the Premiership react to a curtailed –or possibly lost – season and how will it decide which teams will represent England in the European Champions and Challenge Cups next season, assuming they are played?
Let's look at some options.
Abandon
Abandon this season altogether and leave it incomplete. This may be the only possible response if the virus crisis drags on. However, it is probably the least satisfactory. Unions, clubs and supporters will want the game to resume at some stage. When it does, with some experts comparing rugby's economic vulnerability to the airline industry, there will need to be clear qualification for the new season's competitions.
Freeze
The Premiership could be "frozen" with all results beyond round 13 declared void. That would provide a Champion in the form of Exeter (who few neutrals would begrudge the title given the Saracens Salary Cap scandal) and 5 other qualifiers for the top European competition. Sale, Bristol and even Northampton Saints might claim that they could win through a playoff round, but given the Chiefs current lead in league points, points difference and bonus points, plus the motivation gained from close defeats in the last two finals, the Devonians would be justified favourites. If the epidemic is prolonged, this seems the fairest way to decide the title.
Partial Completion
If, unexpectedly, the virus is brought under control before mid summer, a partial completion might be considered. That would involve playing key fixtures – such as the Top 4 Playoff places- to determine final league positions, while leaving remaining fixtures uncompleted. This would have the benefit of deciding a Champion while not disadvantaging league positions of clubs in the relegation zone, as Saracens punishment has already solved that issue. Disadvantages could be complaints from clubs who feel they could sneak into play off places if the full round of matches were played and from lower table clubs who would lose revenue. Not ideal, but a way of clarifying European tournament places and seedings.
Predicted Results
A sort of "Pools Panel" option with a panel of experts or mathematical algorithm predicting results of abandoned matches in rounds 10-22. This idea founders on the absence of an agreed and widely accepted rugby equivalent of the "Duckworth –Lewis" method of deciding curtailed cricket matches. Any system would have to be agreed by the clubs or be open to challenge. It seems highly unlikely that a satisfactory solution could be agreed. The RWC option of awarding 0-0 draws would make no difference to current league standings so would achieve nothing. A messy compromise at best, such a plan would seem a lot less attractive than alternative options above.
Other Measures
Doubtless other ideas could be put forward, including the rather soulless prospect of matches played behind closed doors. Even that solution depends on lifting of restrictions (or in the UK Government's terms "advice") on public movement due to the considerable logistics involved in putting on and televising matches.
What does this mean for Bath?
The loss of "The Clash" would mean a big dent in the club's revenue but for most fans the biggest disappointment would be missing a "last hurrah" for Francois Louw and seeing what snap Rhys Webb could put into Bath's stuttering attack. The 'Freeze' or 'Partial Completion' options would see Bath into the European Champions Cup, but any delay to the season could impact on Bath's use of the Rec for remaining fixtures, which would have to be renegotiated with the Recreation Ground Trust. It would also deprive fans of spring rugby on a (hopefully) dryer, faster pitch and the possibility of the usual end of season upturn in results.
While fans would probably prefer the certainty of a 'normal' season, with all fixtures fulfilled, that is not going to happen. None of the above ideas is perfect, some have their merits, most have drawbacks –or at least doubts to satisfy. In the absence of real rugby to celebrate or agonise over, they can at least be points for discussion.
Readers- over to you!
pqs: qs: