Cardiff Blues - Time to Turn This Show Around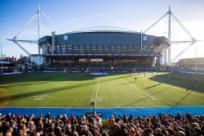 By Craig Muncey
September 16 2018
Following on from last night's dismal performance and loss. Here are my thoughts on the season so far and areas that are really concerning me. I am not one of those who is calling for heads to roll etc, but there is no doubt seeing what I am on the terraces and from my TV screen that something is not right at Cardiff Blues a team I love, and collectively it has to be put right. So deep breath everyone here is my ramblings on the season so far. Be interested to hear your views, have I over-reacted? Please let me know at 1876 Cardiff Rugby.
Cardiff Blues – Time to Turn This Show Around
Well there we have it, our second loss in Italy in just over a week. In a League campaign that offered so much, after three games, we have suffered three losses to an under-strength (but still very good Leinster side), a much-improved Benetton side (as shown yesterday, pushing a strong Scarlets side all the way) and Zebre. If you want to look at all games including pre-season, we are now on a five-game losing streak. Some of the more positive-minded thinking of you may think that picking up three bonus points from these games following three narrow losses means that we are not too far away, and a few tweaks and we will soon be right. I for one are not one of those people. Something is very wrong at this club that I love, and it needs to be put right.
There are many fingers being pointed in different directions but mainly at the coaches. In my opinion, though, all players and coaches need to take accountability and turn this around quickly. We have two home League games coming up on consecutive Friday nights. Cardiff Blues need to turn up for those games play the game we know they can and make the fans happy that this start of the season was only a blip, an embedding process.
In terms of my views on the issues that need addressing, then I have broken it down into three categories that in particular I see as being concerns and I will address them in no particular order.
Coaches – Game Management. Selectional Decisions
We have in situ this season a Head coach, forwards coach and a backs coach with very little experience in this League, in the case of our Head Coach he has no experience in this League, and bar five years coaching Navan, a club in the Leinster province who play in the All-Ireland League, has no experience at professional level in Europe. Now bringing in a Head Coach with little experience of coaching in Wales, the UK or Europe is not always a recipe for disaster. From a Cardiff perspective, Alex Evans did not do too badly and in West Wales currently, Wayne Pivac is doing very nicely thank you.
However, what I would say is both Evans and Pivac prior to coming to Wales had built up their rugby CV's as the main man, the Head Coach for respective clubs at a high level, unlike Mulvihill, whose step into top-class rugby was an assistant coach at Western Force and then became Head Coach in Japan, which with no disrespect to Japanese rugby, their club level standard is not at Pro 14 level. When you have an inexperienced head coach at this level and then the other coaches lack experience at this level then that for me is a concern.
Do we have this group of coaches due to finances, or is it the case with all the uncertainty behind the scenes over the ground etc that we just could not entice recognised, experienced coaches, to take a role at the Cardiff Blues? We were linked with coaches with coaching experiences such as Chris Boyd, Toby Booth and Jim Mallinder, but ultimately it never came to fruition. It appears clear the reason why we lost Danny Wilson and Matt Sherratt was down to lack of funds to bring in new players, especially in the forwards and after the Franco van der Merwe incident, Wilson decided that his vision for the future was not what the board wanted and announced he was leaving with Sherratt a few months later coming to the same decision. What then happens? A month or two after Wilson and Sherratt leave, Dmitri Arhip and Samu Manoa are brought in, two big imposing experienced forwards exactly the type of forwards Wilson wanted. Arhip and Manoa must come on board with relatively speaking, big wages, so bearing that in mind, could we not have kept on two coaches that the players enjoyed playing for?
In terms of the selections we have seen currently, then in the first two games I did voice my concerns over the usage of the bench and in tight games having off the field from the starting fifteen of Nick Williams, Dmitri Arhip, Kristian Dacey and Lloyd Williams, who in tight games have a wealth of experience in this League, and you would like to think would be calming influences, cajoling the players and getting Cardiff Blues over the line. However, last night, we saw a change of management with the bench with Arhip and the two Williams's coming off the bench as replacements, and we still could not gain the victory!
The players look nervous wrecks late in games, they look like rabbits caught in the headlights waiting for the inevitable to happen, how has this happened? What has changed so much from last season, when in tight games or when behind and looking like a game was lost we would bounce back, believe in our systems and gain the victory? Gloucester being a prime example only a few months ago. That night in Bilbao already seems already a distant memory. Confidence clearly is a huge thing in rugby and right now we are running on low confidence but I also think we are missing players such as Gethin Jenkins and Matthew Rees. Players who have been there and done it, and if players are not performing as they should would be setting standards and getting on those respective players cases, be it by encouraging or by calling them out in front of others, whatever is the trigger for that particular player.
In Attack
The first game of the season, we saw the ball moved out wide and both Jason Harries and Owen Lane getting plenty of ball and opportunities to show us all what an attacking threat they can be. In the last two games, we have hardly seen them touch the ball unless it's when they come into the midfield as the second receiver to try and smash a hole. In my view, in the last two games, we have gone two passes out and the defences have just smothered our attempts. We need more ball carriers in the forwards to drive the ball up, suck in their forwards and then release our backs. In the last two games, in particular, we have seen George Earle and Dmitri Arhip in the backline standing flat, completing passes back a few yards to a back. On slow ball, let's get Earle and Arhip taking the ball into contact, they are big strong ball carriers, I might sound old-fashioned but leave the deft passes to the Anscombe's and Evans's of this world. I want us getting over the gain line with strong carries then go wide when hopefully we have numbers in our favour.
I also think we need to look at getting a second playmaker into the side. Be it either Dan Fish at fullback with his eye for a pass and also for the kicking options with his left foot. We are trying to run from all areas of the pitch too much and if we are getting no joy and it is slow ball there is nothing wrong with turning the opposition around with a well-placed kick gaining us territory. Another option is to put at 12 either Jarrod Evans, who as a 12 has no experience at this level, but is a lovely footballer, who is also good in defence but would be a wild card in a side lacking confidence right now, or another option and a player who has played 12 quite a bit and gives you that second playmaker option, Steven Shingler. Both players have a good kicking game, and are crisp passers of a rugby ball, putting players into gaps or putting teammates with a pass onto opponents inside shoulders giving us a greater chance of a line break. I just feel we need greater control when in possession of the rugby ball, as currently, we are turning the ball over as we are behind the gain line sending in one up runners isolated, so the ball is turned over or we are penalised for holding on.
In Defence
Last season, Shaun Edwards the world-renowned defensive coach, worked with the players one day a week and on some matchdays and the difference he made in the Cardiff Blues defensive was remarkable. This season already we have seen a serious decline in the completion rate of tackles, just why is that? From what I understand, Richard Hodges, the defence coach is using the same defensive systems and drills that Edwards and he used last season. As Edwards was only there sporadically last season, Hodges took defensive sessions and on many match-days was the man looking down from the stands, running the defence. So it is not as if Hodges is new to the players or is trying to bring in new systems. So, you do wonder if the difference is just the aura and presence of Edwards had on the playing staff and with him not being there that the intensity has dipped? Everything we know and read about Edwards is the high standards that he sets and expects, he holds players to account, if they miss tackles he wants to know why he intimidates players, is Hodges a similar character? Do players feel as accountable, or have standards dropped? I do not know Richard Hodges at all, so I am only asking the questions, but there is no doubt that defensively, we have been poor so far at this early stage of the season.
Even if Hodges is not a similar character to Edwards, then you cannot put the blame purely on his shoulders and it is the same with the other coaches as well. These players are professionals, many international players, they should set their own high standards. Hodges has not missed numerous one on one tackles when a Cardiff Blues players have been square on to an opposing player and have simply just missed him or allowed him to leg drive out of a weak attempt at a tackle. Many tackles we have completed has still allowed the tackled player to offload or he has gained many yards after the tackle, so the opposition is in behind the first line of defence. We need to see some tackles on our terms, knocking them back, and if we keep doing that not only will the fans get up for it, Cardiff Blues players will as well when they see people like Earle, Big Nick, Arhip and hopefully Samu Manoa in the next week or so and beyond that, smashing people.
In closing, all of the above are concerns I have and I am sure there are many out there with the same apprehensions and possibly even more than the ones I have selected. These fears and others have to be addressed, we all want the Cardiff Blues to be successful. The next few weeks are going to be very interesting to see what happens…
Craig Muncey
pqs: qs: