The Engine Needs An Upgrade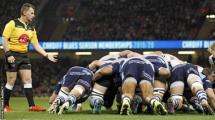 By Craig Muncey
May 4 2019
As we have seen this season, the Cardiff Blues backline can produce some fantastic tries and provide headaches to even the best defences. Can the forward pack and provide them with a platform to be even more dangerous? This article looks ahead to next season with players retiring or leaving for pastures new, is there enough quality in the current squad to provide consistent front foot ball and if not, realistically, who can be brought in? Please read on.
Forwards win games, backs decide by how much the old rugby adage which I am sure many of you have heard many times. The Cardiff Blues back line is dangerous with the ability to score tries from anywhere and keep the scoreboard ticking over. However, for a while now Cardiff Blues have been underpowered in the forwards when you compare them to many of the other sides in the Pro 14 League and other teams around Europe. Of course, having the ability to buy good front five forwards help which is not the situation we are in, but as things stand, I have some real concerns of the player personnel in these critical positions.
At the end of last season, we lost to retirement, tighthead prop and Cardiff Blues legend, Taufa'ao Filise and then midway through this season we lost yet another legend of the front row in Gethin Jenkins and now at the end of this season (who knows we may still have a playoff game to go, if specific results fall our way), we lose again to retirement, Matthew Rees. Three outstanding players for the Cardiff Blues all finishing their careers close to each other and going from those players who were in their veteran stages to a player who is just at the beginning of his rugby journey, Rhys Carre. The young prop had been brought through the ranks and this season has made some powerful performances mainly from the bench. However, it was announced in April that Carre would be joining Saracens next season. A massive move for the player but a real blow for us.
On top of the four front row players I have mentioned in the above paragraph it is still yet to be confirmed whether Rhys Gill another prop will sign a new contract and start next season. From what I understand, there is a strong possibility this will happen, but until we have received confirmation from the club, we have to keep our fingers crossed. Moving up to the second row, another player who has not signed a new contract and is rumoured to be leaving the club, not due to retirement but moving onto pastures new is George Earle. The lock forward is strongly linked to French Division 2 club, Colomiers and from what I understand the player is due to have a medical next week, so unless something appears in the medical or a change of heart from any of the parties involved, Earle could well be the next to be leaving Cardiff Arms Park.
In terms of current player personnel, where does that leave Cardiff Blues for next season then? As it stands at loosehead prop, we have Corey Domachowski and Brad Thyer. At hooker, Kristian Dacey, Kirby Myhill and Ethan Lewis. And at tighthead prop, Dmitri Arhip, Dillon Lewis, Kieron Assiratti and Scott Andrews. These are the senior players available in the squad, but there are academy players in loosehead prop, Garyn Phillips, hookers, Iestyn Harris, Cameron Lewis and tighthead, Will Davies-King, all promising inexperienced players. From the Cardiff RFC group then possibilities of those who may be able to step up include loosehead prop, Thomas Davies who has had regional experience with Cardiff Blues and the Dragons previously, and hooker and captain of Cardiff RFC, Joey Tomlinson. The player has had an outstanding season with Cardiff, and many people would like to see him allowed to see if he can perform at the next level. In the second row there is currently, James Down, Seb Davies and then in the academy Callum Bradbury, Teddy Williams and Ben Murphy. Macauley Cook and Josh Turnbull have been used frequently in the second row, but both started their rugby careers primarily as flankers, but with the shortage in the front five and the strength in the back row have been used in the front five and I cannot see that changing any time soon.
As mentioned previously Earle appears to be leaving, which leaves us with loanee, Rory Thornton from the Ospreys. Formerly a nationally dual contract player Thornton, who had restricted game time at the Ospreys came to Cardiff Blues. The player has had a mixed season, but there have been some better performances as the season has gone on. Has he done enough to earn a contract with us? My understanding is that Cardiff Blues are keen to turn his loan into a permanent deal, so watch this space. My own take on this is that he certainly gives us another option in the second row where no doubt we have deficiencies, but I am far from convinced he improves us in that area of the team regularly.
For what it is worth, if Gill signs a new contract I am reasonably happy with loosehead prop options, another one would be nice, but finances would command that. Hooker I am anxious about. Dacey is a good player at this level, but Lewis and Myhill have as yet not shown consistently they can play at this level. I would love us to bring in another experienced player in this position, and looking at those out of contract elsewhere, Ross Ford from Edinburgh would be a great signing. A big, physical imposing player who can scrummage and does the basics well, but finances and other factors may make this just a pipe dream. At tighthead prop, hopefully, Arhip can overcome his injuries and be the force he was a few seasons back, and with Lewis, Assiratti and Andrews I feel reasonably comfortable at where we are in the three shirt.
The second row is a significant headache. James Down is an experienced pro, but his best days at this level are behind him. Seb Davies is a fantastic athlete and a player of real promise but is still learning his trade as a rugby player and still growing. Turnbull and Cook are undersized which leaves us with a real predicament. If Earle goes and Thornton is not signed, there is a real issue. I like Callum Bradbury a lot but is still young and inexperienced. There is a rumour that David Bulbring, the Scarlets lock could well be joining Cardiff Blues. Bulbring is a decent player and would improve the second row, but I still think we need a lock with real grunt who is strong in the set-piece and in the tight. Similar to what I said about Ross Ford, there are a few players out of contract his summer who are looking for clubs who may not command the finances of some others. Players such as Connacht's James Cannon and previously Northampton Saints player, Dominic Barrow would really add a hardened edge to the pack and be barring injury be available all season, but again, this may all be a pipe dream and me not being realistic.
Going back to what I wrote in the first paragraph, the back line has scored some great tries off many times, stagnant ball or back foot ball, imagine what we could do if the platform was laid and we were going forward. Tomos Williams, Jarrod Evans, Rey Lee-Lo, Willis Halaholo, Owen Lane, Hallam Amos and Josh Adams. The mouth waters already at the prospect. That back line with a platform, dare I dream?
pqs: qs:
The Engine Needs Work
Posted by: 1876 Cardiff Rugby (IP Logged)
Date: 04/05/2019 15:38
What do you think? You can have your say by posting below.
If you do not already have an account
Click here to Register
.
Re: The Engine Needs Work
Date: 06/05/2019 22:40
Not adding more forwards would be criminal at this point.