One to watch - Ioan Davies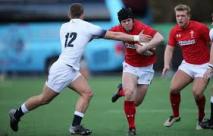 Pic Credit: Walesonline
By Craig Muncey
May 30 2019
Next week the Wales u20's play their first game in the World Cup tournament, best of luck to all those involved. One of the players who will be playing in that tournament is Cardiff Blues fullback, Ioan Davies. This piece looks at the player and sets him out as one to watch.
One to watch - Ioan Davies
The 19-year-old Davies has set himself out as a future star with his performance in different age groups and in particular an eye-catching showing which was against England and in front of a television audience. Davies was playing at fullback for Wales u18's and in a very difficult game for Wales with England dominating, his own performance shone through. His counter-attacking from deep returning kicks was very impressive as was his defensive capabilities with wave after wave of the English attack rolling into the last line of defence time after time. He made his tackles and stood up very well to the physical onslaught.
Davies who can also play on the wing has already made his debut for Cardiff Blues last season against Uruguay in which he scored a try and certainly did not look out of place at that level. I appreciate the competition may not be as tough as some others, but it was still assuring to see the player looking comfortable at senior level.
At 19 years of age, there is still some development physically to be made. Davies is six foot tall and weighs just over thirteen stone (yes I know, I am old school when comes to height and weight), so could still do with putting some weight on, but you hope that the additional weight does not diminish any of the explosive pace that he has off a standing start which is very impressive, as is his ability to beat the first man, especially in broken play.
The player wears a head guard when playing, so the obvious comparison to Leigh Halfpenny is in place. However, with his defence and his style of play, this comparison is very fair this time. I fully expect him to have a very strong tournament for Wales u20's this summer and have more and more people identifying his rugby skills.
In terms of the end of the tournament and his return to Cardiff Blues what are his chances of playing for us this season? Well, when you look at the back three options when everyone is available then he has a real battle on his hands. His ability to play fullback and wing will enhance his chances, but you would think he will have to wait his time and take the opportunity when it arises. Cardiff "A" games this coming season I certainly can see him playing some part in, which is a great opportunity for all fringe players to catch the eye.
There is no doubting the player's potential and he does belong in discussions for the senior side alongside the other back three options such as Josh Adams, Hallam Amos, Matthew Morgan, Aled Summerhill, Owen Lane, Jason Harries and Dan Fish. Rhun Williams, who suffered such a serious injury two years ago now, is working extremely hard on his rehabilitation, and currently, the target is to be back playing around Christmas, which if this occurs will be fantastic for the player and for the club. Williams is another fine player and if he can recover his fitness and form gives Cardiff Blues another great option in the back three positions.
Ioan Davies keep an eye on your TV screens this summer. He is one to watch.
pqs: qs: