Breaking News - An interview with the King of Tonga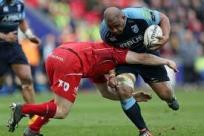 By Craig Muncey
June 7 2019
I am delighted to be able to finally confirm an upcoming interview with Faao Filise. Faao was a great player for Cardiff Blues and is very much loved by the Arms Park faithful. Faao made over 250 appearances for Cardiff over a 13 year period and was part of the sides that won the EDF Anglo-Welsh Cup and two victories in the European Challenge Cup against Toulon and Gloucester respectively.
Faao is known for not conducting too many interviews, so for him to agree to this is a major coup, and I am sure that you the fans have questions that they would like put to the King of Tonga.
The interview is planned to take place the week after next, so I am giving you all the opportunity to put forward a question for Faao and I will select the best questions to put to him in the interview.
If I can have your questions by the 14th June for the interview a few days later.
Thanks to Faao for agreeing to this and I am sure it will be an interview that many rugby fans will enjoy reading.
pqs: qs: