The Name of the Game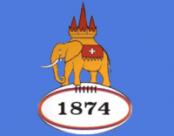 Out With The Old
By Mark Forster
May 28 2019
THE handshake and the smile came in the Gatehouse Tavern, a city pub famed for its love of rugby. A fellow Cov supporter spotted me in a red and gold away jersey and delighted in his tale of putting this season's shirt on eBay and turning a small profit.
'The last one with the current badge,' he explained.
Now I was back in Coventry for the briefest of sojourns, family illness demanding an appearance and little time for reverie.
But I was interested to know what people thought of Coventry Rugby's new badge design. After all Coventry City fell foul when they tried to introduce a change some years ago.
The response I received was neutral. I asked the couple of Cov Rugby supporters I bumped into, a couple of Cov Kids who don't follow the team and others, not born in Coventry, but playing a part in the city's work and play throughout my lifetime.
I got a lukewarm response, which I take to be a positive about the change. If people aren't outraged, like with CCFC's badge move, then you're onto a winner.
What did surprise me was the lack of knowledge of Coventry's sporting and actual history.
When I was young schoolboy at Blue Coat I remember being told that the green and red of Coventry's coat of arms dated back to ancient times, when the future city was divided along the lines of Earl and Prior. Whether the Earl's colours were green or red, or the Prior's colours the opposite, no-one could say. There were so many stories about the elephant, but the general agreement, among historians, we were told, was that nobody knew why it had featured so prominently on our armorial bearings.
I grew up knowing Coventry as a 'blue town'. The Sky Blues of Coventry City and the blue and white of Coventry Rugby.
True blue, Coventry blue, as true as Coventry blue are all sayings supposedly linked to the quality and steadfastness of the dyes used in our woollen industry in the Middle Ages.
But for a while, Coventry City played in green and red halves. From 1922 to 1924, a few years after joining the football league, the Highfield Road outfit played in colours that have been revived separately down the ages as our away kit. Lest we forget, we also played in all white, like a Midlands' Tottenham Hotspur post-war.
Someone asked why the badge, and thus Coventry Rugby's kit, couldn't be 'Sky Blue like the City', obviously unaware that the Sky Blue element of Coventry City's present was part of the revamp dreamed up by Jimmy Hill, whose blue sky thinking revolutionised football and Coventry's part in it in the 1960s.
We sometimes forget that sport is more full of change than life. Players come and go, coaches, managers. Is it a time to mention venues, when that topic is so painful to CCFC fans currently?
Maybe not, but the association football club has had many colours since changing its name from Singers FC. Oxford Blue, Sky Blue, mid blue, white, red and green. The away kit when I were a wee bairn was green and black, changing to red, yellow and the famous Admiral brown shirt.
Look at how cricket has changed since the one day game was revolutionised. We now have Birmingham Bears for the T20, rather than Warwickshire. In rugby, Bristol took on the Bears brand when they returned to the Premiership last year.
And while Northampton has forever been Sainted and Leicester roared on like Tigers in my memory, Newcastle Falcons are a world away from the Gosforth Club I remember from my youth. Sale were never the Sharks, Worcester weren't Warriors and Exeter only took on the Chiefs name when they transformed into a semi-pro side.
Tradition is wonderful, but success and a new generation of fans is the Holy Grail.
I'm sure that if Cov Rugby changed its club strip to neon pink and yellow, the club badge to an Ostrich and moved to Aberdeen there would be a clamour of concern. But if it meant success, the pros would have outweighed the cons. Albeit for maybe a different core of supporters.
Success, as we know, can be awfully transient. For those of us who witnessed Coventry's heroics over Newcastle 20 odd years ago, another battle is coming, unless the Premiership bosses pull something out of their bag of tricks.
Newcastle, like London Irish before them, will have the security of a bigger budget and should be favourites to bounce back up to the top table. But other clubs have disappeared from the national conscious.
Orrell were among the founder clubs of English rugby's top division along with Coventry. Like Cov, Orrell struggled financially and now play in the lower tiers of county rugby. At one stage, if memory serves me right, a consortium of international businessmen came up with a bizarre idea to rescue the club and get it playing home games far away from its traditional base. QPR's Loftus Road would mean as much to Orrell fans as Wasps playing in Coventry. Oh, hang on. I forgot.
Waterloo, a thorn in Coventry's side in so many encounters, have also drifted away from the national scene, again playing in the lower tiers of representative rugby.
There for the grace of God….
Back to Wasps, and, despite the teasing and a change in current fortunes for the former London club, its move to The Ricoh showed that success could be an answer to criticism over big moves like name changes, venue and city changes or kit badges and colours.
Maybe Cov Rugby haven't been bold enough in their change?
But please, no move from The Butts, no neon pink and no ostrich.
pqs: qs: