Ealing Pictures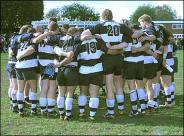 By AdminBTCov
March 2 2020
NOT even a point as consolation
but many would have expected the scoreline to be much more decisive in the event, so an 8-17 defeat will appear as a near-miss on the records.
As it was a Friday night game, my season ticket card remained firmly in my wallet again (for the second Ealing game this season) but for those that did venture to the BPA under the lights, I gather it wasn't a particularly edifying spectacle - even if the defensive efforts bode well for the rest of the campaign.
A debut for full-back Louis Brown, fresh in from troubled Old Elthamians - appears to have been well received, and may well have been rewarded by a try but for a refereeing decision that (I'm told by attendees) may have been interpreted differently. However, as I say, I wasn't there so conjecture on my part may be safely ignored.
As for the attendance, the club remain coy on their website (but may have announced it at the game, I know not), and nobody else seems to have spilled the beans on social media, although I could well have missed it. Hopefully though, it was good enough to not hurt the club's coffers, but selfishly, I hope it wasn't so great as to encourage too many more Friday experiments. Others have their own view, and that's all good.
My, and I suspect others', decision on renewing my season ticket after many years (apart from a gap when living 150 miles away) is pending, but looks poor value compared to previous seasons.
The rest of the weekend panned out much as expected, results-wise, elsewhere. Ampthill continued in their excellent run of form and upward trajectory, fairly predictably overtaking Cov in fourth spot. A superb showing by them in their first ever season at this level it should be remembered.
At the top of the table, Newcastle prevailed yet again - a long, long trip to Jersey evidently not fazing the Premiership loanees, while Cornish Pirates sputtered slightly while ultimately triumphing over visitors Nottingham. Not quite such a long trek for the latter club, but far enough to be uncomfortable, so a creditable scoreline for them following a good second-half fight-back (21-3 down at half-time to finish with a bonus point at 21-15).
At the wrong end of the table, Leeds finished in a distant second place to London Scottish, but did enough to double their seasons points tally (to two) scoring 26 and four tries with the final one right at the death. At last Cov are not the only over-generous visitors to Headingley this season.
If one Bedfordshire side is impressing, then the other is doing much the same - at least of late. After a very poor pre-Christmas period, Bedford have regrouped and are now rapidly climbing the table (perhaps stung by the success of their Johnny-come-lately neighbours?). Whatever the reason, their clear 29-5 win over Doncaster was evidently achieved in very impressive fashion. Good to see them back too.
In other news, the fact that pressure on the RFU over the funding debacle is having some effect is welcome. The clubs - owners of the Union in effect - appear to be stirring at long last, and calls for an Extraordinary General Meeting, overdue maybe, could be just the thing to get the moribund administrators of the game thinking about their position. It'll take a good many of the somewhat less ambitious clubs to come to the party to have an effect, but we can hope. Already, though, the effects of their potentially disastrous stance are evident, with London Scottish announcing that they are to go part-time next season.
This, it seems, is the way the RFU intends to nurture and grow the game!
Pictures: Nick Meredith
pqs: qs: