England 6Nations When will these matches get played if ever?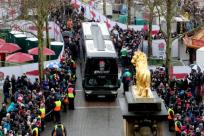 By RugbyFan
April 21 2020
England Rugby - Not much to say as no rugby or any sport for that matter being played right now due to this Worldwide Pandemic. However, I thought we could refresh our memories as to the Six Nations table and standings. To be honest it seems a lifetime away now since these games were being played or any rugby for that matter. The caption says 'I am Ready' you bet we are!
So England sit top of the table with France also on 13 points - the only diffeence is the point difference ours being 15 and France 13.
We have of course one round still left to play
Wales v Scotland
Italy v England
France v Ireland
That last match France v Ireland will be 'humdinger' I think! So much could change in these last three matches, depending ehen and if they get played.
pqs: qs: