Long Wait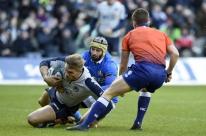 Chris Harris
By New Cherry
June 25 2019
Back from a three week break and expecting to see all kinds of changes at Kingsholm - hasn't it been quiet!
Presumably the fact that the Premiership season doesn't start until the end of October (discounting the Premiership Cup which still has to touch a nerve) it's probably not surprising.
The biggest bonus, so far, is the signing of Chris Harris from relegated Falcons.The hard runnimng Scottish cemntre was wanted by quite a few clubs but the lure of playing alongside Player of the Year Cipriani must have been a major factor.
If he has a good World Cup, and comes back injury free, he will be a major force in our already strong midfield.
When the season does eventually get going we have the prospect of some bruising encounters in the European Cup.
Toulouse are current Top 14 champions and we'll face them in Pool 5 along with Connacht and Montpellier.
pqs: qs: