Good Weekend To Play Irish?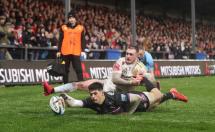 Louis' Try
By New Cherry
February 17 2020
It's Irish away this Saturday with the home crowd no doubt buoyed by the hordes coming across for the Six Nations game on Sunday. A toughie but if we take a leaf out of Exeter's book we will do OK.
The workrate of the Chiefs was phenomenal as time and again it seemed as though they must be offside given the way they disrupted our atttacks. They weren't -they were just quick and organised and as a result we gave away too many penalties and made too many handling errors.
They were worth their 26-15 win with the writing on the wall at the break. We had possession and the wind in our favour but trailed 7-3.
Jake Polledri and Louis Rees-Zammitt did cross in the second half but those enforced penalties gave Steenson four quick shots at goal and he slotted them all. Game over.
pqs: qs: