Slippery Slope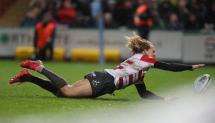 Billy's Try
By New Cherry
March 2 2020
We are now in the second half of the league season and thanks to five consecutive defeats find ourselves in a league position nobody would have believed a month ago - ninth!
Fortunately there are plenty of games to go. Things are so tight we are actually only two bonus piunt wins behind second place Sale who showed us what some effort, teamwork and sensible rugby could do in the face of some awful weather.
They were worth their 23-17 win ,and weren't phased when one of the longest video referrals of the season ruled that Matt Banahan had "headed" the ball forward fcr Billy Twelvetrees to react quickest and score.
The honest view in the Shed was that it had hit Matt's shoulder. However, we need all the luck we can get at the moment - as well as the bonus point it provided.
We did fight our way back after Sale wenty in 10-0 at the break followed by a Bryn Evans try.
Fraser Balmain scored before that amusing Billy Twelvetrees' try - unfortunately Marland Yarde scored after seizing on a fumbled pass from Cipriani.
Wasps away this week. Concerted effort needed for 80 minutes.
pqs: qs: