Promising Starts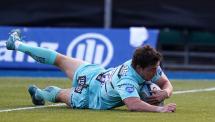 Henry Walker
By New Cherry
August 27 2020
Not quite sure how to describe the current phoney war which is the dregs of the 2019-20 Premiership. The games are being played, one assumes, to ensure the TV revenue isn't clawed back. I'd like to claw some back as it took until 6.25 to get the red button on Bt Sport Extra to bring up a choice of three live games.
That was towards the end of a first half in which Gloucester's young bloods held their own against Sarries up and coming players.
Scrappy game at times but Sarries earned their second half 36-20 victory with three scores from young Woolstencroft.
We had some new faces doing well, as well, with Henry Walker crusiing throgh a gap to get our second try following Stephen Varney's effort and our third from Rees-Zammitt.
Back row Jordy Reid (left) can also be pleased with his first appearance.
Three games in a week tests your squad and at Allianz Park we showed pelnty of promise. Really that's all that can be hoped for at present. Roll on next season.
pqs: qs: