How was it for you darling?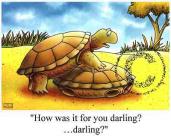 By Monkey1
June 6 2018
We have just witnessed the best season as Falcons supporters for a very long time, and it is safe to assume that we are all pretty happy bunnies and looking forward to next season. That should put us in a jolly good mood, just the right frame of mind for looking back & jotting down what could have been better.
The holidays are upon us, and there is pretty much zippety zero to discuss about Newcastle Falcons except rumours about Smithy starting rumours. Instead of writing up something out of date or rehashing old news, I thought this might be a good opportunity to try to think positively about how we as supporters can help the club to make next season even better. Ideally this should all be positive, try to be constructive and just mention things that you think are possible to improve without spending money we don't have, but if you feel like having a bloody good moan because the season is over & you are quite understandably grumpy then feel free. It will all help I am sure.
Think about what happens before you even get into the ground. Is there anything that could be made better or easier in the way that tickets or season tickets are bought, sent out or used on the day? Some people find parking an irritation, it is bound to happen when you have that number of cars trying to get in or out of KP all at the same time. What observations can you offer from your comfy armchair or sunlounger?
Once you get into KP, if you feel a bit peckish can you tuck into some good nosh or is the place a culinary desert? As for getting a pint! The bars have been a big source of moans and groans for as long as I have been going to KP, and those of us who travel to away games will know that some clubs do it so much better, but also there are some that are a lot worse. My main gripe which hasn't changed for more than fifteen years is the number of times that I wait to be served, while watching bar staff doing what we call naff all, having a chat, having a laugh, leaning on their useless arses in groups at the back of the bar while hundreds of people wait for somebody, anybody, to get them a pint.
Calm down now, this is supposed to be positive.
Let's move away from the bars (something that I often do without ever getting a pint, it's called giving up) and take a short walk over to the shop. Apart from ladies-fit shirts, what would you like to see in there? And while thinking about replica kits, we can think about the blokes who fit inside the real thing. We regularly discuss which players we would like to see added to our squad, which positions we feel are a bit understaffed, and which players we dream would add something special if only they would head north, and which tactics we think we know more about that our coaching team, but what about other things that the players do, stuff apart from the game? Do you want to see more of the players after the game, maybe some social stuff at other times, or are you not fussed about anything they do apart from play?
These and other things are what goes together to make our season what it is. The good points and the bad. While we have nothing rugby related to discuss, let's make ourselves useful and slap together a bit of (hopefully constructive) customer feedback.
So then people, fill your boots………….
pqs: qs: