Falcons v Pirates Teams Up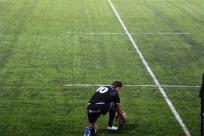 By Falcons
October 24 2019
The Cornish Pirates are the premier Cornish rugby club. Formerly known as Penzance & Newlyn RFU, the Cornish Pirates play and train at their home ground, the Mennaye Field in Penzance.
Greenking Championship 2019
Cornish Pirates v Newcastle Falcons
Sunday 27th Ocotober
Newcastle Falcons take on Cornish Pirates on their home turf for the first time since September 2012! Such a long time has passed from then until now. Hopefully, Falcons will have learnt from their vast experience in the Premiership. We wish Falcons the best of luck.
Cornish Pirates – Facebook Match Coverage Update: We have been robustly testing the system and prior to our game against Newcastle Falcons will tomorrow be conducting a live test on our Facebook as part of our final preparation.
Cornish Pirates: 15 AJ Cant, 14 Alex O'Meara, 13 Callum Patterson, 12 Javier Rojas Alvarez, 11 Maliq Holden, 10 Will Cargill, 9 Alex Schwarz, 1 Marlen Walker, 2 Tom Channon, 3 Craig Mitchell, 4 Danny Cutmore, 5 Brett Beukeboom (c), 6 Fa'atiga Lemalu, 7 John Stevens, 8 Tom Duncan,
Replacements: 16 Dan Frost, 17 Jack Andrew, 18 Jay Tyack, 19 Matt Bolwell, 20 Jake Clemson, 21 Rhodri Davies, 22 Robin Wedlake, 23 Rory Parata,
Newcastle Falcons: 15 Tom Arscott, 14 Ben Stevenson, 13 George Wacokecoke, 12 Josh Matavesi, 11 Sinoti Sinoti, 10 Toby Flood (captain), 9 Sam Stuart, 1 Adam Brocklebank, 2 Jamie Blamire, 3 Rodney Ah You, 4 Darren Barry, 5 Sean Robinson, 6 Will Welch, 7 John Hardie, 8 Nemani Nagusa
Replacements: 16 Kyle Cooper, 17 Trevor Davison, 18 Mark Tampin, 19 Sebastian de Chaves, 20 Gary Graham, 21 Michael Young, 22 Joel Hodgson, 23 Alex Tait
Referee: Matthew Turvey
Assistant referees: Ian Bibey, Jonathan Healy
Assessor: Sam Collins
pqs: qs: