Falcons History & Information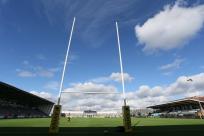 By Falcons Admin
August 20 2020
Falcons Information and History: Thought I would delve a little into Falcons website and discovered a Few things I did not know. So thought it would be useful to share. Please note all information from Falcons website.

HISTORY
The Newcastle Falcons story dates back to 1877, when a group of old boys from Durham School met in a private house in Gosforth to discuss the formation of a new rugby club in the area. From there, the Gosforth Football Club was born, with its first game taking place in November of that year.Maintaining its links with Durham School, Gosforth played in the school's colours of green and white hoops, right through until the 1990s.
Five years after foundation, Gosforth merged with another local club, Northumberland, and assumed their name. However, in 1887 they changed back to Gosforth.
The club had a host of homes right up until the middle of the 20th century, and in the early years had to play wherever and whenever they could - with grounds at various stages including Ashburton Meadows, South Northumberland Cricket Ground and Regent Road.Gosforth's members were among the massive numbers to suffer losses during the First World War but the club reformed in 1919 despite these tragic deaths, sharing the Northumberland County Ground with traditional rivals, Northern. Continued Here
Update on staff, ticketing and hospitality bookings
( Some of us may have missed this back in April witheverything going on )
Friday 3 April 2020
Following confirmation of Newcastle Falcons' promotion to the Gallagher Premiership for the 2020-21 season, the club would like to update our fantastic supporters regarding a number of key areas.
STAFF
Newcastle Rugby Ltd, which includes Newcastle Thunder, Newcastle Falcons and its associated charity, Newcastle Rugby Foundation, is working with all staff to put together a plan aimed at ensuring long-term job retention and the ongoing stability of the business. This plan will incorporate government help via the Coronavirus Job Retention Scheme for some staff members, and salary reductions. This is to ensure that we are in a strong position to move forwards when rugby resumes. If you are trying to get in touch with a particular member of staff, please be patient as they may have been furloughed. We will be in touch as soon as we can.
KINGSTON PARK STADIUM
All areas of Kingston Park Stadium will remain closed until further notice.
TICKET HOLDERS
SEASON TICKET MEMBERS
Your season card will be loaded with the value of any tickets from cancelled games from the 2019-20 Championship season, to use next season in the Premiership and/or European Competition. You can use this value against your 2020-21 season ticket membership, if you haven't already purchased, or alternatively at a variety of other stadium services such as retail and bars. Finally, you can donate to our official charity, the Newcastle Rugby Foundation, or you can help to sponsor a player.
MATCH TICKET HOLDERS
Any unused tickets from cancelled games from the 2019-20 Championship season can be moved to game(s) of your choice in the Premiership and/or European competition. This includes any car parking passes you might also be in possession of for cancelled games.
WHAT SHOULD I DO NOW - Much More Here
OOOOOO
STADIUM SAFETY - (

NB: I am sure once everyone gets back to work this will be added to for COVID19)
Counter Terrorism Policing have launched its biggest-ever advertising campaign as part of ACT: Action Counters Terrorism.
The campaign aims to encourage the public to remain vigilant, look out for suspicious behaviour and inform people how to report their concerns, providing a 'whole society' approach where police, security staff, retail workers and the public come together to minimise the chance of attacks and mitigate the impact they can have. Continued Here
OOOOOO
pqs: qs: