EXILES LEAVE EMPTY-HANDED FROM BRISTOL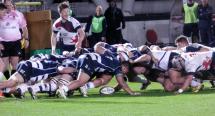 By Ian Todd
November 29 2015
Bristol dominated much of the game except for a shaky period at the start of the second half during which the visitors scored two tries. Aside from that blip Bristol seemed in control without ever hitting the heights. But it was a performance that brought up a bonus point win and cemented our league position.
Bristol kicked off the game in chilly conditions and claimed possession almost straight away. Matthew Morgan darted forward but lost the ball when the Bristol were unable to get to him in time. The Scottish clearance kick was straight into Bristol hands and Morgan had another little run and this time the exiles were penalised as they tried to halt him. The penalty was kicked to touch but the lineout was a scruffy affair and the drive made little ground before it was penalised. Unfortunately for the visitors their lineout was even worse and it was Bristol that claimed the ball. This saw the Scottish backline out of position and a great run from Jack Lam caused them all sorts of problems. Morgan kicked ahead and with Bristol pressing hard Scottish gave away a penalty. Bristol took the pragmatic option and Gavin Henson stroked the ball over for a 3 – nil lead. Scottish looked under pressure at both set-pieces and were penalised at a scrum to allow Henson to double the lead.
Jack Wallace made a great take in the air from the restart but the game was then halted for a while with a nasty looking injury to Matt Williams who was eventually stretchered from the field. When play resumed Bristol surged forward and Scottish gave away a penalty, Henson struck and Bristol were nine points up. Almost immediately Scottish claimed their first points when Lydon landed a good penalty kick. Bristol pressed hard on the visitors defence only to knock-on just a few metres out. The Scottish clearance only made it as far as David Lemi who carried well but saw his offload attempt lost forward. This time the Scottish clearance took play well into the Bristol 22. However their lineout struggles continued and Bristol claimed the ball but the clearance kick made little distance. Now Scottish managed a clean lineout take and swiftly moved the ball away and looking very dangerous. Sadly for them the ball was knocked on in the face of determined defence. Bristol claimed the ball and swept forward against a side that was out of position. Bristol took the chance well and Mitch Eadie drove over beneath the posts. It was good to see Bristol take advantage of opposition errors when under pressure themselves.
Eadie was again to the forefront with a powerful run from the restart but, as happened too often on the night, he became isolated and penalised. Scottish decided to go for the posts from inside their own half but though the kick had the range it lacked the direction. With the half nearly over a great penalty touchfinder from Henson took his side five metres from the Scottish line only for the ball to be tamely knocked-on at the lineout.
Scottish started the second period with another poor lineout and Bristol launched a flowing move that was eventually driven into touch by tough defence. Bristol forced a turnover and promptly gave away a very soft penalty. Scottish looked threatening from the penalty lineout but poor handling let them down. Eadie went off on another run but the clearing kick from the breakdown failed to make much ground. Scottish drove well against some shaky looking defence and seemed to go in at the left-hand corner. The referee asked the TMO to have a look and the try was awarded to make it 16 – 8. Bristol appeared distinctly lethargic at this stage, as if their heads were still back in the changing room. Bristol's slack play continued and yet another penalty was given away with no support on hand following a break. It was sent to touch, and effective lineout the ball out to Lydon and he was in for the most straightforward of tries and Bristol, having dominated much of the first half found themselves just three points ahead at 16 – 13.
Bristol had to buck their ideas up if they were to win the game and that's exactly what they did following another lengthy injury break in which Lemi clashed heads with a Scottish player and knocked him out. Both departed with bleeding wounds. The visitors were penalised almost immediately when play restarted for going off their feet and Bristol went for touch. The initial drive was good before the ball went inside, Morgan offloaded and Wallace smashed over for a converted try. A comedic couple of minutes followed with both sides passing to the other side or kicking neat crossfield kicks to each other but Bristol maintained good field position and Scottish gave away yet another penalty. Unfortunately for Bristol their lineout had a bit of a wobble at this point with replacements bedding in. But one replacement had a decisive effect when a fantastic long kick from Adrian Jarvis dribbled into touch just a metre from the Scottish line. Bristol's lineout recovered and stole the Scottish throw. Jack Lam made no mistake as he hammered over for a converted try.
Morgan had shifted to fullback to accommodate Jarvis and he showed how dangerous he is when attacking from that position with a break that took play from the Bristol 22 into the opposition's. A nicely weighted kick ahead and Eadie sprinted onto the ball and over for the bonus point try.
pqs: qs:
EXILES LEAVE EMPTY-HANDED FROM BRISTOL
Posted by: bristolrugby.net (IP Logged)
Date: 29/11/2015 13:50
What do you think? You can have your say by posting below.
If you do not already have an account
Click here to Register
.
Edited 1 time(s). Last edit at 2015:12:06:10:45:30 by SenorJuan.
Sorry, only registered users may post in this forum.