EALING LOSE THEIR WAY AGAINST RAMPANT BRISTOL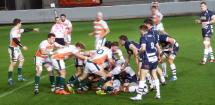 By Ian Todd
February 14 2016
Bristol crushed Ealing Trailfinders in a game that illustrated the gulf between top and bottom of the table all too clearly. Despite scoring two clinical tries the visitors were never in the match against a Bristol side that looked comfortable throughout. Nine tries from the hosts tell the story and, dare one say it, the hosts seemed to be playing well within themselves.
Before a surprisingly small (but fortunate) crowd Bristol kicked off the game. The return kick pinned Ealing back well inside their half only for Bristol to stray offside. The Ealing penalty landed spot on halfway. Sadly for them the throw-in was too long. Ealing were penalised as Bristol tried to go forward. It was surprising to see Gavin Hastings go for touch but he showed all his old skills with an excellent kick (surprising because he never played for us and is long retired). It was much less surprising when Bristol went for the catch-and-drive move. The maul was superbly marshalled and Ealing had no answer. Ollie Robinson flopped over and it was 5 – nil with just minutes gone. The conversion was well taken by Gavin Henson. Henson was called into action shortly thereafter when Ealing transgressed and Bristol elected to take the points in a very pragmatic manner. The penalty came as a result of Ealing's struggle in the scrum, an area in which they were under tremendous pressure all evening.
A nice burst from Ian Evans and a sweet offload got Bristol going forward again. It was great to see him back after so long out injured and he showed several times a deftness of touch and clarity of vision that you want to see in a player of his calibre. Bristol swept forward in a fine move with Mitch Eadie carrying well, shipping the ball to Charlie Amesbury who made great progress down the wing before popping the ball back inside to Ben Mosses who sliced over for a well converted try.
Ealing's restart was again well cleared and this time it was claimed by Tom Varndell, who's chasing of kicks is starting to be a real feature of Bristol's game and shows the difference it can make to what can be one of the least productive tactics. More good work from Evans put Ealing under pressure and they were penalised again. Given the earlier lineout success it was actually quite surprising when Henson stepped up to kick another penalty for the posts to make it 20 - 0. Ealing were still pegged back and an under pressure lineout misfired again allowing James Phillips to hammer forward and set up Mosses for his second try. Henson converted and it was 27-nil.
Bristol seemed utterly in command but then a move broke down, the ball was lost forward, a quick break from Rhys Lawrence and out to Chesters who finished off the opportunist move. The conversion was off target. The final ten minutes of the half were uncomfortable viewing for the Bristol faithful and the coaches. Ealing monopolised possession. Another try looked on the cards before the final pass sailed into touch and the half ended 27 – 5.
A few home truths were doubtless revealed during the break and Bristol looked back in the groove with two early tries. A lovely pass from Mosses was gathered in by Varndell who was cutting a great line at full tilt. He raced in untouched in a move that was straight off the training ground. A try that brought up the bonus point. A minute later a fine pass from Henson released Amesbury who was taking almost the opposite line from Varndell. He too sprinted over. Henson could not convert this one, but Bristol were unassailable at 39 – 5.
After all this airy-fairy nonsense from the backs the forwards wanted another go and this time it was a lineout move transplanted straight from the training pitch. The throw claimed, straight down and then out to replacement Ross McMillan who raced along the five-metre channel and over for an unconverted try. Bristol then gave away the seemingly inevitable second try with some loose play. Ealing burst into space and Crane made it over the line in a strike that was against the run of play. And included what looked like a knock-on. The conversion effort was quickly, rather casually, taken and actually struck the cross bar. You could not help but think if they had taken a little care then it might have gone over. In any event it was 44 – 10.
Ealing briefly had the ball only for a crunching tackle from Jamal Ford-Robinson to knock his man well back. Ealing's effort to retain possession resulted in a penalty. It was sent to touch and a catch-and-drive move was surely going to be the tactic. In fact, Bristol struggled to make ground before replacement Martin Roberts, strangely playing at scrum-half, passed to Robinson lurking on the wing who crossed for his second. Henson was once again off-target from out wide. Ealing had no answer to Bristol's scrum power and gave away another penalty. Despatched to touch, this catch-and-drive was unstoppable and Max Crumpton went over for a converted try that took Bristol past 50 points.
The game was drawing to a close when Ealing lost the ball forward and it was picked up by Bristol. Shipped to Matthew Morgan, on as a replacement. He jinked his way forward, sowing confusion in the defence, before chipping ahead. He outpaced the despairing defenders, the ball sat up nicely for him and he sprinted in beneath the posts. It was a marvellous individual effort that displayed his mercurial talent to full effect. The conversion took Bristol to a final score of 63 – 10.
pqs: qs:
EALING LOSE THEIR WAY AGAINST RAMPANT BRISTOL
Posted by: bristolrugby.net (IP Logged)
Date: 14/02/2016 10:45
What do you think? You can have your say by posting below.
If you do not already have an account
Click here to Register
.
Edited 1 time(s). Last edit at 2016:03:06:19:43:48 by SenorJuan.
Sorry, only registered users may post in this forum.