PROMOTION PARTY AT ASHTON GATE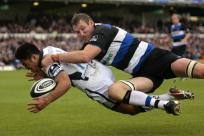 By Ian Todd
April 15 2018
An entertaining 60 - 10 win over Doncaster was a fitting precursor to the celebration of promotion achieved two games before season's end. It was also a fitting swansong for several crowd favourites.
Supporters (and doubtless coaches and players too) have been less than happy with the performance at many home games this season but in the last home game of the season Bristol finally managed to put on a real show featuring a rare try from Gaston Cortes and a birthday masterclass in finishing from Luke Morahan who touched down for four tries.
The game was perhaps overshadowed by the celebration of promotion achieved without having to run the gauntlet of the ridiculous play-off 'system' and even more so by the imminent departures of many players.
Perhaps it is wrong to focus on individuals but obviously the final Bristol home game of folk-hero David Lemi took much of the attention. Many recalled his famous try against B**h. In my report of that game I wrote "If the first Bristol try had stunned B**h then the second amazed everyone in the ground. Claasens hoofed the ball downfield and David Lemi sprinted back into the Bristol half to take the ball. He gathered it and ducked under a clumsy challenge from Fa'amatuainu. He then sped away on a mazy run that left a host of embarrassed defenders trailing in his wake. For a moment it looked as if the defence would close him down but he chipped over the head of Abendanon , gathered the ball and just about got over the line as James attempted a last ditch tackle. Even as we witnessed this amazing piece of individual skill and opportunism people were marking this down as try of the season! Jarvis made the conversion and it was 17 - 17 at half time." It was a stunning effort that epitomised Lemi's approach to the game, speed, acceleration, determination and quick thinking under pressure. It also included an often overlooked aspect of his game – a willingness to kick. Another favourite of mine was another game against B**h in which Lemi tackled a player who is, in many ways, his opposite number: Matt Banahan. In an effort to stop the offload Lemi had to leap into the air to wrap his arms around his giant opponent. That he managed to both stop the ball going back inside and bring Banahan to the ground is typical of Lemi's resolve and deceptive physical strength. What many people now do not recall is that Bristol went on to lose that first game 20 – 33. Sadly his time at the club coincided far too often with extended lows in the club's history rather than the heights his skills and efforts deserved.
I would also like to highlight Gaston Cortes who's departure brings to a close (albeit briefly I hope) Bristol's association with players from Argentina. If the mercurial skills of Felipe Contepomi brought people to their feet, then Cortes represents another tradition in Argentinian rugby: the physicality and relish of close-quarter confrontation. Not to underestimate the skill the goes to make up a top-class front row player. Make no mistake; Cortes is a top-class forward, skilful and powerful. Perhaps his contribution elsewhere around the pitch has been unappreciated by some but I will miss his presence in a Bristol team. Yes, when he first joined us his hair was a mess and he was clearly unfit but whilst he was on the pitch at Cardiff he showed that in terms of technical ability he was the best forward out there. The hair is still a mess though.
Farewell to these two and to all the players leaving. Good luck in whatever you do in the future and you will be welcome back to Bristol any time. Unless you are playing for B**h. Obviously.
pqs: qs: