Jersey preview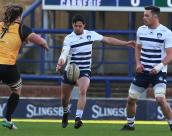 Improving form
By WW
February 9 2019
Next weekend the Jersey boys are in town. It is a long haul from the Channel Islands so the Reds will be looking for points and will not want to go home empty handed. This match has the hallmarks of a good tussle.
After the results of recent weeks it would be foolish to look at our respective league positions and try to glean a clue to the result of this encounter. Jersey are riding high in the top four whilst we are 3rd from bottom and can only rise to 9th if we win this game. More relevant is our form since Xmas with the setback against Ealing Trailfinders as the only blemish on our record. Moreover we have beaten the teams in 3rd, 5th, 6th & 7th so 4th placed Jersey will hold no fears for us. We won convincingly at Nottingham in our last game whereas Jersey went down at home to the Scottish Exiles. Having said that the Islanders are perfectly capable of piddling on our bonfire if we let them.
One factor in our improving form has been the performance of the pack. Despite some erratic lineout work the forwards, whoever is selected, are putting in big shifts both in attack and also when we need to defend. For me our outstanding forward has been Dan Temm who has lit up games with his incisive running.
Behind the pack the consistency of JB coupled with the improving form of Jade Te Rure has been a major factor. Jade is key to our fortunes in the next 3 months. His confidence is growing and he is the crucial link providing attacking ball to our threequarters.
Our DoR has been juggling the backline - moving Elijah into the centre has given the backs a new dynamic and has taken the pressure off our regular centres. Jacob has shown his potential in every game that he has played for us and Harry Davey has developed a try-scoring habit whenever he makes an appearance.
Sunday's game is there to be won. Whatever side Jersey put out should make no difference to us. We have the capability to beat the Reds in every department. At the moment the weather forecast is good - dry & moderate breeze so if we put in an 80 minutes like that against Bedford then we will prevail.
pqs: qs: