Guess The Attendance: And the winner is...............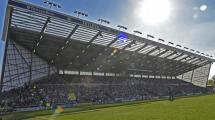 What good looks like
By Almo
May 5 2019
Has anyone seen JDH/JDH1?
So the end of an eventful season and it is now time to announce the Guess The Attendance competition results.
At our last home match against Hartpury we had 960 official punters meaning that closest was sheffieldsmills (3 points), second with two points was Wildwillie and Madtyke, scoring yet again, took the remaining one point for third.
The final table is shown below.
A few points:
1) Strangely JDH/JDH1, our defending champion, scored a consistent nulle points this season. Anyone seen him as I am awaiting the return of the solid gold trophy?
2) yeldor again burnt all his matches in the early part of the season, failing to score at the business end.
3) almo confirmed why you should not take any notice of his advice, as he only scored one point
4) Sheffield came late to the party but still got a win - think what would have happened with a full season of guesses
5) The flagmeister was probably the most efficient of all guessers as I think he made three guesses and two were winners
So to the most important point. In the event of a draw the closest in the last game will decide the winner. Albert was 392 off and Hornchurch was 349 off.
So I hereby declare Hornchurch as the worthy winner.
Now if only JDH will return the trophy I will arrange the usual all-expenses paid trip to Cannes: currently checking Prince Harry's availabilty to present the award.
FINAL TABLE

| | |
| --- | --- |
| Hornchurch, Albert | 9 points |
| opus | 7.5 points |
| Madtyke, WPL, LCSF | 6 points |
| yeldor | 5.5 points |
| WW, Redcar | 5 points |
| John R, Bobba | 4 points |
| Tower, Sheffield | 3 points |
| Sidestep, Billy ba | 2 points |
| almo | 1 point |
| JDH and others | nulle point |
pqs: qs: