The Cunning Plan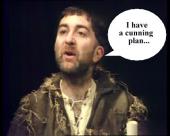 Gary Hetherington?
By Almo
June 29 2019
For the minute it looks like the club have escaped extermination, but there is still a lot to do if we are to get back to a sustainable Championship team. And not much time.
Seems we have a ground, a training base, plus some nice kit - but nobody to wear it.
Players, training staff and pre-season training seem obvious shortfalls.
We are supposedly going forward on a semi-professional basis that is modelled on Featherstone Rovers, who play in The RL equivalent of the Championship. Obviously we will need a few more players and a travel budget that extends beyond the M62.
How we go forward is a mystery to me but please use this thread to record how the Cunning Plan evolves.
24th July: Martyn Wood, new DoR announced
2nd August: Joe Ford announced as player/coach
pqs: qs: