CHURCH'S ON SUNDAY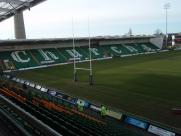 By Sara'sman
March 13 2019
Parallels may be drawn between Match Officials and the various incarnations of our domestic cup. Neither are widely loved especially by losing sides who so often lay blame at their door (competence/format), both have a key role in our game, and many fans think they know of better alternatives despite an often patchy understanding of the true nature of their function!
I'm that rare beast, happy to admit to being a fan of both. For me, the Premiership Cup ticks so many boxes. It:
* gives an opportunity for all clubs to win silverware
* provides developing players with a bridge between the A League and Premiership
* gives the wider squad players much needed game time
* provides income from at least two home games during the International Periods
* enables clubs to give much needed rest to fatigued players
* gives players recovering from injury a staged route back
* gives variety from what might otherwise be a remorseless grind of league and European fixtures.
As with most competitions there are arguments to be had over the format (I'd like to see restrictions on the total number of current season Premiership caps won by each selected squad, perhaps 35% of the season's total to date) but four oft proposed alternatives have too many downsides in my view. A straight KO would deprive most clubs of much needed income and game time. An U23 competition could place excessive demands on key positions (e.g. TH prop – see below) especially with absent internationals/injured players. Combining with Championship clubs shows both a lack of appreciation of the gulf in class (even compared to Premiership 2nd XVs) and that Championship sides, like Premiership ones, prioritise their League games using cup fixtures as a wider squad competition. Removing the cup and expanding the league to 14 would move the Premiership towards the grind fest that is the Top 14, with an additional four important games played during the Six Nations. Each alternative deprives clubs of too many of the positives listed above.
The conflicting and changing purposes of the competition are evidenced in a couple of statistics relating to this years finalists. In just five rounds of the competition Sarries have used 40 players, Saints 48. Both teams have selected 5 Tight Heads (at 3 or 18) – who recalls Sasagi? Or Hakalo and van Zyl for that matter!
Round 2 and my November trip across the Pennines to the AJ Smell was memorable, not just for the delicious home-made half time cakes generously shared by the Sharks fans surrounding me. It gave me a welcome opportunity to cast a curious eye over our wider squad, gain some insight into why our coaches prefer Whiteley over the seemingly more gifted Taylor (Tom has something of Faz's grit, desire and leadership, and kicks better) and to scrutinise the next product off our Lock production line – what a game he had, what a prospect Joel is. And another chance to see the likes of Gallagher continue their progression to our First XV. Not his best game under the high ball but he never shirked a challenge, and how much he has progressed since that Friday.
Equally enjoyable have been my trips to Franklin's Gardens, a beautiful ground with the best grass surface in the league, a compact, accessible city centre location with ample parking and drinking space (though the beer is modest at best). A curiosity – is the stadium unique in having an apostrophe embedded in the lettering on the seats? As with every ground I've visited (perhaps bar Donny) it is populated by friendly, welcoming, interesting and enthusiastic fans, who will doubtless once again get behind their side with widely supported, if a tad repetitive, renditions of their favoured ditty. Particularly impressive on a previous visit was how, despite Saints losing heavily, several in the corporates behind me joined the refrains.
Northampton had three high scoring victories and a pair of close games en route to this home final. In Pool C they smashed Bristol 51-24 at The Gardens, squeaked past Pests 15-14 at The Ecoh, lost narrowly 14-12 at Castle Grim, then secured a resounding 47-20 home defeat of their nearest and dearest. Their 15 points earnt them top spot in their Pool and 2nd seeding overall, securing a home semi where they continued a run of high scores in defeating Falcons 59-33.
Unbeaten Sarries meanwhile qualified as best runners-up. We opened with a home 29-21 victory over Tigers, then tied 15 apiece with the Sharks, before a solid but costly 34-22 victory over a young Warriors side at Allianz Park, followed by a comfortable but niggly 32-12 away win over our own closest friends. Arguably conceding that TBP to Wuss resulted in 16 points being only good enough for 2nd position in our pool, 4th seeding overall, and a semi final trip to Sixways. A trademark performance founded upon line speed and solid defence produced a 38-22 win over another young Worcester side.
The finalists have different styles and differing priorities at the moment. With 8 Internationals away, Quins in the East End next week, Europe and the run-in looming, we are likely to stick with our young guns supplemented by a few more senior players. Saints, and I for one have no complaints whatsoever, are likely to field a mixed but more experienced side. Although they visit Leicester 5 days later with a daunting but for fans memorable return to Clermont the following week, a home final in front of a large crowd with the prospect of silverware and a long awaited victory over those upstarts from down the M1, has a very strong pull.
On average so far we have started 0.2 of our First XV, selected 0.8 of them and played only 3.4 of our First XXIII squad. I don't see us deviating from this format for the final; the team (competition starts/bench) is likely to be along the following lines assuming Kpoku is released:
Gallagher (5); Crossdale (5), Bosch (3), Morris (5), Segun (2); Malins (5), Whiteley (4/1);
Thompson-Stringer (2), Woolstencroft (4/1), Lamositele (2); Day (5), Kpoku (3/1); Clark (4), Reffel (3/1)l, Earl (3);
Gray (0/3), Adams-Hale (0/4), Walker (0/2); Isiekwe (2/0), Vailanu (2/1); Taylor (1/4), Vunipola (0/2), Lozowski (2/0).
Accurately guessing the home line-up is difficult enough for the Saints faithful, so I'll simply suggest that they might add Haywood (0/2) if finally fit again to their Semi Final side (note the 6/2 bench) of:
Furbank (5); Tuala (1/1), Hutchinson (2), Burrell (2/1), Naiyaravoro (2/1); Grayson (5), Reinach (3);
van Wyk (4), Fish (2/1), Painter (2); Ribbans (2), Ratuniyarawa (2/1); Gibson (3/1), Ludlam (3).
Harrison (3); Marshall (1/3), Waller (0/2), Hill (1/1); Moon (2/2), Wood (2/1), Brüssow (1/1); Mitchell (1/2), Collins (1/1).
Perhaps a chance to cast an eye over a familiar name at 10, though sadly we can only wish a second Saints son Harry a return fit and in good form next Autumn after his injury hit year. A third, young Sleightholme, may also play and it could be my final sighting of Luther Burrell, a decade after first watching him bulldozing through opponents at Otley.
Sunday should see a pair of strong sides eyeing silverware in a packed, partisan stadium, with SoT and the SSA providing a sweet stereophonic counter to the surround sound of intimidating Home support. The gay abandon of a revitalised Saints against the much admired(!) pragmatism of a young Sarries. Perhaps a more experienced Saints team, combined with Home advantage will make them favourites, though over the past few seasons Saracens have produced many victories in hostile environments. Both may be winners; Saints with the pot, Sarries with yet more experience and memories in the development of a group of talented, young, hungry players.
Whatever the result, safe journeys to all attending Church's on St Patrick's Day. Let's hope for a cracker and perhaps pray for a similar outcome to the last final we played at The Gardens.
pqs: qs: