Sarries 'emerging talent' swamp Exeter 'inexperience'.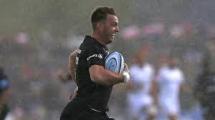 By Innings
May 7 2019
This headline naturally condenses the two DoRs' take on the game. Mark McCall, never afraid to pitch anyone into the line-up, gives his senior players a weekend of cotton-wool, and judiciously mixes extreme youth, coming players, semi-established names and old men. Rob Baxter has to throw in several young players with remarkably little experience, a result of reluctance, seen at many clubs, to use his entire squad over the season, relying instead on the war horse names to turn out week after week.
In the old men category, Sarries started three, Wiggy, Marcelo and Schalk, aggregate age 106. We knew that two of them were making what may be their last appearances at Allianz Park, of which more later. Exeter meanwhile, had to turn out an all-international front row, Ben Moon, Luke Cowan-Dickie and Tomas Francis, a fair indication that Rob Baxter sees the scrum as woefully under-resourced at reserve and academy levels.
My seat-neighbour at AzP told me of a brief but very heavy hail-shower as he was leaving home just up the road from AzP, but the sun was out, taking some chill off a brisk wind coming in over the north stand. This wind was clearly to be a big factor in how the game would be played, so it was advantageous for Sarries to win the toss and play into it.
We had three instalments of the team's arrival on the pitch. Schalk came on with two children, all three clearly revved up by the occasion, then Marcelo came on alone, his children left behind in the tunnel, somewhat over-awed and wanting to stay with Mummy. Then came the team, captained today by Wiggy, the last of the old-timers, and captain today.
It would be hard to enthuse about the first half-hour. Exeter are not using the wind well, and as a result are spending inordinate time in their own half. Gareth Steenson was for many years one of the most reliable 10s in the game, albeit no longer first choice at Exeter. He lacks recent game time through injury, but it surprised me that he was uncomfortable with the windy conditions. As a result, attempts to play the typical Sarries clearing game were error-strewn, with missed kicks to touch costing position on a few occasions. In his defence, Part One, the Exeter service from the scrum, whether set-piece or the break-down, was pretty lamentably slow at times. In his defence, Part Two, it would be a very one-eyed Sarries supporter who could not acknowledge that referee Ian Tempest has a fairly relaxed attitude to when a defensive line can move forward to stifle offences. Sarries never need a second, let alone third or fourth invitation to start moving just that little moment earlier than some referees would permit.
After about 20 minutes, a charging Will Skelton, (Not Nick Skelton galloping, presumably on a horse, as some prat of a commentator erroneously called him) clattered Exeter 15, Phil Dollman, just a milli-second early. A yellow card seemed fair, it was timing, nothing more sinister. However, a player whom Exeter needed required an HIA, which he passed, but after returning he found that his rib-cage was unable to cope, so he left again. With wind and man advantage, Exeter simply had to score; AzP cognoscenti would have this as a 15-20 point wind, and against 15 men, the Chiefs had yet to record any advantage from it. Surprisingly, the yellow period yielded nothing; Sarries defended like demons, especially against a prolonged Chiefs' siege of their line that led to nothing, and took us to 30 minutes unscathed.
With Will back on, Chiefs still pounded the Sarries line, and probably will never work harder for no return. The wind has strengthened and a sharp rain shower is helping them. Cowan-Dickie has carried towards the line several times, but is stripped of the ball, which is caught by Calum Clark, fed back to Wiggy, who kicks it clear, a full-on clearance that travels fully 20 metres into the wind. Chiefs are caught out by the bounce, Marcel half-claims, but the ball squirts out for a fly-hack on by a falling Wiggy. The ball flies forward, thinks better of its direction and turns back, half on the bounce and half in flight to sit nicely for an on-running Alex Lewington to take it at perfect height and sprint in from exactly 50 metres for a score that is very much against the run of the last several minutes.
And so to half-time. Not only have Chiefs failed to score, they have conceded seven points. In my reckoning they are therefore 22 to 27 points behind where they need to be to win this game. A nice little touch at half-time, with players of the Sarries initiative with handicapped children demonstrating their enthusiasm for the game.
The second half is to be driven by a different set of needs. Chiefs simply have to attack and keep on attacking, or suffer the debilitating effects of simply trying to avoid a serious beating. Sarries simply have to do what they do in order to win.
Then, very quickly, the complexion changes. A snappy little break by the increasingly impressive Max Malins feeds a supporting Alex Lewington. I believe that regular Chiefs watchers are aware that Gareth Steenson is sometimes absent from the trenches when last-ditch defence is needed, but his attempt to stop Alex will rank as particularly feeble. Hardly are we back in our seats – a lot of jumping up and down after this try – when Will, the most-improved lock forward in world rugby, bursts through middle of a crowded mid-field. Nobody can blame Steenson for not stopping him, but no Sarries supporter can deny the excitement of seeing Will simply ignoring the challenge, swatting aside the tackle attempt. However, this is the new Will, so instead of simply making like Nick Skelton again, Will offloads to supporting Nick Tompkins, at his shoulder despite the doubtful attempts by Chiefs 12, Ian Whitten, to impede his progress. Easy finish and suddenly 21-0.
Chiefs are now in a very different ball game. If Sarries score again, and Chiefs go home with nothing, the latter will need something from their last home game, against a resurgent Saints, to avoid the risk that Sarries might come away from Sixways with a win, or even a four-try one, and so top the table at the last gasp. That would surely be a total unravelling of everything that Rob Baxter has worked for this year.
Chiefs do play a bit now, and after prolonged siege, again, debutant Richard Capstick is last man up with a much-needed try under the posts.
Marcelo is now called off, and he departs to prolonged and much-felt applause. As a player, a kicker of prodigious-distance penalties, and a good all-round guy, he has long been a favourite in the bleachers. It is nice to see, as I re-watch the game recording, that his resting team mates join in a standing ovation.
A penalty converted by Tom Whiteley, on for Wiggy, and then a cameo that weaves together four players who represent all that this day has offered. Emerging talent Tom Whitely passes from the breakdown, to old-stager Schalk, who carries the ball into a second breakdown and Tom recycles, this time to Max Malins, establishing himself ever-more promisingly as one to watch for the future. Max takes the tackle but loops a short ball over the heads to Dom Morris, in only his second first-team game. He shows real speed to go in under the posts for the BP try and a commanding 31-7 lead. Memo to last line Chiefs defender – 'Don't wear bright yellow boots if your tackle technique is so poor.' Oh Dear, it seems to be Gareth Steenson again.
Schalk Burger goes off now, his departure like his play, unshowy but well-appreciated. Over time, his own playing contribution has been redoubtable, but one hears that his behind-the-scenes work as mentor for younger players may even be a greater legacy to Sarries.
Chiefs are in that dreadful position of having to defend to avoid beating without riposte or having to attack to salvage some pride. The latter option is chosen, only for Dom Morris to make his debut try a pair, intercepting on his own 22 and sprinting in for the second.
The game ends after two interesting moments. Marcelo has returned to the field as HIA cover, to a welcome as warm as his recent final departure, and Chiefs wing Tom O'Flaherty, a real speed man, has made a brilliant break, certain to end in a try, until run down by Max Malins and support, just short. A more experienced wing might have tried a change of direction, a last-gasp side-step.
As we end I think thoughts of players. We have seen two remarkable players for their clubs and countries, Marcelo and Schalk. It is difficult to realise that Schalk, in particular, had been rejected by his domestic game after injuries and disciplinary issues. Like others before them, and hopefully others after them, they had recreated their careers in the Sarries family. We have seen emerging talent, most obviously Dom Morris today, but another, Rotimi Segun also caught my eye on his wing. Ben Earl is not a man-mountain but is proving to be a reliable back-row operator, and I am sure we shall hear more of him.
Alex Lewington was named MotM, and indeed he did much that was good, apart from scoring two tries. However, for me, by head and shoulders, Schalk was the proper recipient: he was perhaps the player most responsible for Exeter's failures in attack, the glue of the defensive hard yards, and still with time for much very effective work in Sarries own close-in game.
Ian Tempest refereed with practised leniency, but importantly he was very consistent, and clear in explaining his decision process. Players cannot hope for more.
As I was leaving the ground I met a Sarries Pioneer, working tirelessly for the club, in an unglamorous role. He didn't even know the score, having been too pre-occupied to follow the game. What do Sarries and we supporters owe to the many like this one?
And finally, whilst recording milestones; this is my 50th match report. It began with a European game against Zebre, in December 2013. Starting at 10 and 13 respectively were Richard Wigglesworth and Marcelo Bosch. The score was 64-3, a sad indictment of the state of Italian club rugby.
The first inkling that all was not well at Leicester Tigers came with my second report, which I ended by saying that as Sarries had turned carnivore by eating Zebre in the previous game, this time they had supped of 'Tiger on Toast', reflected in the score of 49-10.
However, of all these reports, my favourites remain the two Ulster games in the Champions League of 2015-16, A Tale of War and A Tale of War Renewed.
Onward towards 100 caps.
Saracens: Matt Gallagher, Rotimi Segun, Marcelo Bosch, Nick Tompkins, Alex Lewington, Max Malins, Richard Wigglesworth (capt), Richard Barrington, Joe Gray, Vincent Koch, Nick Isiekwe, Will Skelton, Calum Clark, Schalk Burger, Ben Earl.
Replacements: Tom Woolstencroft, Hayden Thompson-Stringer, Christian Judge, Dom Day, Sean Reffell, Tom Whiteley, Manu Vunipola, Dom Morris.
Exeter: Dollman; O'Flaherty, Bodilly, Whitten, Cuthbert; Steenson (capt), J Maunder; Moon, Cowan-Dickie, Francis, Atkins, Caulfield, Lonsdale, Capstick, Lawday.
Replacements: Taione, Keast, Street, Salmon, Kaufusi, S Maunder, Simmonds, Hendrickson.
Referee: Ian Tempest.
pqs: qs: