Sarries produce three star performance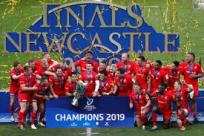 By Innings
May 13 2019
Before this game the general feeling was that the two best teams in Europe had reached the final. The bookies were unusually coy about predicting the outcome, and overall it appeared that the money was weighted towards Sarries, but with only a single point of advantage. Travellers to the Toon were welcomed, and had the chance to air their lungs on Friday evening, as the two French finalists in the Challenge Cup produced a brilliant game of rugby. I doubt a single Sarries supporter would not have welcomed the Clermont win, and particularly the fact that Benjamin Kayser will not retire as the man who took a losing part in more finals, national and European, than any other player since the game went professional.
Saturday was clear and sunny, but a little cool. The stadium is iconic, not one player was not talked up except as talismanic or totemic, and commentators promised the greatest game of club rugby ever played. It was of course historic, with the previous winners of six of the ten most recent championships of Europe battling it out in a titanic or epic struggle for the spoils. Fortunately, the commentators ran out of words ending in -ic, and came a little down to earth when the time for game commentary arrived.
Both squads were almost a full strength, but Sarries lost Michael Rhodes almost at the last moment. A quick shuffle saw Maro move to six and Will Skelton come in to partner George Kruis. To my mind, he should have been selected there anyway, he really has become a player to match his huge frame, a player to terrorise almost anybody, an astronomical black hole towards which lesser bodies are drawn, as if against their will, to their fate. We all knew that Captain Brad would start, even if he had to play on one leg and hop around for 80 minutes. Mako Vunipola seems to have been a less certain starter, but he was deemed essential to counter the threat of the ever-impressive Tadhg Furlong.
I cannot say that Sarries were impressive during the first thirty minutes. Referee Jerome Garces was never going to allow Sarries to treat the offside line as an optional extra, and an early start from the blocks, by Brad, gave Johnny Sexton an easy pipe-opener. However, the game plans were being set out, and seemed to be exactly the opposites of style that we expected. Leinster ran everything, Sarries began as they would finish, tackling with fire, accuracy and success, leaving Leinster always at the wrong side of a red wall. However, it did seem that whilst Leinster firing their shots, they were scarcely striking home, whilst Sarries are always willing to let the opposition run at the defensive line.
On about 28 minutes, Leinster did at last find themselves camped on Sarries line. Many phases, several penalties awarded against Sarries, including two against Maro for clear offside offences. As Maro trudged off for an inevitable yellow card break, so did both Sarries starting props, Mako and Titi Lamositele, another player who has transformed himself this season. Inevitably, a bit more Leinster mauling led to a try. 10-0 and Leinster in the driving seat.
We cannot know how or why Sarries decided that the next ten or twelve minute would decide the game, and that they would win it. For ten minutes they simply took the game to Leinster, physically, with subtlety, whatever it took. Leinster might have expected to take advantage. A penalty gives Leinster a good line-out, and the ball spins wide. However, Jack Conan standing at centre is just a moment too long holding the ball, and takes a heavy tackle from Alex Lozowski. The ball gets back to Sexton, but George Kruis has timed his advance perfectly, arriving at Sexton's side before the latter can think about what to do next. Holding onto the ball after the tackle was the wrong option, giving Owen the easiest of three points to open Sarries' account. Ben Kaye seems prescient when, even before Own has banked the points, he tells the TV audience that this short passage is the game-changer. What commentators call the power play period has delivered only a net four points, and the score is 10-3.
With two new props, Richard Barrington and Vincent Koch, and a new mindset all round, it seemed that Sarries might go in at half-time a bit in arrears but that the omens were looking better. I never worry about Barrington or Koch, both are seasoned campaigners at this level, and although Furlong is a handful, it was clear that his work in the loose phases was taking a toll: he was simply doing too much to be able to last much longer.
On forty minutes, Leinster have the opportunity further to take the sting out of a Sarries side that are still looking a bit ragged. A straightforward Leinster clearance to touch was supposed to see the half end with the Irish side strolling down the tunnel with heads held high. However, the botched clearance and poor follow-up gave Sarries a penalty deep in injury time. Owen went for the corner, one of those all-or-nothing kicks that almost always come up as he wants on the big occasions. Press the Leinster line from the line-out, many short drives by the Sarries forwards, and then a truly brilliant three seconds. Ben Spencer clears like lightning, out to Owen, who scarcely touches the ball as he moves it on out. Alex Goode drops his hands; the pass is too far in front for a safe take, or perhaps he was never more than a distraction for the Leinster stretched defence to have to cover. Sean Maitland receives and strolls in for what all the world looks like the easiest of tries. It takes seeing again and again to appreciate what unbelievable skill and teamwork went into it.
Many years ago, I heard the expression, 'The thousand yard stare'. First used by the US Marines in 1945, to describe the dazed look of men who have suffered a traumatic shock that they cannot process. I heard it whilst instructing US soldiers in jungle survival during the Vietnam War. One of today's Press writers used it to describe what he saw as the Leinster players walked towards the tunnel immediately after Owen had levelled the scores. Ten-nil and man advantage had suddenly and inexplicably become 10-10.
The second half was truly a demonstration of the meaning of teamwork. It was also the Billy Vunipola show. Almost as the half began, on 42 minutes, Leinster found themselves with an attacking line-out, almost exactly where Sarries had taken their own try on the 42nd minute of the first half. Leinster press hard almost under the posts, and Ben Kaye is shredding himself with excitement at Leinster's power driving game. He is so excited that he fails to notice that George Kruis has stripped the ball and is making his way clear up field. Almost first to follow is Billy, placed to intercept the ball that Leinster have turned over after the George break. With the ball just a little beyond his reach, he knocks on, perhaps fortunate that the ball still reaches Garry Ringrose, because it might otherwise have been considered more deliberate an offence than it was judged to have been. Leinster are pressing again and a try is called as certain by the commentators again. Liam Williams is last man defending and in a brilliant one-man play produces both the try-saving tackle and a clean turnover. Clearing kick, no messing about here by Sarries. Leinster line-out, ball to Luke McGrath at scrum-half, and he is bundled into touch.
More Sarries pressure, a many-phased movement bring Richard Barrington a chance to score if he can touch down at the base of the left upright, where Leinster replacement hooker James Tracy is wrapped around the post more tightly than centuries-old ivy. No try, a relief for Leinster, but less relief as they lose key forward Scott Fardy to the bin, pretty much exactly as Sarries lost Maro in the first half. Owen takes a quick three points and Leinster still have nine minutes in which to defend, now behind on the score board for the first time.
We see Maro put in a fairly obvious tackle on a man in the air as Leinster re-start, but referee Jerome Garces judges that it merited a penalty but no more. Leinster launch a strong attack and as they close the line they seem not to be missing Fardy. However, the ball must go wide to get away from the suffocating Sarries defence, and a semi-speculative pass goes out of the outstretched arm of Billy, but this second intercept is ultimately successful, involving a bit of circus juggling, and a gymnasium forward roll.
Sarries press forward again, and yet again Leinster are defending for their lives. Penalty, and Sarries opt for the scrum. Untidy execution but M Garces judges that Leinster's scrum has splintered. Another scrum, Billy picks up from the base and sets off to cover five metres through the massed deep blue sea of Leinster players. Four have attached themselves to him but Billy is an orca among the sardines, and his touchdown is a triumph of strength and thought under pressure.
When Sarries had lost Maro to the bin, Leinster achieved a net profit of four, a converted try part-off-set by a penalty. With Fardy in the bin, Leinster have suffered a net ten-point deficit.
The game is not totally over, but Leinster are clearly out of ideas. Stuck behind their own 22, they have no idea but to run and run, always into another Sarries player or two, or three. The game does end therefore on a note of bathos, that down-beat feeling that the end has not been as mesmerising as what had gone before. However, as Ben Kaye says, we could hear the sound of Sarries turning the screw, although by now, that screw was surely wound down as tight as it could ever be.
80 minutes, and cue celebrations, Leinster's fifth star will have to wait, but the sewing machines at Allianz Park will be busy. As the cameras panned around the stadium did I see Nigel Wray and daughter Lucy in a hug of elation, with just the hint of a damp eye there somewhere?
Captain Brad was MotM, and rightly so. His leadership and personal input were outstanding. However, George Kruis was imperious, making nearly thirty tackles, and not missing one. Sexton will still be sore after the one that Ben Kaye called a game-changer. George, like Billy, carried forever as well, and with Will Skelton, Jamie George and Jackson Wray all performing at top level, Leinster almost always conceded ground in every exchange. Alex Lozowski will have given watching Eddie Jones something to think about, but I'm prepared to be very surprised if another stellar performance by Alex Goode even registered on Eddie's radar. Eddie should be Prime Minister: he has the blind stubbornness that seems to be an essential character trait for that job these days. European Player of the Year? So what, he's not good enough for Eddie, and that's that.
All in all, I think three players deserve special mention. The back three all did well what had to be done, but more than that I can only think that Leinster utterly failed even to try an offensive kicking game because they were so aware of the counter-attack threat that Sarries have developed into one of Rugby's prime team weapons. Without a kicking option, Sexton and McGrath were easier options for the Sarries midfield defenders, and it showed. If you turn up with the Leinster Plan A but are afraid to use Plan B, you don't win against Sarries when they are the sort of frame of mind that we saw for 50 minutes at St James's Park.
And so back to earth, the gruel of the last game of the regular season and then the last two games, the semi-final and hopefully another final. I presume that Worcester will see none of yesterday's squad, but that whoever the opposition are to be in the semi-final, and mathematically it could be Gloucester, Saints Quins or Bath, they will know that they are to face the best team in Europe.
Leinster: Rob Kearney, Jordan Larmour, Garry Ringrose, Robbie Henshaw, James Lowe, Johnny Sexton (capt), Luke McGrath, Cain Healy, Sean Cronin, Tadhg Furlong, Devin Toner, James Ryan, Scott Fardy, Sean O'Brien, Jack Conan.
Replacements: JamesTracy for Cronin (51), Jack McGrath, Michael Bent for Furlong (70), Rhys Ruddock, Max Deegan for Toner (74), Hugh O'Sullivan, Ross Byrne, Rory O'Loughlin.
Saracens: Alex Goode, Liam Williams, Alex Lozowski, Brad Barritt (c), Sean Maitland, Owen Farrell, Ben Spencer; Mako Vunipola, Jamie George, Titi Lamositele, Will Skelton, George Kruis, Maro Itoje, Jackson Wray, Billy Vunipola.
Replacements: Joe Gray, Richard Barrington for Lamositele (29), Vincent Koch for M Vunipola (29), Nick Isiekwe for Skelton (62), Schalk Burger for Billy Vunipola (75), Richard Wigglesworth for Spencer (56), Nick Tompkins, David Strettle.
Attendance: 51,930
Referee: Jerome Garces (Fra)
pqs: qs: