MISS BARF NIGHT? USE HALF A CAN OF LYNX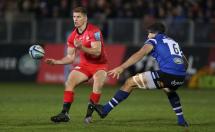 By myleftboot
December 1 2019
As Sarries emerge from a Broom Cupboard to a rather subdued reception, considering it's Mark McCalls birthday, and im still trying to work out how Sarries are 1-9 on, Ruaridh McConnochie clearly hadn't stopped running since he got back from benchwarming in Japan and disrupts Maro's catch from the kickoff. An early scrum brings back World Cup nightmares as Mako folds once, twice, and an easy 3 for Priestland, 3-0.
A messy game of ping pong breaks out, with both teams struggling under the high ball until captain Concrete has enough and storms up the pitch. Barf have a lie down, and Faz slots it for 3-3. Dixon then mistakes Louws attempt to take a knee for a completed tackle, perhaps mistaking Super Dunc for Super Kap? Priestland again makes no mistake, 6-3.
After an early blip, normal service resumes with Jamie leaving Underwood with no option other than to give our jumper a cuddle. Daly punts long, the heavy mob start pumping, draw a desperate foul, 6-6. Again McConnochie is a nuisance at the restart, giving Barf an opportunity to bang their heads against a red and black wall for 14 phases. A knock on brings more concern at scrum time, as this time Titi twice squirms out the scrum under pressure from Obano. A lenient Dixon gives him a third go, and he miraculously recovers and holds firm.
As Barf begin to threaten, a no arms tackle from Daly gives them an attacking lineout. 21 phases and a gain of -20 metres, Chudley has had enough, and takes a Swandive over Maro's conveniently outstretched limb, cue a meagre 3 point return for so much effort, 9-6, a score that seems to wake the Wolf within. A stunning all hands attack sees Sarries left, right and left again, as Maitland dances past the last man standing, Faz kicks the conversion, 9-13.
After Sarries get the better of a juggling competition to win a scrum, some wise words from Maro sees Titi blast through Obano, winning a 40 metre penalty. To nobodys surprise, Faz slots it easily, 9-16. As the clock ticks over half time, Jamie Roberts massive jaw claims yet another victim, forcing Jacko off with a head injury. Barf win a scrum, then a free kick, which, scenting blood, they reset the scrum. Fearing another talking to, Titi again beasts Obano to win a penalty. Daly misses touch, but Barf smell the oranges and hoof it out. Half Time.
Nick Tompkins emerges to replace Super Dunc, who picked up a whack to the shoulder, only to see a frenzied Barf pack drive nearly half the length of the pitch, leading to a hectic 5 minutes, where Sarries really start to roll, pace and power typified by Bill storming up the wing. After Titi attempts a discarded play from Sir Clives playbook, stunning everyone, a narrow knock on from Big Willy denies Brad a deserved try. Barf clear, Stuart tries to make love to the egg, giving Faz another 3 on the board, 9-19.
As we start to turn the screw, Wiggy dropping balls on coins, more great scrummaging, Homer wakes up, and drags his team half the length of the pitch. As Barf realign, Earl leads the charge with a masterful sack on Priestland well behind the gainline. On 51 the two fine warriors, Beno Obano and Titi Lamositele have battered each other to a standstill. Anyone moaning about the time spent on reset scrums fails to comprehend the awesome combination of brains and brawn required to produce such a titanic scrum battle.
Shortly after, and not for the last time, Maro overcooks a ruck, with a long arm where it shouldn't be, another pen, another Priestland 3. 12-19. Then a clearly overawed Max Boyce strays offside, Faz, boom, 12-22. Judging from the amount of Lynx sprayed, Isiekwe comes off the bench because he smells, bringing Spenno with him. More ping pong, another attack sparked by Homer, with Underhill prominent ball in hand, leaving the breakdown underesourced, handing Earl an easy steal. Barf resemble the younger brother, told to stop hitting yourself, stop hitting yourself as they repeatedly slap themselves silly. Faz slots another penalty, barely a smile, another day at the office. 12-25.
In his last meaningful act of the game, Tom Dunn throws a sweary tantrum, then needs a lie down. Sadly, this collapses the scrum. In this break of play, the clearly excited Max Boyce asks for a look at Vinnies medal. Ever the gent, he nods his assent. Cue much uproar from the locals, guess they wanted a look too? Tompkins takes off on his own, nobody follows. Baz comes on, Maro cant keep his hands off a ball as he retreats, this time gets an early bath. Having seen the dressing room its probably just a big sink, at least he gets first dibs.
Barf punt to the corner, reach a truly magnificent fifty phases in our 22 for a dominant return of 3. Cook an utter annoyance milks a pen, kick to corner, Barf continue to hit themselves, tears of frustrastion evident as a clearly struggling Jamie George puts them out of their misery, his determination to see this one out typifies the commitment to the cause of our returning World Cup heroes, we clear our lines launching another assault on the Barf line, turned over, Priestland sacked, long punt, Daly drops it, game over! Final Score 12-25.
Man of the Match had to be Faz. How those who argue he is not a captain after a performance like that, leading the defensive line with what the Americans call offensive defence, kicking enough points to win this on his own without the armband, just sheer class. If a position could win it, 13 ran him close, with Super Dunc putting in a fine shift til half time, then Tompkins bursts on like a Money Bill mini-me! Titi gets a mention, recovering to get on top of Obano was pretty classy. Another few points knocked off, -18 is only a little colder than my fridge. Bring on Munster
BATH: Homer, Rokodoguni, Wright, Roberts, McConnochie, Priestland Chudley (Cook), Obano (Boyce), Dunn (Walker), Stuart (Judge), McNally, Stooke, Bayliss (Garvey), Underhill (Davies) Louw. (Subs not used Burns, Hamer-Webb)
SARACENS: Daly, Maitland, Taylor (Tompkins), Barritt, Lewington, Farrell (Manu Vunipola), Wigglesworth (Spencer), Mako Vunipola (Barrington), George (Singleton), Lamositele (Koch), Skelton (Isiekwe), Kruis, Itoje, Wray (Earl), Billy Vunipola
SCORERS
SARACENS: Try: Maitland, Conv: Farrell; Pen: Farrell (6)
BATH: Pen: Priestland (4)
Referee: Karil Dickson
pqs: qs: