CAN SARRIES CLIP OSPREYS' WINGS?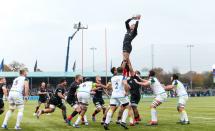 By DG
January 9 2020
The Premiership takes a backseat for a couple of weeks as the final 2 rounds of European competition take centre stage. Sarries are still very much alive in this competition and as has been said previously by Brad Barritt, if we make the knock-out stage it is all to play for!
If…
First we really need a 5 pointer at Ospreys, then probably a home win over Racing in the final round (depending on what happens when Munster visit Paris this weekend). But of course MMc has to perform a very tricky balancing act with his squad over the next little while. Not only does he have to juggle appearances but also injuries, upcoming needs with international call-ups and apparently players who may be departing imminently. That guy earns his pay!
Ospreys have been a walking disaster area all season. They have been comprehensively beaten in all 4 European games so far and have amassed a single point – a try bonus they managed at home to Munster in round 1. Things haven't gone much better for them in the league. You have to go back to 12th October for their last win (24-20 over Benetton). Like Saracens they are bottom of the League (conference A – 1 win from 10 games with 9 points). Unlike Saracens there is no relegation to worry about and Sarries of course have actually amassed 28 points from 8 games – it's just that they started on -35!
Ospreys have appointed Mike Ruddock, who initially returned to the club on a one-month consultancy basis, to be their new Performance Director. Ruddock cited the number of injuries affecting Ospreys as being one of the reasons for their difficult season. He has also produced "The Ruddock report" which he states is designed to shape the future of Ospreys. This highlighted the need for more manpower in and around the coaching group plus some difficulties aligning the messages and cohesion within the whole organisation.
Ospreys injury list is indeed lengthy:- Gareth Anscombe, Harri Morgan, Cory Allen, James King, Rhys Henry, Ben Glynn, Will Griffiths, Keelan Giles, Gareth Evans, Tom Botha, Dan Baker, Owen Watkin, Gareth Thomas, Rhodri Jones, Alun Wyn Jones and Kieran Williams were all unavailable for selection last weekend, however George North did return.
So an interesting dilemma for both sides really. Ospreys are out of it – will they want to risk the likes of North & Tipuric on a wild goose chase? We are most definitely "in it" but I suspect we will send a somewhat mix and match side to the Liberty Stadium given the challenges over the next few weeks.
The Ospreys team last weekend was: C Evans, North, Thomas-Wheeler, S Williams, L Morgan; Price, A Davies; N Smith, Parry, Fia, Beard, B Davies, Cracknell, Tipuric, M Morris. Given their injury list they may not have much wriggle room!
I expect Sarries will take the view that a young team did for Ospreys at Allianz and trust them to do it again. Elliot Daly made an impressive debut that day but I think he might be putting his feet up on Saturday. That team also included Mako (who seemed to take a bit of a knock last weekend) and again I think he'll get the week off. Surely Billy, Jamie, Maro & probably Faz will get a rest too although some of them may pop up on the bench just in case (less than 20 mins doesn't count? Right?). So perhaps we shall see something like:-
Gallagher, Segun, Lozowski, Tompkins, Lewington, M Vunipola, Spencer, Carre, Singleton, Koch, Kruis, Skelton, Isiekwe, Earl, Wray
Given Osprey's dire straits, I would hope that team is good enough to do the necessary leaving MMc an even bigger selection dilemma next weekend!
pqs: qs: