KEEPING THE DREAM ALIVE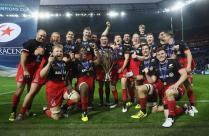 By DG
January 16 2020
It's funny how fate has a habit of throwing teams together – teams that then seem almost inextricably linked in each other's history. In a way that is true of racing 92 and Saracens.
I will always remember that night in Lyon – 14th May 2016. The previous night our friends Mr & Mrs Farmer had treated Mr DG and I to a fabulous meal at L'Alexandrin to celebrate my special birthday only to be joined by Little DG (dressed still in her PE kit –she's a teacher) who had managed to catch the Eurostar, race across Paris and make it to Gare Lyon in time to catch the TGV and join us for dessert. (Chapeau to the waiters who didn't turn a hair at her running shorts!). We had journeyed to Parc Olympic Lyonnais full of hope but maybe not expectation. This was a mountain we had yet to summit. We had been in Cardiff (and yes on those dreadful coaches) and seen our team torn apart by Jonny and his mates from Toulon. On that day we discovered just how hard it would be to become Champions of Europe. 2 years later, we were in South East France playing another French team – our opponents on Sunday Racing 92. We had form against Racing. The year before we were there in Colombes too when Bosch landed that amazing kick to win a quarter-final we should have lost.
What happened that day in May is history. It wasn't a great game, but it was the game where Saracens came of age and proved they were good enough to be European Champions. Sarries won by 7 penalty kicks to 3 (with both Farrell & Goosen foot-perfect on the day.) The heavens opened. Dan Carter wasn't fit and Maro Itoje showed us all he is world class. I will never forget that feeling. We had done it! We had finally done it and become Champions of Europe. It felt so good.
We've done it again, twice, since then – against Clermont the following year in Edinburgh and then against Leinster last year in Newcastle. But there was something special about that first one. So now we proudly wear 3 stars on our shirt. On Sunday we will find out how much the defence of our European title means to us.
I find it hard to believe that this club will throw in the towel. Yes, beating Racing will make all sorts of problems for MMc and his team for the rest of the season and potentially jeopardise our Premiership future but we are a proud club. We have always taken risks. We have been to the top of the mountain and seen the view and it looks good. I can't believe we don't want to be there again.
Racing need to win to ensure a home quarter final, Sarries need to win to secure any sort of quarter final (a simple win should be enough given our superior points difference). So it isn't going to be easy. Racing are used to playing on an artificial surface (although less used to the elements now they play their home games indoors!) But as we saw last week against Munster – they can get rattled and make mistakes. But they also showed their class, coming back to score a bonus point try in overtime. Racing are likely to bring their full array of superstars from Camille Chat and Eddie Ben Arous in the front row, through Wenceslas Lauret and Antoine Claassen to Finn Russell and Maxime Machenaud at half back and a stellar back line including Juan Imhof, Teddy Thomas and Virimi Vakatoa.
I really hope MMc throws caution to the wind and puts out our strongest team. Our Internationals will be on their way after this (including Nick Tompkins, our newest international - can't help thinking Eddie's missed a trick there) until god-only-knows-when so we might as well enjoy them while we can! I hope to see a team something like this:-
Daly, Maitland, Loz, Barritt/Tompkins, Lewington, Spencer/Wiggy, Farrell; Mako, George, Koch/Titi, Itoje, Kruis, Isiekwe, Earl, Billy.
But as the guys showed last week, whoever pulls on the shirt is a Saracen. Despite all the rumours suggesting players leaving, the team showed incredible spirit and togetherness last Saturday to keep the European dream alive. In Mark McCall we trust.
pqs: qs: