LIFE AFTER DEATH?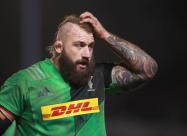 By DG
January 23 2020
The Afterlife begins on Sunday. AD. After Demotion. Saracens now play the first of 14 dead rubbers away at Quins. Welcome to the official trial of "ring-fencing the Premiership". Who'd be Mark McCall. How on earth do you pick a team for this? How do you motivate the players? Can we really expect these guys to put their bodies and careers on the line for something which doesn't matter? At least not to Saracens. We could win this 100-0 and it would count for nothing.
Of course it does matter to Quins, very much, and to all the other opponents we play between now and the end of the season. I think it will feel very odd. It also seems unfair – not to us, mea culpa, but to those clubs we have already played.
Games between Sarries and Quins are always edgy and I suspect this one will be even more so in the light of some of the comments emanating from TW2. Quins will no doubt select their strongest available team which will I assume include the likes of Danny Care, Chris Robshaw and young England rejects Marcus Smith & Alex Dombrandt. Pity Nathan Earle isn't fit yet, would be good to see him again but Nick Auterac, who has just signed for Saints next season, should be there.
I hope Brad, Spenno, Jackson, Baz, Loz, Wiggy, Nick, Duncan and the rest of the first team who haven't been called up for international duty are putting their feet up on some Caribbean island for a nice long break. Time to get rid of those niggling injuries and prepare for the big one against Leinster in a couple of months. No point in risking those old (and not so old) bones in a pointless cause – who knows we might get another season or 2 out of them.
McCall hinted on Sunday that he would use these games to give our up and coming players, the guys who are going to bear the brunt of trying to win promotion next season, plenty of Premiership experience. It's anyone's guess who will turn out for us but here's my attempt:-
Gallagher, Segun, Morris (is he fit?) Watson, Crossdale, Manu Vunipola (are we allowed him if not who?), Whiteley, Crean, Pifeleti, Ibuanokpe, Joel Kpoku, Hunter-Hill, Clarke, Reffell, Christie.
MMc may be tempted to pepper the team with a few wise heads – maybe on rotation? Who knows? (I'm tempted to say who cares but I am sure the boys will go out there and proudly represent their club as they always do)
Good luck to Luke Pearce who has the whistle for this one. Hope he's been reading up on the Marques of Queensbury rules!Ho
pqs: qs: